Conde Nast Traveller Spa Awards: Best spas of 2018
---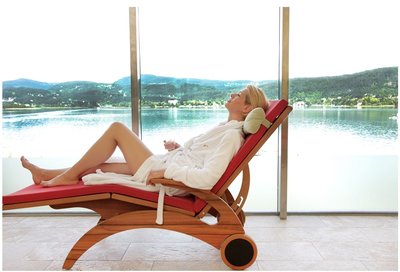 An essential attribute to any spa experience is knowing you're receiving only the best, so when you say to yourself in your head "does it get any better than this" you can relax knowing it really doesn't! To ensure we always provide nothing but the best for our clients, we've worked with Conde Nast to deliver the 2018 Conde Nast Spa awards. Hosted at the luxurious Lanesborough Hotel on the 30th of January we featured only the best spa retreats, boot camps, medical spas, yoga retreats, detox and weight loss programmes from around the world, so here's an in-depth look at some of the night's winners:
'Best Clean Eating Fix' - Fusion Maia, Vietnam
Fusion Resorts is a new movement consisting of Vietnam's most unique, forward-thinking and individually oriented resort. Set on the stunning My Khe Beach in Da Nang, the design is inspired by the Forbidden City in Hue and gives the resort a very calm, Zen-like feeling that lends itself to your total relaxation. Asia's first and only all-inclusive spa, Fusion Maia redefines the spa experience by integrating total wellbeing into part of the daily activity at the resort at no extra cost.
To enjoy an exclusive Healing Holidays offer click here
'Best for Targeted Healing' – Viva Mayr Altaussee, Austria
The VIVAMAYR Altaussee unites something unique: one of the most modern and luxurious health centres in the world stands on one of the most beautiful and picturesque places of the Austrian Alpine landscape at the foot of the Losers. The perfect composition for those in search of rest, relaxation and health. Local thermal waters inspired the invigorating salt-based treatments and the uncontaminated alpine air is utilised for oxygen therapies. Personalised VIVAMAYR detoxification programmes are based on the world-renowned Mayr Cure, developed by influential physician Dr. Franz Xavier Mayr.
To enjoy an exclusive Healing Holidays offer click here
'Smartest Detox Escape' – L'Albereta, Italy
L'Albereta is a unique combination of a luxurious five-star hotel, within a historic building amongst sprawling gardens and located just outside of Brescia, Bergamo and Milan. With only 38 rooms, L'Albereta feels exclusive and remote and is surrounded by some of Italy's most breathtaking scenery – the ideal location for rest, relaxation and intense spa treatments.The Spa Espace Chenot is one of only two dedicated Henri Chenot spas and has a team of 30 doctors, therapists, dieticians, osteopaths and beauticians. Let yourself be seduced by a new idea of well-being that caresses mind and body in a veritable ecstasy of the senses. An oasis of peace and silence, where atmospheres and spaces invite relaxation and abandonment, while skilled hands accompany you in a sublime multi-sensory journey in search of the precious psycho-physical balance with exclusive treatments signed by Henri Chenot.
To enjoy an exclusive Healing Holidays offer click here
'Best Family Getaway' – Schloss Elmau, Germany
Luxuriate in unlimited space as you admire the spectacular view of the surrounding Bavarian Alps at Schloss Elmau, a little slice of heaven in a quiet corner of Germany. Combining its tranquil and visually stunning surroundings with sophisticated architecture and cosmopolitan interiors, it is the ideal destination for those seeking some rest and relaxation. Perfect for solo travellers, couples, friends, and families alike, this is a resort that has truly thought of everyone when designing its impressive wellness experience. Offering swimming pools, saunas, steam baths and more to ensure you enjoy ultimate pampering and relaxation. Meanwhile, the Badehaus Spa and Oriental Hamam have been reserved for over 16s only, ensuring those seeking a more tranquil escape have their space too. With an impressive spa menu boasting treatments sourced from around the globe, whatever you seek you're sure to find it at Schloss Elmau.
To enjoy an exclusive Healing Holidays offer click here
'Most Progressive Clinic' - Clinique La Prairie, Switzerland
Clinique La Prairie is a pioneering medical retreat that combines the innovative science of cell therapy and holistic wellness, with the traditions of luxury Swiss hospitality. As a world leader in medical wellbeing, they have offered a unique and exclusive experience to generations of international guests, priding themselves on a long and successful past, while focusing on the innovations of the future. Clinique La Prairie offers a very spa centric medical health centre, offering a unique approach to healthcare in some of the world's most luxurious surroundings.
To enjoy an exclusive Healing Holidays offer click here
The award-winning retreats featured above are only a few of the luxurious holidays on offer, be sure to order your free copy of the Conde Nast 2018 Spa Guide and see more award-winning destinations in our Conde Nast Traveller offers page.
If you're interested in booking any of the destinations mentioned above or would like more information please contact one of our wellness experts or submit your enquiry here or call on 020 7843 3597.
---