Renée Elliott's Tips & Recipes for Guilt-Free Baking
Renée Elliott
---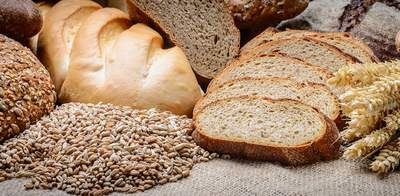 Planet Organics founder and passionate healthy food champion Renée Elliott shares her wisdom and recipes;on guilt-free baking to ease off the stress on your digestive system.
When it comes to healthy eating, one of my passions is healthy baking – I run workshops, I regularly create new recipes, I bake my own bread and love helping others learn how they can swap heavy sugary desserts with light, healthy goodies.
As much as people love Great British Bake off, it saddens me that the obesity in the country is at such high level. I think we can definitely do better than that.
Over the past 20 years, since we first started Planet Organic, I can definitely see a huge growth in people's awareness about conscious healthy eating, but this awareness often slips when it comes to baking and eating deserts. Yet it's very easy to make delicious, flavoursome, yummy deserts, bread, etc that are also much healthier alternatives to conventional baked goods. It doesn't have to cost more, take long or be tasteless – all it takes is a few universal tips that you can apply to all of your baking.
Swap your conventional white flour to wholemeal flour, in the ratio of one to one. Many people aren't aware that for our body, a tablespoon of flour is the same as a tablespoon of sugar, hence it's crucial to reduce to the amount of white flour intake.

Use spelt or Kamut (Khorasan) flour instead of wheat flour. These are ancient relatives of wheat. I personally never use wheat, and lots of people have wheat allergies because today's wheat is highly hybridized and not what nature gave us thousands of years ago.

Same goes for pasta – try and choose spelt wholemeal pasta instead of white pasta.

Apply a general rule of thumb: make sure your sugar quantity in the recipe is half the amount of your flour, or even less than that. I know it can be pricey but if possible, use coconut sugar or other similar alternatives. By eating lots of sugar we run an empty cycle of exhausting the body with lows and highs of blood sugar spikes, creating a constant dependence on it.

Consider reducing your sugar amount even further by substituting some of it with dried or fresh fruit.

Try and use organic butter or consider substituting with other fats like olive oil (use 75g of oil instead of 100gr of butter) or coconut butter.

Ask yourself – why using milk when baking? In reality, it doesn't add flavour or goodess to the end product. Feel free to swap it with water or use unsweetened rice, almond milk or any alternative.

Fatty creams can be substituted with organic yogurt – I love the consistency of Yeo Valley Greek Yogurt.

Fill your baked goods with protein – add nuts, ideally choosing activated nuts (you can find them in health food stores).

When choosing a ready-made baked product, try and go for something that contains not just loads of sugar but also protein and good carbs; try and have your sugary treat in the afternoon rather than late evening or morning.
And finally, a general tip for daily life:
If you look at your plate, divide it into four quarters: one quarter should be protein, another quarter, complex carbs and the rest of the plate (50%) should be veggies. Eat like that - and it will change your life.
Renée Elliott's recipes:
Wacky Cake:
Chocolate, Cinnamon, Lemon Poppyseed or Chocolate Chip
I developed this from a recipe from my mom, Lucille. It is ridiculously quick to make, healthy and delicious. I use wholemeal spelt flour, so the cake is wheat-, egg- and dairy-free. (All ingredients, especially cocoa powder, and chocolate chips should be organic.) For the lemon poppyseed version, zest the lemon first and put the zest in with the lemon juice.
PREPARATION TIME: 10 minutes
BAKING TIME: 35 minutes
MAKES: one 20cm/8in square tin or 12 regular cupcakes
INGREDIENTS:
360g/3 cups wholemeal spelt flour
180g/scant 1c sugar
4 tbsp cocoa powder (or 4 tbsp ground cinnamon or 4 tbsp poppy seeds or 50g chocolate chips)
1 tsp bicarbonate of soda (baking soda)
½ tsp fine sea salt
16fl oz/2 cups water
9 tbsp/5 fl oz/½ cup extra virgin olive oil, plus oil for greasing
2 tbsp cider/white wine vinegar (or lemon juice and 2 tbsp lemon zest for lemon poppyseed)
2 tsp vanilla (increase to 1½ tsp if using cinnamon and omit for lemon poppyseed or add 1 tsp lemon oil if you have it)
RECIPE:
Heat the oven to 180C/350F. Grease and line a 20cm/8in baking tin with parchment paper.

In a large bowl, mix the flour, sugar, and cocoa powder (or cinnamon or poppy seeds or chocolate chips), bicarbonate of soda and sea salt. In a measuring jug, mix the water, oil, vinegar (or lemon and zest) and vanilla (if using). Add the wet ingredients to the dry and whisk quickly and briefly with a wire whisk until just combined.

Pour into the tin and bake for 35 minutes until the cake slightly comes away from the sides. (Bake cupcakes for 20 minutes). Remove from the oven and run a knife around the edge of the tin. Cool on a wire rack for 10 minutes, then turn out of the tin and cool right-side-up on the wire rack.
Wholemeal Spelt Bread
This recipe proves that baking bread is easy. I always make two loaves because it's no extra work. If you'll only get through one quickly, you can slice one and freeze it or divide the second dough ball in half and use or freeze to make pizza.
MAKES: 2 loaves
PREPARATION TIME: 15 minutes plus overnight or 2-4 hours rising
BAKING TIME: 30 minutes
INGREDIENTS:
900g/2lb organic wholegrain spelt flour
100g/3½oz/1 cup organic rough oats or any flakes (millet, buckwheat etc)
20g/1 tbsp fine sea salt
1 tbsp dried yeast
18fl oz/2 cups warm water (bath temperature to the touch)
4 tbsp plain yogurt (or lemon juice if dairy allergic)
4 tbsp organic extra virgin olive oil
greaseproof paper
RECIPE:
In a large bowl, mix the flour, flakes and salt. Make a well in the middle, add the yeast, and then pour the warm water on to dissolve. Add the yogurt and olive oil, and mix with a wooden spoon until the ingredients come together.

Turn the mixture out onto the counter and start to pull it together with your hands. Knead the dough by stretching it away from you, folding it back, turning it 90 degrees and repeating, (fold, push, turn) working in all of the flour.
(Don't worry if it feels a bit dry at this point; it will come together. If the dough is sticks to your hands and leaves dough, then sprinkle a little flour on the counter and dough until the dough sticks to your hands, but releases with no residue. If it is too dry and isn't absorbing the flour, sprinkle on a little water.)

Knead for about 8 minutes until smooth and elastic and then put into an oiled bowl, turning the dough over in the oil and ensuring that it is lightly coated with olive oil. Put the bowl in a cold oven and let it rise slowly overnight. (If you want the bread ready quickly, let it rise for 1-2 hours until about doubled in size.)

Either grease two 23x13cm/9x5in bread tins or a large baking tray with butter. Turn the dough out onto the counter, divide into two equal pieces and punch it down until all of the air is gone. Knead each piece for 1 minute, then shape the dough into two oblongs and place each in a tin or on the baking sheet with space between them. Let rise for another 1-2 hours or so until doubled in size. If you poke it gently with your finger and it doesn't spring back, it is ready.

Heat the oven to 220C/425F. When the oven is hot, bake for 10 minutes, then reduce the heat to 190C/375F and bake for another 20 minutes. Remove from the tins or baking sheet and cool on wire racks. When bread is baked through, it will sound hollow when tapped on the underside.
Enjoy!
---