Interview with Jennifer Sanvictores from The Farm
---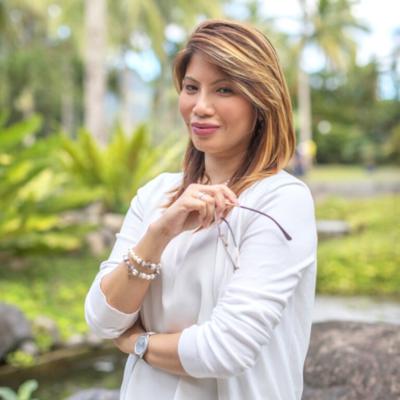 We recently sat down with The Farm's Director Sales & Marketing Jennifer Sanvictores to discuss the philosophy that guides this beautiful spa.
1. What is the wellness philosophy at The Farm?
The Farm at San Benito, a proud member of CG Hospitality is an eco-luxury holistic medical wellness resort located in Lipa, Batangas, a 90-minute drive south of Manila, Philippines. It rests on 48 hectares of lush green jungle, with a stunning view of the majestic mountains, pure and fresh air with clear and positive life-giving energy radiating around the property. Its world-class facilities and services have made it a recipient of 60 prestigious international accolades, including 'The Best Medical Wellness Resort in the World.'
In line with its mission to provide evidence-based holistic healing and transformative lifestyle retreats, The Farm offers natural and holistic medically-supervised health programs that are carefully planned and conducted by internationally trained integrative medical doctors, dentists, spa therapists, nutritionists, living food experts, fitness coaches, and yoga teachers.
As we celebrate our 18th year, we are also achieving a milestone in leading the lifestyle revolution.
The Farm has collaborated with European Wellness and Living Life Well Integrative Medical Clinic (CIGNA accredited global health care provider) to enrich the quality of life by offering evidence-informed holistic solutions for addressing and treating chronic health disorders, work-related chronic pain, work-related stress, anxiety, depression and more. The Farm is also proud to offer non-invasive Aesthetic beauty & anti-ageing services; oral health, dental detox and dental aesthetics for those who wish to enhance their physical aspects through a holistic approach. All these are a culmination of efforts to create a truly luxury holiday through life transformative retreats. With only 40 exclusive suites and villas, a well-maintained property, world-class service, and the Filipinos' nurturing touch, The Farm offers guests unparalleled life-changing holiday experience.
2. What treatments/therapies are core to the programs at The Farm?
The Farm 's healing journey is focused around five pillars: Diagnose, Cleanse, Nourish, Repair and Sustain. The aim is for guests' bodies to return to their ideal, balanced state and achieve holistic optimum wellness using five key healing components: Holistic integrative medical services, Nurturing spa and hydrotherapy water wellness, Plant-based, wholefood, vegan cuisine, Mindful movement and functional fitness, Healing environment and heartfelt service.
THE FIVE PILLARS OF THE FARM
Diagnose
The first step in every retreat is diagnosis. The Farm believes that one size does not fit all, every program is made personal through a meticulous diagnosis. The early stage of the retreat begins with an integrative medical consultation, mental health and behavioural medicine consultation, body composition analysis, nutritional assessment, fitness assessment and needs-based screening tests and choices of brain biofeedback, heart rate variability assessment, core nutrient and metabolic test, blood chemistry and comprehensive digestive stool analysis.
Cleanse
The next step is to get rid of any unwanted toxins from the body through a deep cleanse. This phase includes procedures geared towards internal organ cleansing of the colon, kidneys, liver, lungs and skin. Creating quality space is imperative as a vessel for the new things you want for your life: fresh or dynamic life experiences or health goals. This is achieved through medical management of mental and emotional concerns through psycho-emotional clearing and neurogenic release. Included in The Farm's extensive detox are steam and sauna therapy, detoxifying body scrubs, thermal therapy and hydrotherapy.
Nourish
Once the body is purified, it's time to nourish it with the right nutrients, therapeutic modalities and overall healing environment. At this stage of the retreat, an enzyme-rich vegan cuisine is introduced as well as fibre-rich cleansing drinks and the many benefits of Virgin Coconut Oil. The guest undergoes nutritional infusion therapy and additional nutritional support (supplements). Harmonizing the guest's energy level also plays an important role in the retreat which is why energy work like Craniosacral therapy, Reiki and Jin Shin Jyutsu are highly-recommended. There are several therapies that can help heal a person not only physically, but also emotionally, psychologically and spiritually. The Farm offers art therapy, massage therapy, nourishing body wraps, facials, and aromatherapy. All these must take place in a healthy healing environment such as The Farm's serene facility surrounded by lush green that radiates positive, life-giving energy.
Repair
Bodies that are rightfully-nourished are now capable of repair and regeneration; to support this, The Farm offers: scar tissue release therapy, physiotherapy, lymphatic drainage, acupuncture, therapeutic baths and soaks, thermal therapy, ozone therapy and PURE Health Aids that help improve blood circulation, burn fats and enhance muscles.
Sustain
The Farm at San Benito is all about sustainability. One's journey to a healthy lifestyle does not end once they leave our wellness property. We ensure that our guests are guided in their continued quest for optimal health. To help our guests achieve their ultimate goal, we set up a sustainable healthy lifestyle discussion, nutritional consultation with a personalized meal plan they can follow in the comfort of their homes, nutritional supplements, vegan food culinary preparation classes to teach them how to properly prepare their meals, life coaching, yoga and fitness sessions, guided meditation and spiritual development classes and partnerships with urban medical wellness centres and partnership with Naluri digital coaching app where they can sustain the healthy habits when they go back to high-paced lifestyle of the metro.
3. Tell us about the food philosophy at The Farm and how you integrate it with your programs?
A pioneer when it comes to delicious, organic, vegan cuisine, The Farm is home to award-winning Alive! Restaurant – one of Asia's first and finest restaurants offering fresh organic vegan cuisine, eco-friendly food that is homegrown freshly picked from The Farm's organic vegetable garden. Open from six in the morning until eleven in the evening, this restaurant practices innovative food preparations, offering plant-based raw and cooked culinary creations that are high in enzymes, essential nutrients, and rich in fibre, antioxidants, phytonutrients, probiotics. It serves world-class, international vegan cuisine masterpieces that aid in improving digestion, purging toxins and optimizing nutrition. Each dish is packed with holistic goodness that nourishes the body. It also prepares special transition diets and cleansing & nourishing juices for guests that seek to enhance their healing experience. Veganism is said to be the single biggest way to reduce environmental impact on the earth and The Farm at San Benito puts this at the forefront of its values.
4. Which is the most popular program and why?
The Farm offers 16 all-inclusive Life-Changing Programs across the below categories:
Health Optimization Programs

Executive Health Programs
Cellular Health Programs
Aesthetic Beauty & Anti-Aging:
The most popular is the The Farm Experience Programme which is a pre-requisite to achieve optimum well-being. Guests seeking an authentic transformative experience would surely enjoy The Farm's Detox Cleanse (minimum 4 Nights); a program that stays true to The Farm's original healing paradigms, providing guests with the most complete detox from toxins and life-draining energies. Supported by cleansing juices, guided fasts and nutritional enrichment, guests undergo deep cellular healing, renewing them from within, helping them regain youthful energy. The Farm's professional team of health experts will create a specialized program that combines specific medical services and holistic treatments based on a guest's state of health. Once the program is completed, guests are rewarded with better vigour and a renewed sense of vibrant well-being. This program makes full use of The Farm's cleansing juices and healing rituals, purging negative elements from the body while providing it optimum nutrition. Hectic lifestyles today often contribute to poor weight management and less-than-ideal physical fitness. We tend to eat the wrong food at excessive amounts and neglect to eat what nourishes us at the right time. The Farm's medical team helps guests in determining their ideal body state and defining a series of fitness goals that can be achieved in a sustainable way. It includes fitness sessions with a personal trainer, combined with treatments to break down fat and other toxic elements in the body.
5. What is a must-do at The Farm?
The Farm at San Benito is a healing sanctuary offering treatments and programs for a truly transformative journey to health and wellness. Whether you are visiting for the day, a weekend getaway, or a solo travel escape, these signature treatments are highly recommended and carefully designed and selected by licensed and internationally-trained doctors and knowledgeable professionals – incorporating a holistic approach with science-based methods for the healing of mind, body and soul. Please refer to The Farm recommends a menu of signature treatments attached
Every guest is also encouraged to participate in daily Mindful Movement and Functional Fitness activities. Personalized regimens are created depending on a guest's wellness status and fitness goals. They may be recommended to spend time at the gym, join coached training sessions, participate in yoga classes and healing movements from different streams of natural healing, have aquatic exercises, take walks across the gardens or have dedicated time for meditation, and wellness talks conducted by our medical doctors and health experts maximizing every opportunity to develop a sustainable healthy lifestyle. The Farm experience is made whole with a guest's choice of accommodation. Their desired villa will serve as their personal sanctum where they can relax in privacy or spend quality time with loved ones. Guests have a wide array of choices from the rustic, to suites and villas that represent the height of luxury. Every villa has a unique interpretation of modern tropical design, with each unit reflecting the beauty of nature's wonders. The Luxury Pool Villas (Narra Pool Villa, Mahogany Pool Villas, Master Villa and The Lakan Villa) are the most popular selection of indulgent accommodations, featuring private pools, adding a deeper dimension of relaxation and comfort.
6. Why sets The Farm apart?
The Farm provides evidence-based holistic healing and transformative lifestyle retreats with proven results. The Farm offers natural and holistic medically-supervised health programs that are carefully planned and conducted by internationally trained integrative medical doctors, psychotherapists, physiotherapists, energy healers, dentists, spa therapists, nutritionists, living food chefs, beauty experts, fitness coaches, and yoga teachers.
If this blog has got you interested in starting your wellness journey
call our wellness
advisors at

020 7843 3597

or enquire
here.
---