---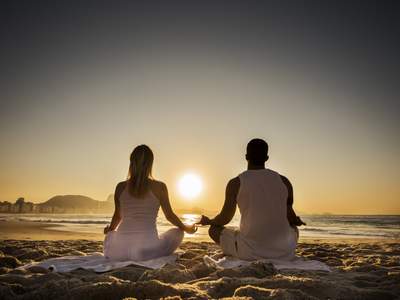 Nowadays our relationships can come under tremendous pressure, not just from juggling work, family commitments, friends and everyday life, but also from the pressures that society and the media put on us. If you're struggling in a relationship it can feel like you're alone, but you're not, and there's no need to hide from it.
Many of us mistakenly think that when we find "the one" we will be complete and everything will be perfect. Or maybe some of us think a "conscious" relationship means that we somehow transcend our issues, triggers and neurosis. We can struggle, blame, judge and even hate. We shut down, we distance and we run away. We say and do mean things or we just freeze in fear. We do all the things that we did as a child, but probably don't remember, or we act like our parents—the thing we'd swore we'd never do. We then suffer because our fantasy of what we thought a relationship was supposed to be doesn't match our real life experience of the actual relationship we are in.
The following points could help you to see your relationship realistically and without any regret:
The past cannot be erased
It's not always 50/50
Honesty is the best policy
Silence is deadly
Separate but together
Promise to touch like a "vow made in heaven"
Most importantly, those who are in healthy relationships understand that it all boils down to respect and love. Respect and love for yourself, for your partner and for your relationship. There is a desire to love your partner to such a degree that you feel the ultimate freedom that comes from security.
Exercises for your Tantric bliss:
Connect
Embrace the moment and create a romantic, cozy space with candles, music, fruits, chocolate and some pillows on the floor
Appreciate the moment to be able to receive and give love
Sit in front of your partner in a meditative position; feel free to make yourself sexy and comfortable (you are going to sit there for a little bit longer)
Start to exchange a smile and close your eyes slowly - just breath and take the moment in. Enjoy the feeling of silence, excitement, gratefulness and butterflies in the stomach
Move your hands slowly towards your partner keeping your eyes closed, maybe you would like to bring your forehead or your whole body closer
Breath together and with your left hand feel you and your partner's heartbeat
Explore your being and your partner's soul and body
By now you are both calm, more centered and connected. Whisper to each other what comes from the heart. Pure intuition-talk / soul-talk - just listen to what flows from the heart and what needs to be expressed. Maybe an excuse or an acknowledgment...let it flow and listen!
Kiss your partner to explore both of your feelings and needs
Repeat this wonderful bliss every week – if possible save a day just for your relationship every week.
If you would like to book a yoga programme enquire online here, speak to one of our wellness consultants on 020 7843 3597.
---