---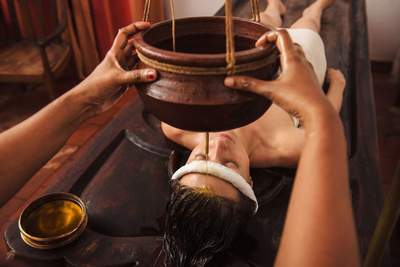 According to Ayurveda most, if not all, disease is caused by disharmony in our lifestyle, this includes how we spend our day, what we eat and what we think.
Solving these disharmonies is not as hard as you may think, you can solve most of them yourself just through making changes. Simple things like dietary changes and a few lifestyle tweaks can do more than taking any allopathic medicine.
There is no substitute for living harmoniously. As long as we continue to live a frantic Western lifestyle constantly connected to the internet, we can't expect to really be healed by any method at all. Drugs can often only mask the problem and it will continue to manifest without you feeling the effects.
In Ayurveda, the goal is to give the patient the tools and knowledge to live in accordance with their constitution. Holistic natural healing can only succeed with time, effort and dedication. Unfortunately, in our modern world, it often deprives us of the time we need to take care of ourselves. We continually lose our energy without replenishing it and run along on empty feeling exhausted all the time. If we truly value our health however, we will find the time.
Swaswara is an Ayurvedic centre in Karnataka, near the town of Gokarna on Om beach in India. It's a spectacular location and a place of deep harmony with nature. Swaswara means inner voice of the self and being here at Swaswara allows you to reconnect with that space in your heart.
Swaswara has great respect for nature, it harvests water from the monsoon for its water supply, uses discarded newspapers to make bags for the shop and any food waste is recycled in a bio gas digester to provide gas for cooking. Swaswara aims to keep her footprint on the earth small.
As an Ayurvedic sleep therapist, I can't stress enough how valuable taking time out and just being at a place like Swaswara. Be warned though, unless you are staying for at least three weeks, you'll not be able to have any of the deeper Ayurvedic treatments, but Ayurvedic massage with medicated sesame oil is always part of the package. Meditation, yoga and pranayama are also permanently featured daily.
Managing sleep issues takes time if you want to do it the natural way. I say managing because if, like me, you have been plagued with insomnia, it's likely that you will suffer again. My point is bringing yourself back into balance is often all it takes. Insomnia is in fact your personal message that something is out of balance and you should take a look at your life holistically and be honest with yourself about where the imbalances lie.
For example, are you eating too late in the evening or working late on your computer without taking a minute to wind down? Computer to bed is not conducive for sleeping. Is your phone constantly switched on? I recommend putting your phone on aircraft mode so that you get a sense of being disconnected to the world as part of your wind down routine. Take a long hard look at your lifestyle and ask yourself, 'where are the imbalances'?
If you are deeply stressed and have been suffering from insomnia for years, I recommend you take a break of a minimum of two weeks somewhere like Swaswara. Whilst you are there, you'll need to think about how you are going to make enough changes in your life to bring yourself into balance. There is no point at all taking a break, and then going back to exactly the same life as you left...that is a waste.
If you're interested in improving your sleeping behaviour then take a look at our sleep enhancement programmes or contact our wellness experts for more details - call 020 7843 3597 or submit your enquiry here.
---