Chris Wain's review of the Optimal Fitness Programme : Kamalaya
Chris Wain
---
Healing Holidays sales director Chris Wain is reasonably fit, eats relatively well and is no stranger to a spa environment. Recently he visited Kamlaya for a quick refresh and a health MOT, to try their new 5-night Optimal Fitness Programme. Here is his man's-eye review of the programme, activities, and some tips if you are planning a visit to this retreat.
It doesn't aim to turn you into Arnold Schwarzenegger, (which is probably a good thing), nor to promise that you will shed kilos & kilos, nor to run you into the ground at the gym. What it does offer is the chance to improve your fitness levels by educating you about movement and exercise. Teaching and showing you things which you can easily replicate at home without the need for fancy gym equipment, opening your mind to a world of healthy eating, where good nutritious diet does not mean eating a lettuce leaf three times a day. After exercising your body, it is then time to pamper it with a series of treatments, ranging from a traditional Thai massage to sessions in the Far Infrared Sauna.
How does the retreat start?
My time on the Programme began with a Body Bioimpedance Analysis, (which basically measures the amount of fluid and tissue which you have in your body's cells). This was followed by the measuring of my body, (arms, legs, height, etc). After learning that the much talked-about BMI method of judging a person's health is not as useful as many make it out to be, (particularly if you have a large frame or are tall), I had an initial Wellness Consultation with Leila, a nutritionist, who takes me through my normal days eating, and gently guides and suggests foods, ingredients and eating habits which will improve my diet.
The gym experience
It's off to the gym next for my initial holistic fitness evaluation. Here I am put through a series of exercises and tests designed to test my core, strength, balance and mobility. As my super-fit and super-flexible instructor Frank says, there is no point in him getting me to do exercises over the next few days which are either of no benefit to me, or which I cannot do. The key to their Fitness Programme is based around just five movements, all of which can easily be replicated at home – pushes, pulls, squats, lunges & twists.
As I settle into my daily 60-minute personal training session, I go nowhere near the running machines, weights and exercise bikes normally associated with gyms, but instead use just a mat, Swiss ball and TRX ropes. Kamalaya's instructors – Frank, Em & Robin - are super-fit because, rather than standing over you barking orders, they actually get down dirty and do the squats and thrusts alongside you. They also take the time to make sure that you are doing the exercise correctly and that your posture is correct – bad habits are easy to pick up in the gym. They also impart small nuggets of wisdom – for example, when doing crunches keep your tongue on the roof of your mouth as this strengthens the neck muscles.
-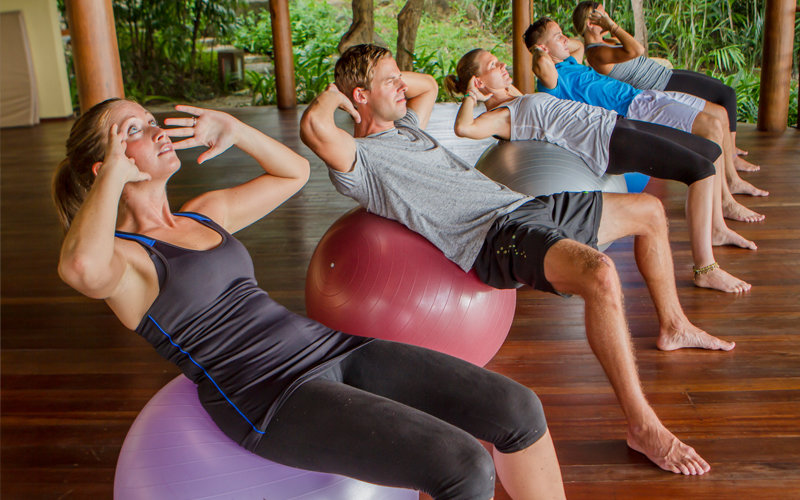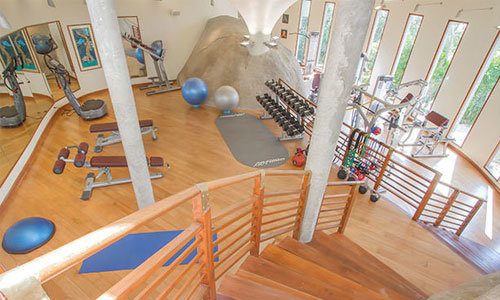 Spas, activities & lectures
These sessions were normally followed by some sort of superb massage – Thai, Asian Foot, Oil, Lymphatic Drainage - or a 30-minute spell in the Far Infrared Sauna. This type of sauna is different to the norm in that it directly heats the body rather than the air, so an electrolyte drink has to be taken before and after emerging from the invigorating 45-degree heat.
My time at Kamalaya started to fly by, with any spare time between training, treatments & meals easily filled – they have an extensive scheduled daily programme of activities which are free for all guests to attend, and which include the likes of Qi Gong, Meditation, Aqua Aerobics, Pilates and five types of Yoga. There are also talks and lectures on topics as diverse as Reiki & Mindfulness, and if I wanted to opt out of anything organised, there were two swimming pools, plunge pools, steam caverns and a deserted beach to head for.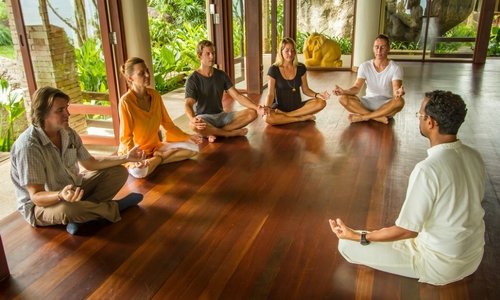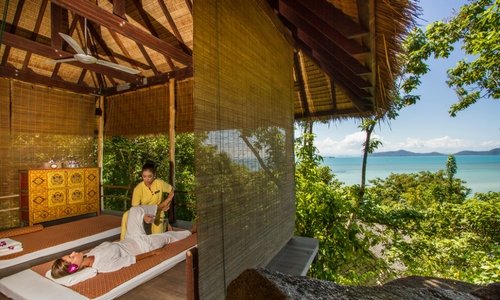 What did I eat?
Food is an important part of any spa break, and the wellness cuisine at Kamalaya is as good as any I have enjoyed. The right ingredients, prepared the right way, in the right measures are considered far more important than calories, and the imaginative use of foods & flavours, (which would be bland and tasteless in my uneducated hands), are an absolute credit to the chefs. I voluntarily followed the Detox / Ideal Weight Menu which allowed 2x starters or 1x main course for lunch & for dinner, to be boosted with 100gs of protein – salmon, squid, sardines, chicken or ostrich.
Breakfast was normally a shot of wheatgrass followed by a fresh juice, bircher muesli and scrambled eggs on coconut, vegetable & rosemary bread, whilst my lunchtime favourite quickly became the BPZ – Kamalaya's version of the BLT, but this being beetroot, pumpkin & zucchini, served on healthy bread with mung bean hummus.
Other remarkable dishes I savoured included a superb pumpkin curry, a wonderful tandoori chicken with mixed wheat roti & mint dosa, and a moreish mung bean risotto, which I have successfully managed to reproduce on my return to the UK and which has become one of my staple dishes.
Organic wine is available for those who want it, whilst even treats such as chocolate mousse and apple crumble are given a healthy makeover at Kamalaya, (think raw organic chocolate in the mousse).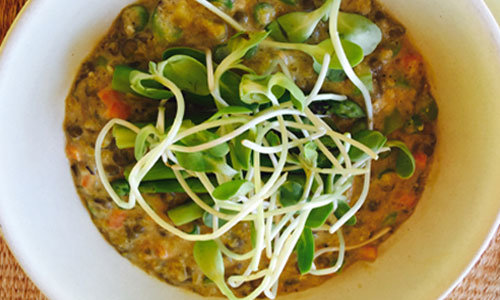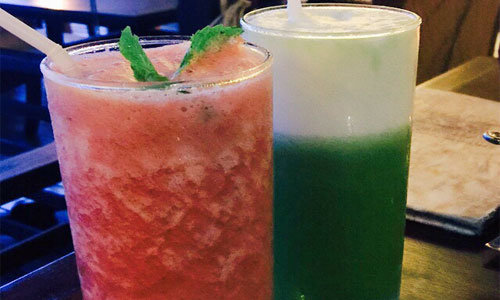 Going 'off-piste'
I also took the opportunity to go 'off-piste' and to book a session of acupuncture with a genial Australian called Andrew, who quickly spotted a pathogen, (rogue virus), in my system and set out to remove it with the help of pins and cupping. Cupping, which aids blood circulation, is a weird experience - painless but leaving my back looking like I had enjoyed a topless game of paintballing, covered as it was with a series of dark circles, (which faded after 3 or 4 days).
The results
My 5-day Programme ended with a 2nd round of body measurements, which showed that I had shed a few kilos but, more importantly, that my waist size had decreased and my chest size had increased - the result of the personal training working in the right areas.
I left Thailand with new levels of energy, feeling healthier than I had for a long time but, and I think this is the big plus, also armed with the knowledge and information to be able to continue with this better, healthier lifestyle on return to the UK.
My insider tips
It gets busy and treatments do get booked up, so book a Wellness Programme rather than just a room-only rate. This will guarantee that you will be able to enjoy all the treatments you want, and it will also work out to be better value than having to pay for your treatments and meals locally.
Think about which part of the resort you want to stay in – the resort sits on a steep hill, so is being by the beach and sea important to you, or would you prefer to be nearer to the fitness and wellness centres?
Don't be afraid to try something new – yoga might not be your thing, but you might find that you are a natural at Qi Gong, and try to work your way through the menu and buffets, even if you have no idea what you are eating!
If time and money allow, try to arrive at Kamalaya at least the day before your programme starts. Jetlag does take time to get over, and you will feel better prepared to begin your Programme after a good nights sleep.
---