Tucked away in a lush valley, overlooking the coast of southern Koh Samui, lies the hypnotically-beautiful Kamalaya, a luxury wellness and holistic spa resort in, offering stress relief, detox, weight loss, fitness and yoga, for the ultimate healing experience. The award winning Kamalaya is located in Koh Samui, Thailand. This beautiful island is abundant in sandy beaches, coral reefs, and coconut trees. The spiritual energy is so pure and intense, it's no wonder that Buddhist monks came here to contemplate, and it's around their cave of worship that the resort has been built. Everything is geared for total and complete transformation. At Kamalaya, everything is directed towards a self-discovery.
It's just recently been revamped, so the rooms are bright and airy, and the additions of a 25-metre pool and a three-storey fitness emporium means it is also now the most well equipped and beautfitul spa in Thailand, perhaps Asia. The joy of staying in this most stellar of spas is that you will be nurtured by some of Asia's best healers. Karina Stewart, the owner, is a master of Traditional Chinese Medicine, so when it comes to authenticity and application, you will find no better. All of the treatments dig deep and are given by caring and loving therapists.
Many of the counsellors have been monks, (and you will also get the best overseas visiting experts), the near-vegan food is delectable, and your mouth will zing with the Asian fusion taste explosion. There is no calorie counting here, that's not the Kamalaya way, you can have a little of what you fancy, and even have the odd glass of organic wine for dinner in the evening. There is a state-of-the-art diagnostic centre and a mass of interesting classes. There are all sorts of yoga, and Pilates that will burn your core, and there are meditation experts who will teach you to clear your mind, and to let go. Kamalaya provides every type of healing imaginable from sleep enhancement programmes aided by acupuncture; and cognitive healing, releasing therapy to cope with loss and bereavement to Ayurvedic treatments used to de-stress and recover.
Nearest Airport: Koh Samui

Transfer Time: Approx. 45 minutes





---
Sharing from
£
699.00
£
699.00
pp
Singles from
£
1119.00
£
1119.00
pp
Sharing from
£
819.00
£
819.00
pp
Singles from
£
1249.00
£
1249.00
pp
Including Domestic flights, transfers, accommodation, daily breakfast and a 7 night stay
Recommended for
Detox | Fitness | Yoga & Pilates | Weight-Loss | Rejuvenation | Ayurveda | Holistic Healing
---
Room Types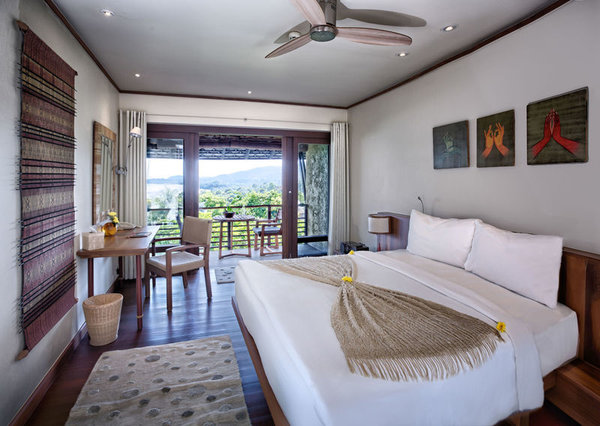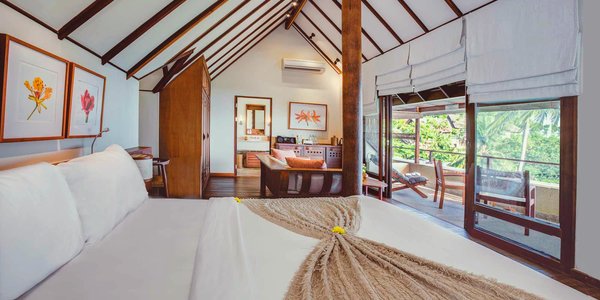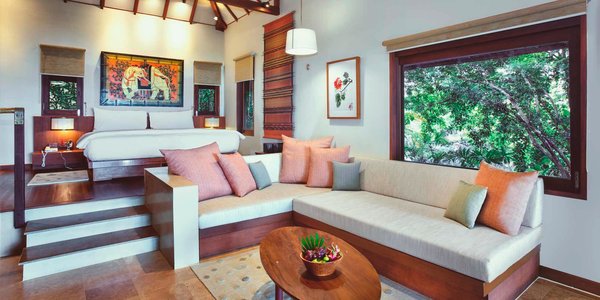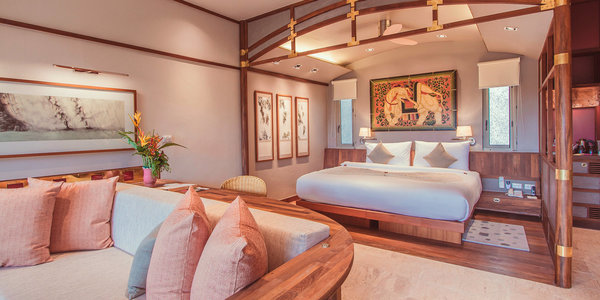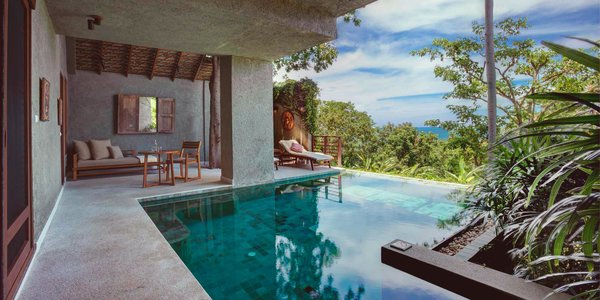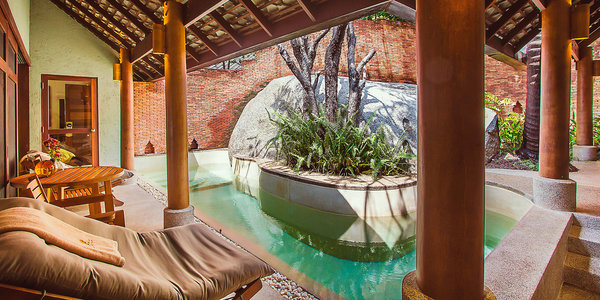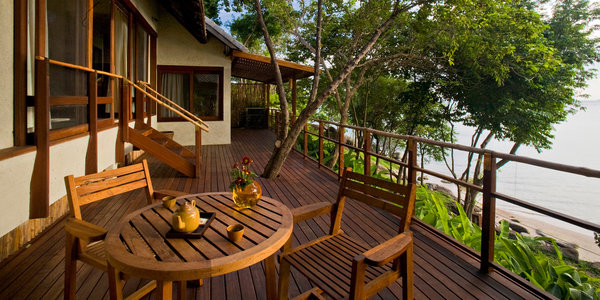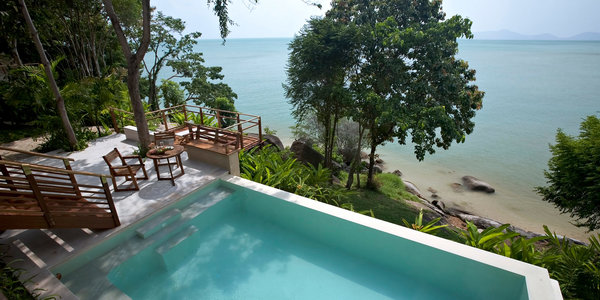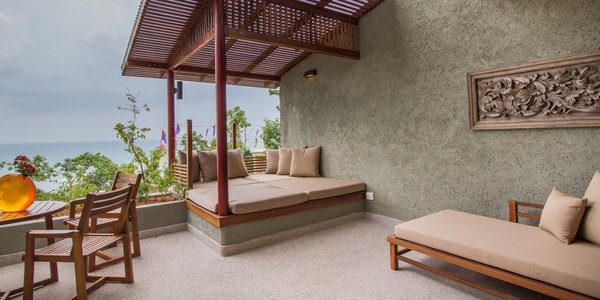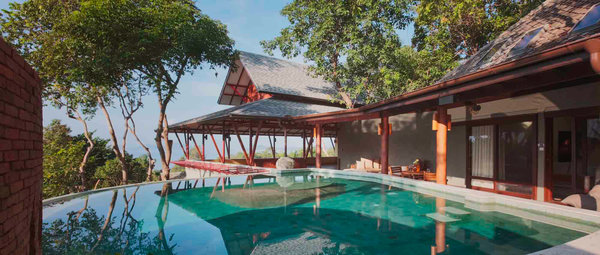 Spa
Detox and cleansing is big at Kamalaya with several packages offering simple, yet effective programmes including treatments such as a detox scrub & wrap and Vital Essence oil massage. There are 'traditional' spa treatments such as massages and facials, but the big draw at Kamalaya is on holistic therapies such as naturopathy, reiki and acupuncture.
Traditional Chinese Medicine
Acupuncture
Acupuncture for Facial Rejuvenation
Tui Na Chinese Medical Massage
Moxabustion
Cupping
Reiki
Wellness Consultation
Wellness Follow-up Consultation
Naturopathic Consultation
Homeopathy
Thyroid Testing & Analysis
Iridology
Lymphatic Drainage Treatment

Pranayama
Royal Ayurvedic Traditional Massage
Royal Ayurvedic Traditional Four Hand Massage
Marma Point Massage
Shirodhara
Kati Vasti
Pathaganjaly (massage using the feet)
Chi Nei Tsang (Taoist Abdominal Massage)
Indian Head Massage
Traditional Asian Hand Massage
Traditional Asian Foot Massage
Traditional Thai Massage
Far Infrared Sauna
Nutritional Guidance

Vital Essence Oil Massage
Oriental Herbal Detoxifying Body Scrub & Wrap
Lotus Seed Scrub
Lotus Blossom Wrap
Lotus Scrub & Wrap
Aloe Vera Wrap
Sodashi Salt Serenity
Sodashi Scalp Treatment
Flower Remedies
Stress Management
Mind-Body Balance
Personal Mentoring
Meditation
Colon Hydrotherapy
Cuisine
Delicious with both Thai and international dishes available. A vegetarian detox menu is also offered, which is tasty, locally grown and organic as far as possible. Expect dishes like beetroot tartare with papaya, lime and wasabi dressing.
SOMA RESTAURANT
Sanskrit for 'food of the gods', Soma is close to the main facilities and overlooks Kamalaya valley, offering spectacular views of the coast and outlying islands. Intimate tables are arranged throughout the spacious room, in addition to a 'community table' where guests may unite for dining.
AMRITA CAFE
Translates from Sanskrit as 'divine nectar', and is located by the swimming pools at the edge of flowering lotus ponds, overlooking the sea.
THE ALCHEMY TEA LOUNGE
Located above Soma Restaurant offers light snacks and a diverse range of elixirs, juices and medicinal herbal teas and infusions. With comfortable couches and breath-taking views, it is a great venue for guests to gather throughout the day and into the evening.
Activities
Tai Chi
Yoga
Thai Boxing
Pilates
Stretching
Swimming
Gym
Pranayama
Meditation
Kick-boxing
Cardio Combat
& many more
Facilities
Gallery shop featuring a variety of local handicrafts and essentials
Art gallery exhibiting international art - painting, photography, sculptures and prints
24hr library and TV lounge with internet facilities
A leisure swimming pool and a lap pool
Spa
Shakti Fitness Centre
Herbal Steam Cavern
Plunge Pools
Elixir Bar
Yoga Pavilion
Yoga Sala
Location
Situated in the undeveloped southeast of the island of Koh Samui, Kamalaya overlooks the pristine waters of the Gulf of Thailand.
Directions to Kamalaya:
Travelling by plane
Koh Samui Airport - approx. 45 mins (25 km)
Videos
Reviews
Insider's Tips
Bag yourself one of the new Pool suites, not only will you wake to jaw-dropping views of the sea, but you will be close to the action of the Spa and Fitness area
Remember to check the calendar for the visiting practitioners. Pre-book so that you do not miss out
Make sure to book a treatment in the open-air treatment room for a special experience
Don't forget to release lanterns into the night sky on Friday nights
Book the newly built rooms to avoid the steep hill
Awards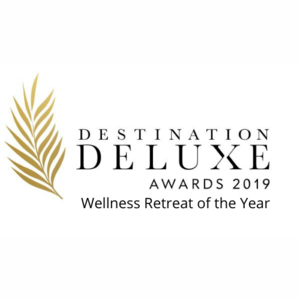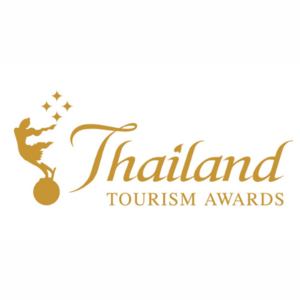 Healing Holidays Exclusive Offers
Room Discount
Receive a 20% room discount when you stay 3 - 6 nights
Receive a 25% room discount when you stay 7 - 20 nights
Receive a 30% room discount when you stay 21 nights or more
Valid for stays until 21 Dec 2021. Book between 01 Nov – 31 Dec 2020. T&C applies.
Added Value Offer*
When you book a programme for 7 nights or more you will also enjoy the complimentary services below
2 x complimentary COVID-19 antibody screenings (on day one and day six)
Complimentary Wifi throughout the stay
Pre-arrival health-screening call
Valid for stays between 21 Apr - 21 Dec 2020. T&C applies.
Spa Voucher
Book a 7-night programme & enjoy a £150 spa voucher.
Valid for stays between 25 Feb - 31 Mar 2021. Blackout dates apply. T&C applies.
Programme Discount*
Enjoy a 20% programme discount when you book a stay for 3 nights or more.
Valid for stays until 21 Dec 2021. Book by 31 Dec 2020. T&C applies.
Loyalty Offer*
Enjoy one free night when you book a stay for 7 nights or more.
Valid for stays until 21 Dec 2021. T&C applies.
* These offers are combinable.
---