A Multi-Pronged Approach To Wellness At Kamalaya, Thailand
If you are looking to escape ordinary life to a place of peace and enlightenment, then look no further than Kamalaya in Thailand. Kamalaya is a luxurious wellness and holistic spa retreat situated in a lush valley on the southern coast of Koh Samui, an island that is known for its sandy beaches, coral reefs and coconut trees. The spiritual energy is so pure and intense at Kamalaya that it is no wonder that Buddhist monks came to this area to contemplate, and it is around their cave of worship that the resort was built.
Kamalaya is staffed by some of Asia's best healers, including owner Karina Stewart, a master of Traditional Chinese Medicine. The treatments are authentic and deep, and are offered by caring and loving therapists. Many of the counsellors at Kamalaya are former monks and the resort also invites visiting experts from overseas.
Guests are treated to delectable, near-vegan food that zings with the flavours of Asian fusion. Calorie counting is not the Kamalaya way, so guests can indulge in their favorite foods and even enjoy a glass of organic wine for dinner in the evening. The state-of-the-art facilities include a diagnostic centre, a 25-meter pool, a three-story fitness emporium and a wide range of exciting classes. read more...
Science and spirituality blend seamlessly with Eastern and Western philosophies at Kamalaya - programmes which expertly mix Chinese, Thai and Ayurvedic therapies are combined with more Western diagnostics to ensure maximum results. You can do it all at Kamalaya from sleep enhancement programmes aided by acupuncture to cognitive recovery and releasing therapy to cope with loss and grief. The resort offers all types of Yoga and Pilates, as well as meditation experts who teach guests to clear their minds and let go.
Everything at Kamalaya in Thailand is geared towards a total and complete transformation for your overall health, including the mind, body and spirit. Whether you are looking to become more aware of your conscious well-being, to improve your overall mood and eliminate stress, or you just want to escape from the ordinary and immerse yourself in a peaceful and healing environment, Healing Holidays has a perfect retreat for you at Kamalaya, Thailand.
Recommended Programmes
Kamalaya in Thailand provides every type of healing imaginable, from sleep enhancement programmes, cognitive healing & Yoga and Pilates, to therapy to cope with loss, and holistic healing combined with Ayurvedic treatments to de-stress and recover. Some of the most recommended programmes at Kamalaya in Thailand are the following:
Whether you want to reconnect with nature, align with your mind and spirit, enhance your physical fitness, or invest in a new way of healing and personal care Kamalaya in Thailand is hard to beat. We hope you enjoyed this guide to Kamalaya in Thailand. Healing Holidays is ready to assist you in booking the retreat of your dreams at Kamalaya, Thailand. Contact us to learn more!
Nearest Airport: Koh Samui

Transfer Time: Approx. 45 minutes





---
Sharing from
£
989.00
£
989.00
pp
Singles from
£
1429.00
£
1429.00
pp
Sharing from
£
1139.00
£
1139.00
pp
Singles from
£
1679.00
£
1679.00
pp
Including transfers, accommodation, breakfast and a 7 night stay
Recommended for
Detox | Fitness | Yoga & Pilates | Weight-Loss | Emotional Healing | Ayurveda | Holistic Healing
---
Room Types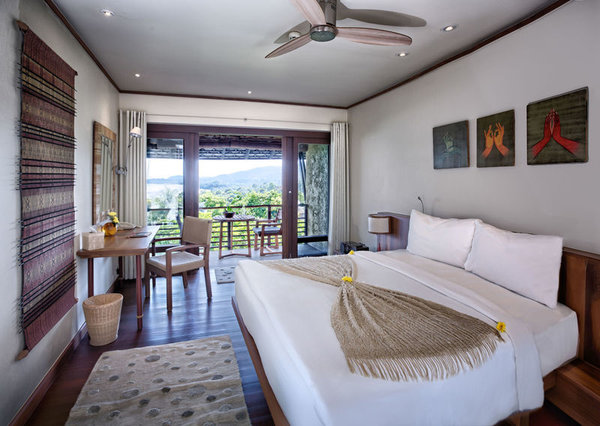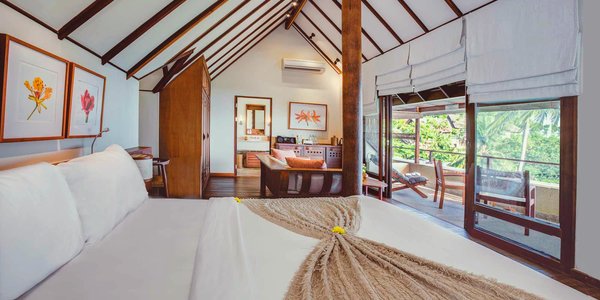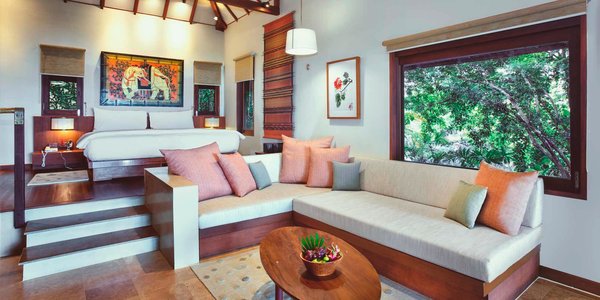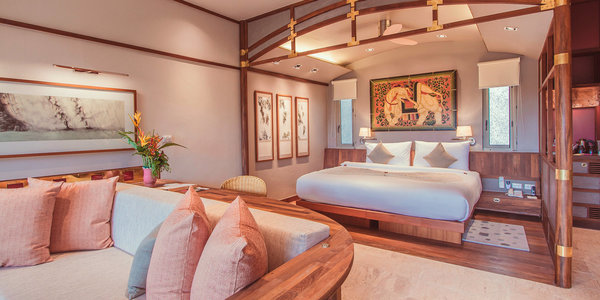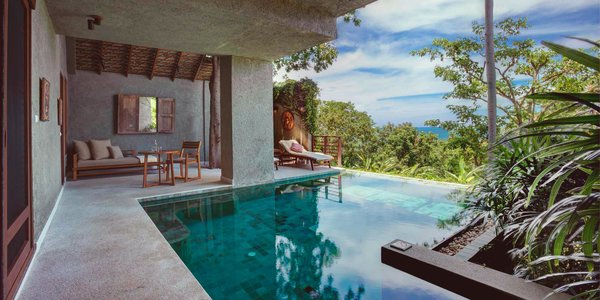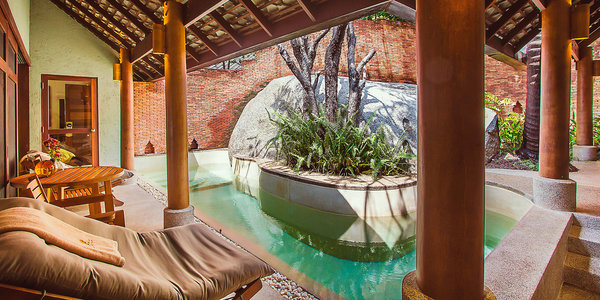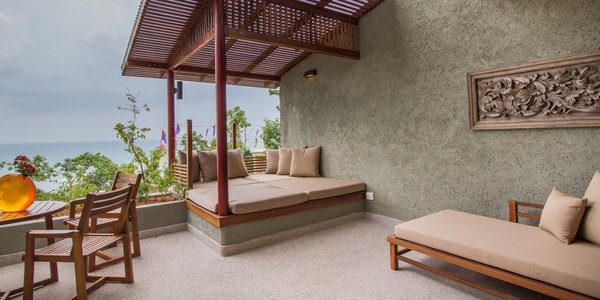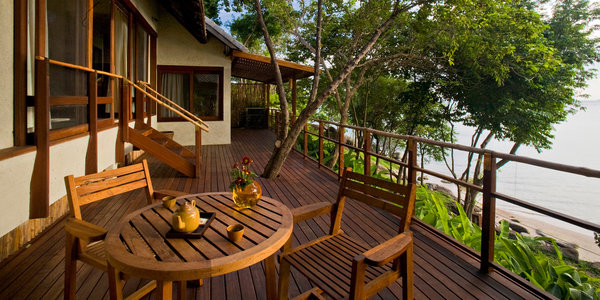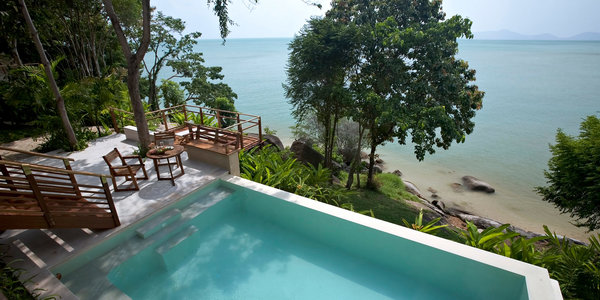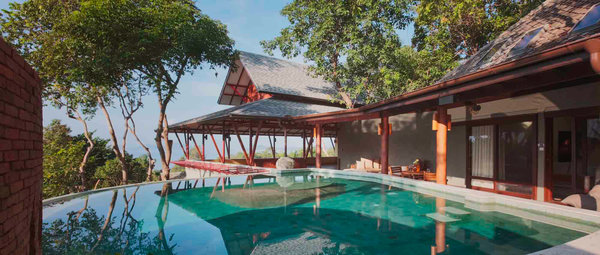 Spa
Integrating the surrounding nature into its design, Kamalaya's Spa features open-air treatment spaces as well as air-conditioned suites. Here you can enjoy 'traditional' spa treatments such as massages and facials, but the big draw at Kamalaya is their holistic therapies such as Reiki and acupuncture.
| | | | |
| --- | --- | --- | --- |
| Acupuncture | Moxabustion | Reiki | Cupping |
| Lotus Blossom wrap | Aloe vera wrap | Indian head massage | Traditional Asian hand massage |
| Lymphatic drainage treatment | Iridology | Traditional Thai massage | Tui Na Chinese medical massage |
| Chi Nei Tsang (Taoist abdominal massage) | Marma point massage | Shirodhara | Personal mentoring |
| Traditional Asian foot massage | Pathaganjaly (massage using the feet) | Kati Vasti | Traditional four hand Ayurvedic massage |
| Vital essence oil massage | Colon hydrotherapy | Sodashi scalp treatment | Mind-body balance |
Cuisine
Delicious with both Thai and international dishes available. A vegetarian detox menu is also offered, which is tasty, locally grown and organic as far as possible. Expect dishes like beetroot tartare with papaya, lime and wasabi dressing.
SOMA RESTAURANT
Sanskrit for 'food of the gods', Soma is close to the main facilities and overlooks Kamalaya valley, offering spectacular views of the coast and outlying islands. Intimate tables are arranged throughout the spacious room, in addition to a 'community table' where diners may sit and chat with other diners.
AMRITA CAFE
Translates from Sanskrit as 'divine nectar', and is located by the swimming pools at the edge of flowering lotus ponds, overlooking the sea.
THE ALCHEMY TEA LOUNGE
Located above Soma Restaurant, the Alchemy Tea Lounge offers light snacks and a wide range of elixirs, juices and medicinal herbal teas and infusions.
Activities
Tai Chi
Yoga
Thai boxing
Pilates
Stretching
Swimming
Pranayama
Meditation
Kick-boxing
Cardio combat
Facilities
Gallery shop featuring a variety of local handicrafts and essentials
Art gallery exhibiting international art - painting, photography, sculptures and prints
24hr library and TV lounge with internet facilities
A leisure swimming pool and a lap pool
Spa
Fitness centre
Herbal steam cavern
Plunge pools
Elixir bar
Yoga pavilion
Yoga sala
Location
Situated in the undeveloped southeast of the island of Koh Samui, Kamalaya overlooks the pristine waters of the Gulf of Thailand.
Directions to Kamalaya:
Travelling by plane
Koh Samui Airport - approx. 45 mins (25 km)
Videos
Reviews
Insider's Tips
"Bag yourself one of the Pool suites, not only will you wake to jaw-dropping views of the sea, but you will be close to the action of the Spa and Fitness area" - Tracy Wilson, Wellness Advisor
"Remember to check the calendar for the visiting practitioners. Pre-book so that you do not miss out" - Frances Geoghegan, Owner & Founder
"Make sure to book a treatment in the open-air treatment room for a special experience" - Klaudia Orr, Wellness Advisor
Awards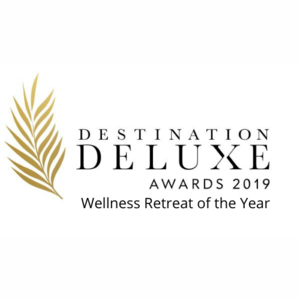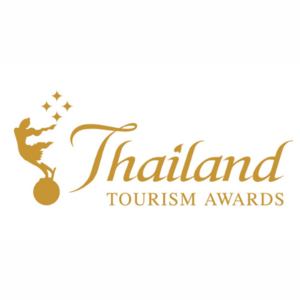 Healing Holidays Exclusive Offers
Although Healing Holidays offer a best price guarantee we often receive special offers with very limited booking windows from our partners. As these are sometimes not reflected on our website it is always worth checking with us to ensure that the cost you are being quoted is the very best available.


Spa Voucher
Book a minimum 7 night stay with any wellness programme and enjoy a £150 spa voucher
Valid for stays until 31 Mar 2024. Blackout dates apply. T&C's apply.
Long Stay Offer
Enjoy 15% room discount when you book 21 nights or more
Valid for stays between 16 Apr – 31 Oct 2023. Book by 10 Oct 2023. T&C's apply.
Added Value Offer:
Book a minimum 9-night stay and receive one complimentary activity. Choose from: (Cooking Class, Sunset Cruise, Samui Island Cultural Tour or Thai Temple Tour)
Book a 14-night stay and receive two complimentary activities or a wellness credit worth 5,000 THB (approx. £118)
Valid for stays until 31 Oct 2023. Book by 20 Oct 2023. T&C's apply.
Loyalty Offer
Book a 7-night stay and only pay for 6 nights valid for clients that have previously booked Kamalaya with Healing Holidays.
Book by 31 Mar 2024. Valid for stays between 01 Mar 2022 - 21 Dec 2022 & 01 Mar 2023 - 22 Dec 2023 & 01 - 31 Mar 2024. T&C's apply.
*Loyalty Offer can be combined with all other offers.
Please note: Programme prices listed are inclusive of any applicable special offers
---