Marina Efraimoglou - Euphoria Retreat
Wellness Expert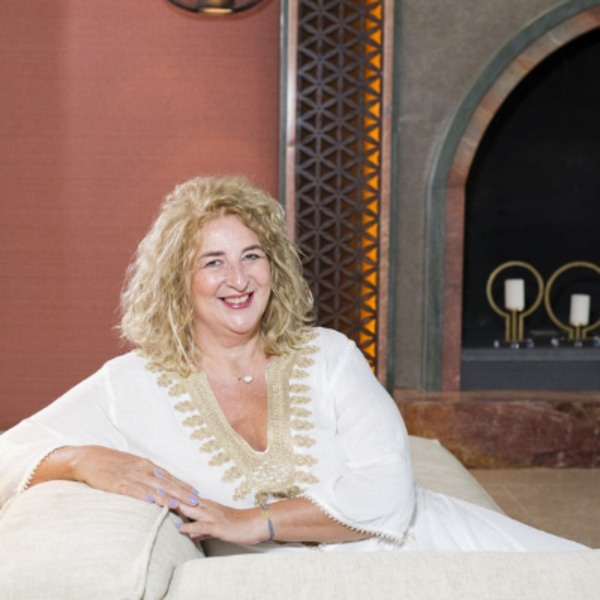 "Euphoria Retreat's founder Marina Efraimoglou was inspired by her travels to wellness spas around the world, but the answers to her philosophical questions lay close to home. Euphoria Retreat represents my personal journey of transformation. It is a vision which has been a lifetime in the making, made possible not only by many opportunities and challenges experienced on the way, but also by the support of those who have shared my dream. Now including you.
The road that led to my first visit to a destination spa was a long one. Overcoming cancer in my late 20s, I was driven to success but ultimately also exhaustion in the world of investment banking. It was only then that I sought to bring much-needed balance back to my life.
Being introduced to the fascinating world of Chinese medicine and the five elements was such an eye-opening experience that, when I returned, I took home not only my yoga and meditation practice but also a decision for my future. I would create a place where people with similar needs could feel at home, and be nurtured and guided on their own personal journey to a more holistic, socially aware and spiritually satisfying way of life."
LinkedIn | City Wealth Magazine | Five Elements Philosophy with Visit Greece
1. What inspired you to create Euphoria Retreat?
Coming from an entrepreneurial family, I had a successful career in the financial sector, specifically in banking. It was about 20 years ago when, for health reasons and suffering from work-related stress, I visited a destination spa in the US. It was a unique experience that introduced me to yoga and meditation and ultimately led to me to make a life decision. I wanted to create a place where people like me, or with similar needs, could come and be nurtured and guided to embark on their own journey towards a more holistic, socially sensitive and spiritually satisfying way of life. In short, towards personal euphoria and wellbeing. And that's how the idea of Euphoria Retreat was born.
2. What is the basic philosophy of Euphoria?
Euphoria Retreat's healing philosophy and treatments focus on promoting wellness, longevity and metabolic homeostasis through the activation and regulation of the body's metabolism. It is based on the common ground between two immensely influential philosophies – the Ancient Greek philosophies and healing practices and Chinese Medicine – which share deep historical roots and a common understanding of the cosmos and human nature

In this way, our healing programmes are centred on the five constitutional elements of Water, Wood, Fire, Earth, and Metal (or Ydor, Air, Pyr, Gaia and Aether, as they were known in ancient Greece) and their related energies and emotions. As such, all treatments consider the holon ("whole" in Greek) in addressing the three levels of existence – emotional, physical and spiritual.

Supporting all of this is our nutritional philosophy that following a Mediterranean diet, which is naturally rich in antioxidants, can be used to fight oxidative stress in the body, which is responsible for ageing and a number of autoimmune diseases and metabolic syndromes.
3. What makes you different from other wellness retreats?
As a destination wellness spa, Euphoria Retreat is different from other retreats in so many ways, but I would highlight the following three:
Philosophy – By basing our therapies on Chinese Medicine and Ancient Greek philosophy and healing practices, our approach is naturalistic – meaning that our healing begins with the energy of the outside world and that we draw conclusions that relate to the energy of the world and individuals.
Location – It took ten years to find the location for Euphoria Retreat, but I immediately knew it was the perfect place. On the edge of the Byzantine town of Mystras, a 13th century Unesco World Heritage Site, Euphoria Retreat is situated in the foothills of Mount Taygetus in Greece's central Peloponnese. Beyond the mystical awe of the nearby castle of Mystras, the entire region is rich in nature and Spartan history and culture.
'Byzantine Zen' Architecture – The setting also inspired Euphoria Retreat's unique architecture – a seamless blend of Byzantine art and Zen design, inspired by Mystras' position as the centre of Byzantium and the many churches and monasteries in the area.
4. Who will most benefit from a stay at Euphoria?
Euphoria Retreat is a place of inspiration for those seeking to live a more balanced and healthy life. You might be looking for a change or to reconnect with your spiritual self. Or you could be looking to take advantage of a weight loss or detox programme, or to choose among a variety of other programmes (body, soul, de-stress, etc). The aim is for guests to leave with a better understanding of their potential, relating to their individual energy constitution. You can take this as far as you wish and use the experiences and healing atmosphere of Euphoria Retreat to support your own personal journey. For example, you can opt to add on a Signature Mini-Retreats or additional sessions to your stay once you're here and have a better understanding of what's available.
5. What are the benefits, short-term and long-term, of a stay?
During a short-term stay, guests will feel fully relaxed and nurtured. Our team of experts will listen to your needs and advise how you can achieve vitality and joy. On the other hand, guests who stay for longer will leave feeling renewed and connected with their inner self. They could potentially have found their life purpose. Either way, Euphoria Retreat is the perfect place to relax and redefine the relationship between your body and mind.
6. What is the best time to go to Euphoria?
You can visit Euphoria Retreat any time of the year. The Greek climate gifts us an average of 250 days of sunshine each year and every season offers a different experience. Spring finds Euphoria Retreat bursting with energy and nature coming to life; summer near the mountains means that the temperature is a couple of degrees cooler than elsewhere in Greece but, at the same time, we are near enough to the sea for great beach day trips; and in autumn the citrus valley of Mystras is full of lemons and oranges and the sunshine offers a break from the weather wherever you are.
7. Is there a minimum stay at Euphoria?
Euphoria Retreat offers a variety of programmes, Signature Retreats, Signature Mini-Retreats, treatments, and wellness and nutritionist consultations, as well as mental coaching sessions that focus on bringing mental, physical and emotional harmony to make your stay worthwhile, however many days it is. Our programs go from 3 to 21 days, depending on the goals and the needs of the guest. We are there to help them choose the best duration, offering consultation and guidance as necessary.
8. Do you provide support after your guests stay?
Of course. There are follow up sessions after our guests have left, depending on the programme they have chosen.
If this interview has got you interested in starting your wellness journey at Euphoria
call our wellness advisors at 020 7843 3597 or
enquire here
.