Dr. Jason Culp - Chiva-Som
Wellness Expert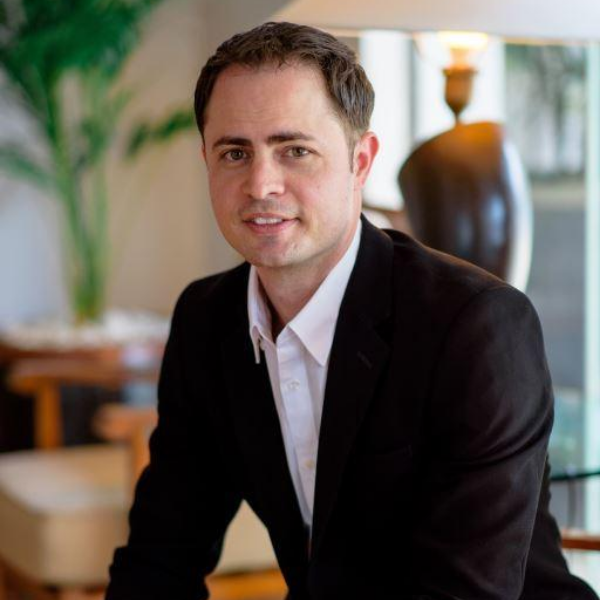 Dr Jason Culp became the Naturopathic Physician at Chiva-Som International Health Resort in 2012. After obtaining his degree as a Naturopath Doctor from Bridgeport University in Connecticut, he served as a lecturer and professor before running his own health practice in California. He focuses on primary care and strives to prevent and treat both acute and chronic disease. His method integrates conventional medical disciplines with a traditional holistic philosophy to educate the patient and is able to treat a variety of physical, mental, and emotional conditions.

Jason's firm belief and passion is in guiding patients towards a healthier lifestyle through health education and empowerment of the individual to pursue their personal health goals. . At Chiva-Som his expertise lies in neuro-feedback, counselling to help manage patients with chronic stress, chronic pain, depression, anxiety, PTSD, unresolved grief, hypertension and numerous other psychological-emotional issues. Treatments include CBT, motivational interviewing, somatic therapy, PMR, autogenics, breathing assessment & modification, and constitutional homoeopathy. Physical medicine includes spinal and soft tissue manipulation, trigger point therapy, ultrasound and interferential treatments.
Personal Connections and Health | Hair Health



1. What is the basic philosophy of Chiva-Som International Health Resort?
Chiva-Som International Health Resort's holistic approach to wellness incorporates mind, body and spirit, combining rejuvenating treatments, focused nutrition and the most up-to-date knowledge. Programmes are designed to be results-driven, which is what guests love about them, whilst also providing inspiration and practical advice to take away. Activities and treatments are tailored to individual requirements and are highly personalised, and at the very centre of the Chiva-Som philosophy lies the Thai passion for hospitality and caring.
2. What makes Chiva-Som International Health Resort different from other wellness resorts?
The key thing that sets us apart is our 21 years of experience operating in the wellness arena, which means that we have been able to fine-tune our offer based on innumerable guests' feedback. We listen carefully, meticulously record and analyse guest conditions, requirements, feedback and comments, and proactively anticipate future potential needs at each life stage and emotional or physical state.
Chiva-Som International Health Resort has been a trailblazer in the industry since it launched, and our commitment to innovation extends to having a full-time researcher. The full ND Naturopathic Doctor looks into health conditions, scientific information and trends globally (necessary with a global audience). Our Culinary Director has a Master's degree in anti-ageing nutrition, so we have haute wellness cuisine with uniquely therapeutic combinations.
3. What are Chiva-Som's most popular programmes?
Our most popular retreat programmes currently are Detox and Weight Management. We have launched five new retreats to support guests with specific health conditions. Among these are 'Tension Release' for those managing hypertension (high blood pressure); this is gaining in popularity as the condition has become increasingly prevalent. People are hungry for information on modifiable lifestyle factors to help manage it. 'Cranial Relief' helps individuals to tackle migraine, and the 'Cell Renewal' retreat supports people who have been in treatment or are in remission from cancer. These both have been well-received.
4. How does Chiva-Som International Health Resort support your guests to find the right treatments?
Chiva-Som is people-centred and not programme-centred so we adapt and apply knowledge and technology, sometimes in new ways and combinations to meet the needs of each guest.
The retreats offer a solution based route in with minimal hassle but within each retreat, there is a high degree of personalisation to the individual. Communication at every stage, from the initial consultation with a health and wellness advisor through to the individual therapist before and during treatment, is key.
5. Are there specific places to reflect and spaces to socialise at Chiva-Som?
Absolutely – Thai Pavilions all have an outside area in which to relax and the Ocean Rooms, newly designed this year by celebrated US Designer Ed Tuttle, have an ample terrace or balcony which draw the outside in. This allows guests to interact with the therapeutic natural surroundings of the resort even whilst in their room. There are many tranquil spots throughout the resort, including outdoors by the main swimming pool, the wide sandy beach, the library which is stocked with books and magazines, and the relaxation area in the main spa. For socialising, the talkers' table at the Taste of Siam is a great place to share experiences and meet like-minded guests and has played host to many budding friendships.
6. Who will most benefit from a stay at Chiva-Som?
We have something to offer most guests, from those looking for relaxation and pampering through to those who want or need to make significant life changes; our expertise means that we can offer support for guests who are in treatment or recovering from illness or injury and help them manage their symptoms.
7. What are the benefits, short-term and long-term, of a stay?
Guest feedback is that they see instant results from a stay with us – that 'Chiva-Som glow'! But our aim is to empower guests to make lasting changes to their lifestyle habits so enable them to live, enjoy and appreciate every moment.
8. What is the best time to go to Chiva-Som International Health Resort?
We are very lucky to have a temperate climate in Hua Hin which means Chiva-Som International Health Resort is a year-round resort.
9. Is there a minimum stay at Chiva-Som?
The length of stay is linked to the guest's condition and wellness goals. Some retreats require a more serious commitment and are therefore only available for longer periods (our five new specialist wellness retreats require a minimum 10-night stay) however regular short stays can be highly beneficial for maintaining motivation for a lifestyle programme. Each guest is different and our aim is to find the optimal formula for each person.
Our minimum stay is three nights, but we recommend eight nights to allow guests to really disconnect, unwind and take time to focus on their wellness goals.
10. What is the most important advice you would give to someone who wants to do a wellness retreat at Chiva-Som International Health Resort?
Take time to think about what you want to take away from your visit - different resorts may cater to different requirements. And speak to a Healing Holidays Wellness Expert for their advice.
If this interview has got you interested in starting your wellness journey
a
t Chiva-Som
call our wellness advisors at 020 7843 3597 or
enquire here
.