An Interview With Clinique La Prairie's Dietitian
15/07/2020, Olga Donica, Dietitian At Clinique La Prairie
---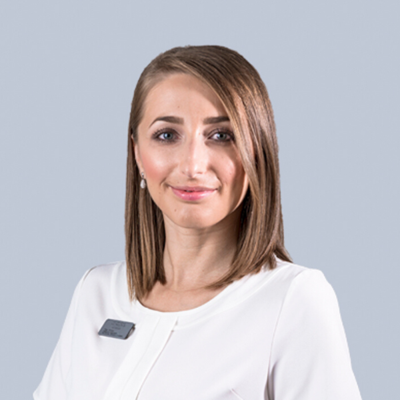 We recently sat down for an interview with Olga Donica, Dietitian at Clinique La Prairie to discuss the medical spa's unique approach to nutrition.
1. What is the nutritional philosophy at Clinique La Prairie, and what inspires this?
Clinique La Prairie's evidence-based nutrition approach provides comprehensive long-life diet changes that enable a successful decrease of inflammatory processes by reducing the oxidative stress, improving metabolic function and restoring a healthy gut microbiome. These unique signature processes will ensure cellular protection by preventing cellular senescence, fundamental in disease prevention and longevity. Our patients will learn how to build a well-balanced diet inspired by solid nutrition principles, anti-inflammatory ingredients, boosting the antioxidant capacity, restoring gut barrier, promoting neuroprotection and body energy recovery while getting pure enjoyment around the table. Each of our medical programmes has a unique journey to health, personalised nutrition and wellness.
2.Where are the ingredients for your meals sourced from?
At Clinique La Prairie, balanced and nutrient dense meals are developed through a strong collaboration between the dietitians and culinary team, using whole ingredients, local and seasonal choices and a wide range of healing herbs and spices to correct the lack of nutrients and ensure nutritional balance, reducing inflammatory processes.
3. How do you determine which nutritional plan is best for the guest during their stay?
In our programmes, patients meet with an experienced dietitian who will recommend a daily nutrition plan and address specific dietary concerns based on the previous extensive medical and nutritional evaluation (laboratory assessment, genetic tests, toxic compounds assessment, body composition evaluation, glucose monitoring, etc). The starting point is always set regarding the nutritional status of the patient. Our expertise shows us that a nourished body will always respond better to all individual goals and medical treatments.
4. What does a typical daily meal plan look like for a guest on a say a detox or a weight loss programme?
Let's take the example of our Master Detox programme. Our detox programme is really special when it comes to dietetic interventions which are designed in a progressive process. The first day is signed by a fasting day where only liquids are allowed. So throughout the day our clients will receive homemade detox juices created by our nutritional experts in collaboration with our trained chefs. Clinique La Prairie detox juices are made with fresh selected fruits, vegetables, spices, herbs in a proportion that aims to enhance the body's detoxification capacity and nourishment. It's our strategy to clean and restore the gastrointestinal capacity, but equally to recover the metabolic flexibility and liver enzymatic reactions. Additionally, special Clinique La Prairie detox infusions are added to the food plan to support liver and kidney activity.
5. Do you provide nutritional support for your guests after their stay?
Our experts bring in-depth knowledge and clinical experience honed by years of practice and training for a personalised and effective model of care. As a part of our educational model we provide a unique experience by supporting our clients after their stay at Clinique La Prairie.
If this blog has got you interested in starting your wellness journey
call our wellness
advisors at

020 7843 3597

or enquire
here.
---