Dr König - Villa Stephanie
Wellness Expert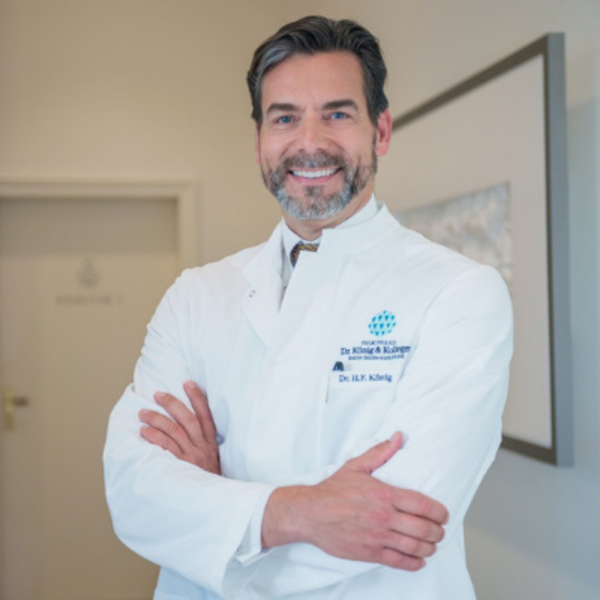 With over 25 years of highly respected experience, Dr König and his team at Villa Stéphanie in Baden-Baden represent Germany's best natural holistic medical care. He is a specialist in regenerative and detoxification treatments, organ cell therapy and biological therapy for malignant diseases, and his team offer a complete spectrum of traditional and modern diagnostic techniques, including personalised therapies based on naturopathic medicine.

Before graduating with his medical degree from FU Berlin, Dr König was passionately pursuing a more integrated approach to medicine. After natural healing-oriented clinical traineeships in India and South Africa, he later trained in homoeopathy and acupuncture and in 1994 established a private doctors' practice in Karlsruhe, following this in 2008 with a second at Villa Stéphanie. Based on a holistic understanding of people and their health, he became a specialist in both general and sports medicine as well as natural healing. A passionate sportsman, Dr König focuses on integrating traditional and modern healing methods as well as offering therapy for the musculoskeletal system through chirotherapy and osteopathy. He also holds diplomas for nutritional medicine, orthomolecular medicine and environmental medicine, and is a trained biological cancer therapist.

For Dr König, the key to maintaining and achieving good health is mobilising the body's self-healing powers – something triggered by the integrated approach of using natural and gentle methods from complementary and conventional medicine. As Head of Medical Care at Villa Stéphanie, he offers guests a range of medical support including effective weight-loss programmes, detoxification and regenerative treatments, naturopathically orientated pre- and post-operative care, holistic prevention planning, functional and chronic bowel affection and specialist ophthalmology.
Dr König talks about Brenners Park | Detox Tips | The Kings Way

Dr König is a mentor for the Well-Aging® philosophy and a co-founder of the curaSport® movement. He is also a member of numerous specialist organisations such as the Society for Biological Cancer Resistance, the German-American Academy for Osteopathy DAAO and the German Society for Experience-based Medicine.

This summer he launched The Kings Way – a new 10-day programme exclusively available at Villa Stéphanie which is revolutionising the best in practice for detox and weight-loss. Based on the knowledge of modern University medicine, The Kings Way combines the tradition of naturopathy with Dr König's esteemed experience and is the ultimate programme of its kind – it blends an individually-tailored diet and personalised training programme with daily medical supervision and bespoke spa treatments.
If you would like to start your wellness journey at
Villa Stephanie
call our wellness advisors at 020 7843 3597 or
enquire here
.