Vana healthy cuisine: a delicious salad recipe
---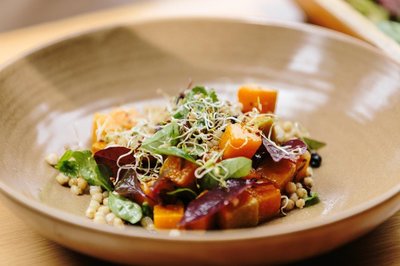 A delicious and healthy recipe courtesy of Vana in India: Wheat berry, roasted pumpkin and spinach salad.
Recipe type: Lunch/Dinner
Preparation time: 30 minutes
Cooking time: 8 minutes
Servings: 1
INGREDIENTS:
20 gm wheat berries (alternately one may use alfa alfa sprouts)
50 gm red pumpkin, diced, blanched
3 gm black currant
10 gm baby spinach leaves, cleaned and washed
2 gm mint leaves
2 gm pine nuts, toasted
5 ml olive oil, extra virgin
1/2 lime
INSTRUCTIONS:
Clean and wash the wheat berries thrice and soak them for 1 hour.
Place the wheat berries in a pressure cooker, add salt and a sprig of thyme and water. Cook for 10 minutes (without the whistle) and check if done. Drain the wheat berries with the help of a chinois and keep aside. Allow to cool before using.
Take a mixing bowl; add cooked wheat berries, blanched pumpkin and baby spinach leaves.
Season with salt, olive oil and lemon juice. Spoon the salad on a serving bowl.
Garnish with fresh mint sprigs and pine nuts.
Enjoy it!
Read more: Vana Reviews, Personalised Retreat at Vana
---