Grand Resort Bad Ragaz Review by Tracy Wilson
02/07/2014, Tracy Wilson
---
Wellness consultant Tracy recently spent a long, leisurely weekend exploring the expansive facilities at Swiss Super-Spa, Grand Resort Bad Ragaz. Read on for her account of miracle facials, purifying thermal water and guilt-free gourmet cuisine.
Grand Resort Bad Ragaz is a 60-minute drive from Zurich airport. I opted for the scenic train journey – it's an extra 20 minutes but worth it for the incredible backdrop of Swiss lakes and mountains.
The resort is situated in the spa town of Bad Ragaz - famed for the healing properties of its natural spring. The Resort is made up of two hotels: Grand Hotel Quellenhof & Spa Suites and Grand Hotel Hof Ragaz. I stayed in a Junior Suite in Hotel Quellenhof – a spacious 50 square metres with a balcony overlooking the Alps and Sculpture Park.
The Spa is one of Europe's largest, your every need is taken care of with no less than 10 spring-water-filled indoor and outdoor pools, three sauna and steam bath zones, Asian treatment suites and a private Spa. Facilities here are world-class and include an on-site sports clinic and a state-of-the-art medical centre.

My Experience
I arrived at lunchtime, so my first stop was Olives d'Or which specialises in authentic Mediterranean cuisine. The Cuisine Equilibrée menu has been designed to complement the detox and weight loss programmes. My three courses came to a total of just 510 calories, yet the food tasted rich and left me satisfied. I drank the thermal water throughout my stay which, besides tasting very pleasant, is known for its healing properties.
A peaceful afternoon ensued as I took part in a hatha yoga class: an hour of deep breathing and relaxing asana. After the class I retreated to the Spa's relaxation area and the bliss of a waterbed. With the dimmed lights and soothing sounds, I was asleep in no time.
I enjoyed an evening meal at the sophisticated Bel Air Restaurant, grandly decorated with royal-blue carpets and beautiful chandeliers. The food was as fabulous as the décor and I retired very content.
Completely re-energised after a good night's sleep, my second day began with a pre-breakfast hike to Tamina Gorge - the thermal water spring. The mountain air and early exercise gave me a healthy appetite and I took full advantage of the vast breakfast buffet, even indulging in a glass of Prosecco.
My next stop was the Spa, where I had booked a La Prairie Facial. Beginning with a wonderful shoulder and neck massage, this intense facial combines hydrating masks and an energising massage. I was pampered for 80 minutes and my skin had a very youthful glow afterwards.
After a light lunch, I spent the afternoon exploring the dramatic 7,300 square metre Tamina Therme. You could spend a whole day just hopping from pool to pool and enjoying the views of the Swiss Alps from the outdoor hot tub. I braved the 17 degree pool several times, which certainly got my blood pumping.
As the evening drew in, I cycled down to the picturesque local vineyards on one of the resort's electric bikes. On my return, I opted for dinner at Olives D'or, eating from the Cuisine Vitalité Menu, which is designed for peak performance and to improve medical and physical health.
I rounded off my short visit with one final morning relaxing by one of the outdoor pools, soaking up the sun and enjoying the beautiful 360 degree scenery.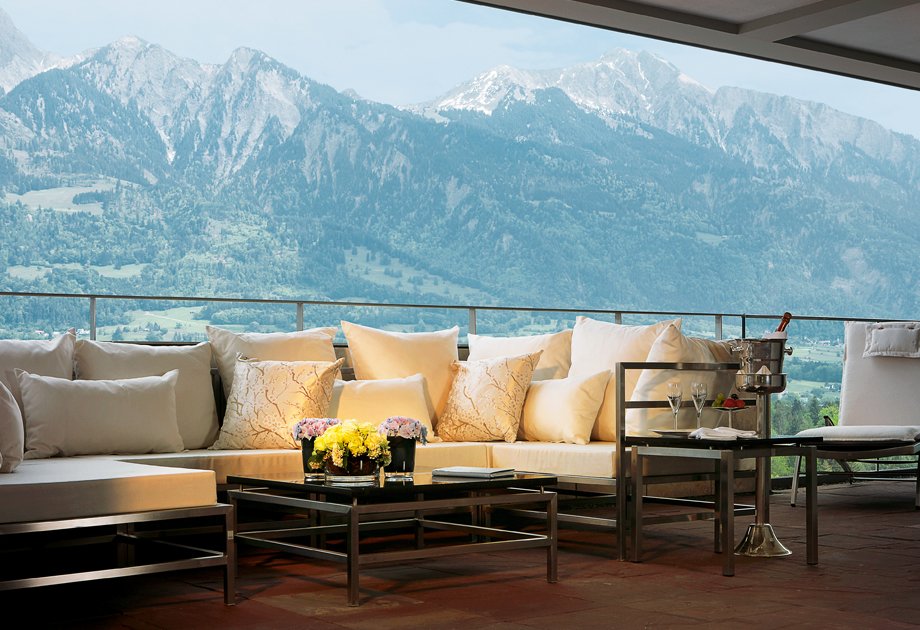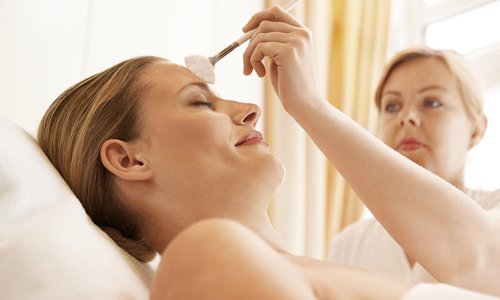 The Bottom Line
I left Grand Resort Bad Ragaz with a spring in my step, glowing inside and out from the clean mountain air, gourmet healthy food and wonderful thermal waters.
The emphasis at the Resort is firmly on wellness, and while the Spa and thermal baths are on an impressive scale, a sense of calm prevails. The food and service are second-to-none and the hotel is decorated to an impeccably high standard. You will discover touches of luxury throughout your stay – one of the steam rooms is even studded with Swarovski crystals.
While I experienced the lighter side of the resort, being pampered on a truly relaxing long weekend stay, this is also a serious medical Spa with 70 Doctors on-site. What is so special about Grand Resort Bad Ragaz is that it manages to deliver at both ends of the wellness spectrum to such a high standard.
Insider Tip:
The saunas and steam rooms are textile free (naked) so not for the shy. I took the plunge and it was very liberating.
To book your own visit to Grand Resort Bad Ragaz, speak to Tracy and our other wellness consultants on 020 7483 3597 or email info@healingholidays.co.uk
---