Cold cucumber soup with chilli peppers recipe
---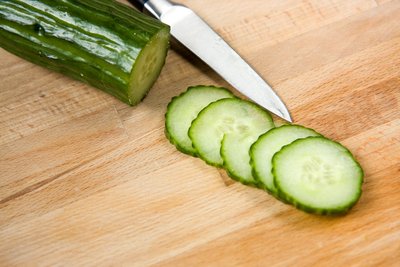 Soup is a dish that we tend to associate more with winter rather than summer. It's something that we usually eat by the fire after a cold walk home from work on a chilly winter's day. However, soup doesn't necessarily have to be served warm to be enjoyed, in fact this cold cucumber soup recipe is perfect for a hot summer's day. Our cold cucumber soup provides a refreshing lift during the day, making it very pleasant and energising to eat. Not only that, but it has high nutritional value, too. Because they are made up of 90% water, cucumbers are a great way to stay hydrated, making them a perfect ingredient for a summer dish.
Cucumbers are also low in calories; a single large cucumber, which comprises the bulk of the dish, contains approximately 50 calories, which is less than the number of calories in an apple. This recipe also uses low fat yogurt, giving the soup a creamy and smooth consistency, while minimising the calorie count. So, the next time you're looking for a tasty and nutritious way to re-energise and cool down, consider trying this beautifully simple soup recipe.
Preparation time:
This recipe takes approximately 20 minutes to prepare.
Serves:
This recipe serves two people.
Ingredients:
* 1 cucumber, (large, around 325g)
* 1 tub of plain Yogurt, (0.1% fat 200g)
* 1 lemon, juiced
* 1 teaspoon of salt
* 1 clove of garlic
* Dill, (1 tablespoon, chopped)
* 1 pinch of chili flakes
Equipment:
* Lemon Juicer
* Blender
* Knife
* Spoon
* Two bowls
* Mallet
* Tea Towel
Directions
1. Before preparing the cucumber, make sure you wash it, by briefly running it under cold water.
2. Cut the cucumber into small slices and discard any seeds.
3. Cut the lemon into two halves, remove the pips and juice using a lemon juicer, twisting occasionally to get out all of the juice you can.
4. Remove a clove from the head of the garlic and peel the clove by placing it under a tea towel, lightly hitting it twice with a mallet. This will crack the shell and loosen the skin. Peel off the remaining bits of skin with your fingers.
5. If you haven't done so already, chop the dill into fine pieces with a sharp knife.
6. Add the cucumber, clove of garlic, lemon juice and half of the chilli flakes and chopped dill to the blender. Save the other halves of the dill and chili flakes for later.
7. Blend the ingredients until it resembles a paste.
8. Then, add the yoghurt and the salt to the blender to mix in with the paste.
9. Empty the soup into two bowls and chill in the fridge prior to serving. Then, sprinkle the remaining dill and chili flakes over each portion to garnish.
Top Tips
* If the soup seems to be too thick in texture after adding the yoghurt, carefully add water (no more than 150ml), until it develops into a thinner, soup-like consistency.
* Don't peel the cucumber; although removing the skin may seem like an effective way to cut calories, the skin contains silica, which helps to firm up ageing skin. Cucumber skin also contains vitamin K, which helps the maintenance of strong bones and cell growth.
* Try to only use fresh lemon juice. Although using pre-squeezed, shop bought lemon juice may seem like a good way to save time, fresh lemon juice is much tastier; it really makes a difference to the overall flavour of the soup.
---