An Interview With Six Senses Douro Valley's Food Director
10/06/2020, Chef Marc Lorés, Food Director | Six Senses Douro Valley
---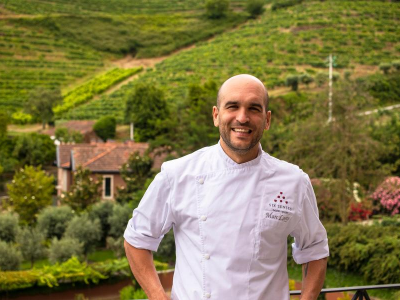 We recently spoke with Six Senses Douro Valley's Food Director Chef Marc Lorés to find out more about the spa's unique food philosophy.
Marc hails from Lleida in Catalonia where his mother still lives and works the farm he grew up on. After training in some of the best restaurants of Spain (El Bulli, Mugaritz) his exciting international career included stints in Austria, England, Denmark, Germany and Hong Kong. Along the way, Marc has developed a distinctive style of cuisine. He loves growing his own food and sourcing the best local ingredients to create vibrant nutritious dishes, using both modern technology and the best of local culinary traditions.
A highlight of his career was his stint as Head Chef of Cal Xirriclo in Lleida, a modern fine dining restaurant, Michelin recognised for producing wonderful dishes from local organic ingredients. It was here that Marc appeared on several cooking shows, wrote a food blog for the local paper, and won several of Spain's top culinary awards, including Best Dish at the Negrini Creative Cuisine Madrid in 2012 and 2016. His thirst for adventure eventually lead him to Hong Kong and ultimately to Bali and the excellent Alila Hotel (famous for healthy, plant-based, fine dining and zero waste). Marc has gained his reputation as a tremendous leader passionate about healthy vegetarian food and sustainability.
What is the food philosophy at Six Senses Douro Valley, and what inspires this philosophy?
Six Senses is passionate about food - not only how it tastes, but also how it keeps us healthy and thriving. All-natural and organic where possible are our ingredients of choice. At Six Senses we consider it a privilege to prepare wonderful culinary experiences for you. We love what we do, which is so much more than simply combining ingredients. Our commitment is to create dishes that are both delicious and good for you – the art of wellness through food.
What role does Portuguese food play in your food philosophy?
Inspired by the Six Senses organic gardens, the seasons, and local traditions, our menu offers both regional classics and a contemporary selection. Using traditional food preparation methods of pickling, dehydrating, smoking and preserving, we hope to reconnect you with food that is both great tasting and good for you. Homemade bread, pickles, preserves, and yoghurts, combined with local cheeses, butter, and olive oils all help to define the experience as heritage Douro.
If people are on a detox how do you 'protect' them from the lovely food /alcohol that is available at your resort?
By giving priority to the natural richness of each ingredient and ensuring minimal processing, nutritional values are preserved. Our dishes are gluten-, sugar- and soy-free wherever possible, plus we keep a close watch on lectins, which are a natural pesticide in plants that may upset digestion and the proper absorption of nutrients. If the guest wants to a detox programme, we can prepare a set menu for all the meals, with appropriate dishes and drinks.
Where are your ingredients sourced from?
We use only sustainably caught fish, grass-fed red meats, local game, and an organic 'where possible' approach to all sourcing from the resort's vegetable gardens and the Valley's niche producers, the idea is to show that healthy, whole-food-based cooking results in delicious fuel for your body.
How do you guarantee the quality of the products and the food?
The ingredients we use are handpicked and harvested in our garden or by farmers whom we know personally. Besides that, we have a close control to all the products that arrive at the hotel, transport conditions and temperatures.
If this blog has got you interested in starting your wellness journey at Six Senses Douro Valley please
call our wellness
advisors at

020 7843 3597

or enquire
here.
---