5 Minutes With Preidlhof, Italy
07/03/2018, Claudia Köllemann - spa manager
---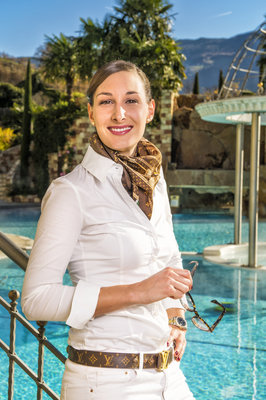 Preidlhof is a luxurious and sophisticated spa hotel in South Tyrol, Italy offering an indulgent range of treatments from relaxing and romantic spa breaks to targeted programmes including weight loss and detox. We caught up with Preidlhof's spa manager, Claudia for the inside scoop on all things wellness.
What is your basic philosophy of wellness at Preidlhof?
Central to Preidlhof's wellness philosophy and its success is the promotion of the Mediterranean 'Good Life' – La Dolce Vita - and this is really integral to our offering. This is also key to achieving long-term and more sustainable health results and wellbeing. From the broad selection of spa treatments, the focus on medical wellness to the award-winning cuisine, luxurious facilities and beautiful location – our mission is to tailor our offering for each individual guest so that they really can experience their idea of the Good Life.
Why is the emphasis on your philosophy so important to Preidlhof?
Because we really believe that a holistic approach is the best way to a better health and happier life! So for me as the Spa Director this means really hiring, developing and nurturing the best team of therapists to deliver our treatments – whether they are relaxing, vitalizing, medical or specialist.
What makes you different to other retreats in Europe?
I think that we stand out for the sheer range and depth of programmes, treatments and experts on offer. At Preidlhof you can come to detox, to weight loss, to get fit, to relax and to recuperate. We have a specialist Ayurveda programme and offer the Merano Grape Cure, you can have a full health check with our medical team or just relax in our saunas. However, the difference isn't just in our hardware but in our software too – we have a fantastic team looking after our guests led by the Ladurner family and the warm welcome they impart is really what makes us so special. For many of our guests, it is like returning home once or twice a year!
Who would benefit most from a stay at Preidlhof?
We are an adults-only hotel and so Preidlhof provides a particularly attractive spa offering for couples. Our emphasis on indulgence and romance with Pampering Spa programmes for Two mean that we do appeal a lot to couples who jsut want to spend time together.
Our in-house medical team, led by Dr. Angerer, specialises in individually tailored treatment programmes such as our Preidl Medi-Check and Vital Age & Rejuvenation programmes and these tend to attract single health travellers more.
What is your most sought-after programme?
Our Pampering Spa Programme is very famous, our guests can enjoy not only relaxing treatments but also our Dolce Vita Lifestyle with gourmet food from our Michelin restaurant. Our Ayurveda programme led by Nisha Don Pradeep, originally from Sri Lanka is very popular too.
What are the benefits, short-term and long-term, of a stay?
The short-term benefits are pretty immediate! Preidlhof is located in a beautiful area in the north of Italy, with stunning mountains views and a fabulous Mediterranean climate. As a family-run hotel, guests are very warmly welcomed and can relax from the first minute of arrival. Short-term benefits are also felt from the individually tailored suggestion of treatments, delicious and healthy food and the beautiful facilities.
Longer-term benefits can really be felt with our specialised programmes. Our Weightloss and Detox Programmes, for instance, make you feel lighter yes but also more awake, more motivated and purified from insight. It is a new life feeling. Furthermore, if guests are really open to change they have to opportunity to attend cooking and fitness sessions so they can learn how to make adjustments in their daily life as well.
What advice would you offer to guests coming to stay with you?
My first advice would be to book at least some of your spa treatments in advance of your stay. I would also encourage all our guests to take part in our weekly programme of activities. These change weekly depending on the season and the weather but always includes outdoor, adventure and fitness activities which really will enhance everyone's stay. And lastly, really come to relax. Leave your work at home!
Do you have a favourite treatment that Priedlhof offers?
This is really hard for me! But I do love the PREIDL Lift up-massage. It is a very individual treatment, and our therapists respond to individual muscle tensions and blockages in the spinal column. It is an inter-active treatment guided by your therapist – so you might stand up for part of it or lie on your side or your back for instance. The aim is to relieve the pressure on the intervertebral discs and to improve the supply of oxygen to the organs. To get the most out of the PREIDL Lift up-massage I would first have an intensive back massage.
How do you support your guests to find the right treatments?
It is always my pleasure to meet with our guests so that I can find out what they are looking for and to discuss with them a tailored programme of treatments which will most benefit them.
When is the best time to go there?
What is beautiful about South Tyrol is that we have four perfect seasons, so there is always a best time to go! It really just depends on personal interest. May to September is, of course, beautiful for the warm and sunny weather but winter is also a wonderful time to enjoy the huge wellness area at Preidlhof with over 5000m²of spa facilities!
---