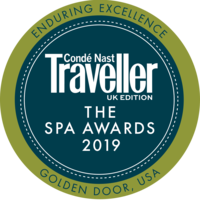 The award-winning, big-hitting spa for people who want results. Opened in 1958 by the renowned pioneer of wellness Deborah Szekely, Golden Door has been whipping high-profile guests into shape for over fifty years. Offering week long tailor-made stays (choose from female-only, male-only or co-ed), this Southern Californian institution is spread over a 600-acre site and focuses on achieving a body, mind and spirit balance. Days begin with a guided dawn hike and end with a deep-tissue massage, or an inspirational talk by guest speakers such as Arianna Huffington.
All fitness levels are catered for and whether you're here to lose weight, get fit or gently rejuvenate, you'll also achieve a sense of balance with as much of the programme centred on inner well-being as it is on physical strength. The facilities are next to none with a well-equipped gym and various workout studios, two swimming pools and more than 40 scheduled exercise sessions, including yoga, Tai Chi, barre, dance and free weights. Golden Door's signature week programme will completely transform your health in seven days.
Please note: All retreats are available for Sunday arrival only
Nearest Airport: San Diego International Airport
Transfer Time: Approx. 30 minutes
Singles from
£
7699.00
£
7699.00
pp
Including transfers, accommodation, full board and a 7 night programme
---
Room Types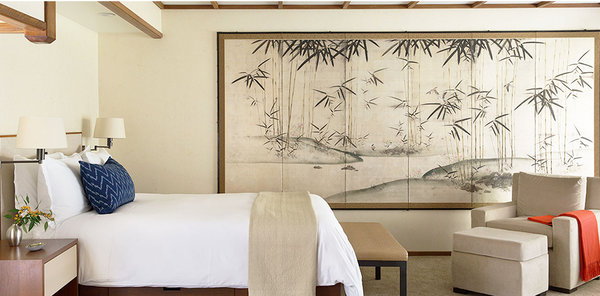 Spa
An aesthetician will design a personalised programme for every guest which can include bathhouse treatments (including scrubs, wraps and hydrotherapy baths), skincare (including facials, peels and masks) and hair and beauty services. Private sessions can also be arranged in interests such as dream interpretation, energy balancing, acupuncture and aromatherapy.
Spa Treatments at Golden Door
Deep Tissue Massage
In-Room Thai Massage
In Room Reflexology
Alpha Beta Peel
Lymph Drainage
Cardio-Metabolic Exercise Profile
BioFeedback Stress Relief with Heat Math
Chakra Rocks
Lavender, Lemongrass & Salt Scrub Souffle
Warm Honey Wrap & Orange Blossom milk Soak
Signature Facial
Myofacial Release
Advanced Lifestyle Coaching




Reiki Massage
Thai Herbal Poultice
Tranquillity
Hydrostatic Body Fat Testing
Resting Energy Expenditure Profile
Comprehensive Overhaul
Creativity Coaching
Dream Sharing
Botanical Body Scrub
Kiatsu (watsu) water therapy
Aromatherapy Custom Blend
Astrology
Sabai Thai Foot Ritual




Custom Deep Cleansing Facial
Vitamin KanD Ginko Bilboa eye masque
Bare and Beautiful back
Advanced Posture Analysis
Acupuncture
Felden Krais Functional Integration
Nutrition Counselling
Regression Hypnosis
Island Paradise Seashell Massage
Healing Waters Hydrotherapy bath
Golden Door Pineapple Scrub
Olive Oil and leaf masque
Golden Door Signature Citrus Blend Sea Salt Scrub with Avocado
Cuisine
Healthy, organic and locally produced as far as possible, Golden Door cultivate a backyard approach to farm-to-table cuisine. Executive Chef Grey Frey Jr. grounds his menus in seasonal ingredients grown and produced on the property. Personal eating plans can be requested and menus include dishes such as truffled wild mushroom soup and crispy duck breast served with caramelised shallot, date bulgar pilaf and blackberry jus. There are also nutrition education classes and a celebratory alfresco group lunch or dinner on our farm.
Activities
A 2000-square-foot equipment gym. Two swimming pools and a Watsu water therapy pool. Three group exercise studios. A state-of- the-art Pilates Studio. A group spinning room. A Tennis court. Plus a hilltop retreat for private fitness sessions. And sessions designed for every skills level. At Golden Door, fitness isn't easy – but it is hard to resist.
Pilates
Spinning
Yoga
Tai Chi
Dance
Boxing
Cross-training
Qi Gong
Feldenkrais
Meditation
Self-hypnosis
Facilities
3 Lounges
Dining Room
Bathhouse (With Showers, Hot Tub, Sauna, Steam Room, Hydrotherapy Tub, And Herbal Wrap Area)
9 Skincare and body care treatment rooms
2 Swimming Pools
2 Labyrinths
A Ki-Atsu Water Therapy Pool
7 State of the art gyms
A Lighted tennis court
Pilates Studio
5 Acres of bio-intensive gardens
12 Mountain or meadow hikes of varying challenge on 25 miles of private trails
Location
Situated forty miles northeast of San Diego, the spa has a Zen-feel in part due to the Japanese-inspired architecture and gardens with koi ponds, streams and waterfalls. With only 40 rooms, it is an intimate, friendly retreat.
San Diego International Airport is only a 30 minute drive from Golden Door. If you prefer to fly via private jet, McClellan Palomar Airport is just 20 minutes away.
Videos
Insider's Tips
When having your consultation a week before arrival, give as much detail as possible so your retreat at Golden Door is completely tailored to you.
If you're looking for a specialised programme, then sign up for one of Golden Door's Focus Weeks, which include weeks dedicated to yoga, nutrition & sleep, Pilates, breast cancer survivorship and creative renewal.
It is traditional to wear the provided yukata robe to dinner though not everyone does.
A Week at Golden Door
Golden Door | United States
Golden Door is the ultimate Californian escape. With only 40 guests each week, Golden Door offers weeks dedicated to making guests feel most comfortable and that cater to their special needs and interests. The entire experience at Golden Door is tailored to the individual, from a meal plan to …
Singles from
£
7699.00
£
7699.00
pp



---