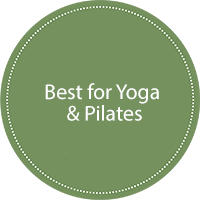 Situated in a peaceful area on the island of Koh Samui lies Absolute Sanctuary, a simple, but an utterly wonderful spa. If you have dreamt of a yoga or Pilates holiday in Thailand, and are determined to cleanse, get fitter and lose weight, without it costing the earth, then this is the spa for you. You might be surprised by the Moroccan style décor, and to find that you are not located on one of the islands many beaches, but you will instantly realise what a gem you have uncovered. This is a real rocket-charger. The yoga classes are amongst the best you will ever experience, so much so that Absolute Sanctuary's yoga gurus train yoga instructors from around the world.
The wealth of knowledge here means that you can choose from a whole host of yoga styles including Ashtanga Vinyasa, yin, Hatha, hot, pranayama and meditational. In addition to this, their new Reformer Pilates programme will challenge even those with the strongest core - there are classes that focus on abs and arms, butt and thighs, or simply fit and tone. To start, you will have a full postural analysis session, which will assess your strengths and weaknesses.
If Pilates and yoga are not your thing, you can opt for intense fitness sessions with Marco, a former water-polo professional who will take you through your paces with Box Fit - high impact, heart-pumping, boxercise; as well as on early morning hikes to the beach. It really is all about the expertise of the instructors here. Programmes can be tailored to suit you, it's not one-size-fixes-all at Absolute Sanctuary and this goes for their menu and food selection too.
Another speciality is their fasting programmes – a chance for your digestive system to have a break. You will be on a liquid-only diet – warming broths, drinks of psyllium husk, and oodles of delicious coconut water. This, combined with colonic irrigation, will help to totally clean out your system, and all the while you will be looked after with gentle Thai kindness.
Nearest Airport: Koh Samui

Transfer Time: Approx. 15 minutes





Sharing from
£
499.00
£
499.00
pp
Singles from
£
719.00
£
719.00
pp
Sharing from
£
579.00
£
579.00
pp
Singles from
£
849.00
£
849.00
pp
Including regional flights, transfers, accommodation, breakfast and a 7 night stay
Recommended for
Detox | Fitness | Yoga & Pilates | Weight-Loss | Holistic Healing
---
Room Types
All 38 rooms at Absolute Sanctuary are inspired by the stunning architecture of Morocco, with bright yet soothing colour templates throughout its exterior and interior.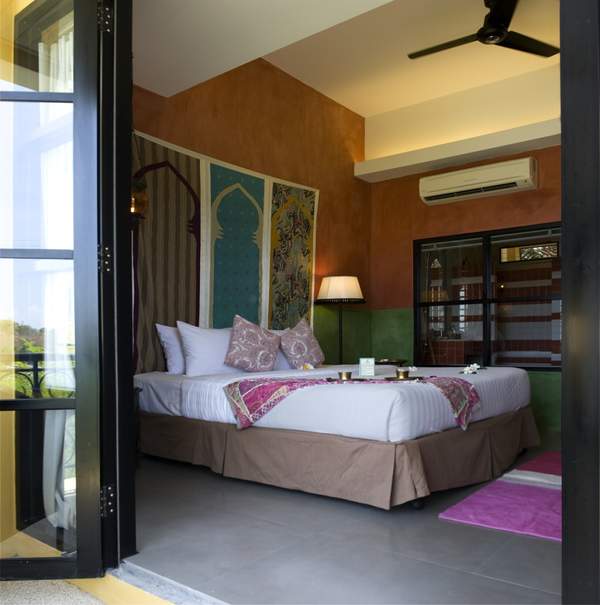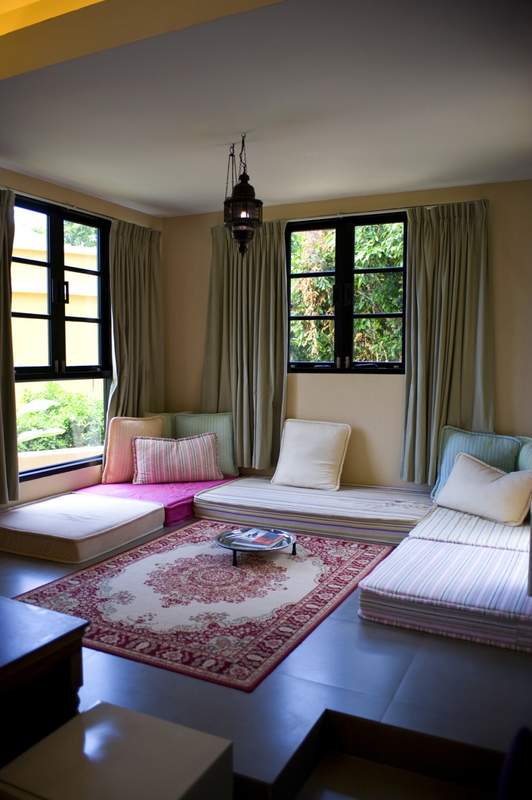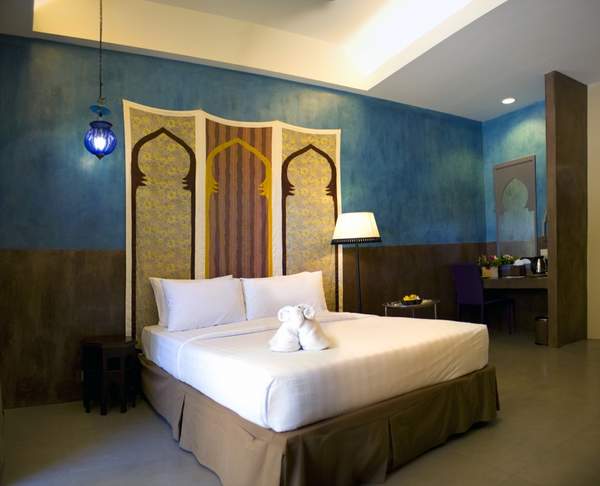 Spa
Absolute Sanctuary & Yoga Centre is Thailand's leading yoga instructor training and retreat centre. The retreat boasts a world-class yoga centre with three fully equipped yoga studios as well as six pilates reformer machines. Since opening it has hosted numerous month-long teacher training and yoga workshops, conducted by yoga teachers from around the world including well-known names such as Paul Grilley, Desiree Rumbaugh and Amy Ippoliti.
Absolute Sanctuary is part of the Absolute Group which owns and operates Absolute Yoga, the largest yoga studio in Thailand, and with eight yoga centres nationwide has used its years of experience in running a yoga business and teaching over 100,000 people to build the perfect retreat centre. Understanding the needs of both yoga teachers and students for their retreats, and teacher training and workshops, Absolute Sanctuary is perfectly positioned, at the forefront of yoga in Asia, to link avid students with world-renowned teachers so that they can learn from, and interact with, each other.
Starting with six machines, Absolute Sanctuary has daily scheduled classes and a special Pilates Bootcamp holiday programme. Classes will be conducted by one of Absolute Pilates' instructors, and guests can look forward to its signature programmes targeting specific problem areas such as abs and arms, butt and thighs, or simply to tone the whole body. Available in 5 or 7-day options, the Pilates Reformer Bootcamp holiday is ideal for both Pilates beginners or aficionados alike.
Guests will not only enjoy two group reformer classes a day but also a postural analysis and individual one-to-one private reformer sessions with an instructor. The all-inclusive package also incorporates Absolute Sanctuary's signature offerings such as a wellness consultation, three spa-cuisine meals a day at the famed Love Kitchen restaurant, soothing massages to knead away tense muscles, and scheduled group fitness classes.
Cuisine
The Love Kitchen
The Love kitchen concept at Absolute Sanctuary is a spa-cuisine restaurant serving healthy yet tasty food designed to tantalise your taste buds. Specialising in the art of healthy, nutritious cuisine, detoxifying foods, and the magic of a truly divine meal, everything from sea salt to sesame oil has been carefully selected for taste, quality and above all, freshness. The Love Kitchen caters to the needs of every guest, meals are tailor-made for the programme you are following. The menu not only supports those who are on a detox programme or a vegetarian diet, but also those who want non-vegetarian meals prepared in a healthy yet tasty way.
Activities
Yoga centre with 3 fully equipped yoga studios, and up to 25 classes conducted per week, covering a wide variety of styles including: introductory yoga workshops, Ashtanga Vinyasa, detox, hatha, hot, hot flow, pranayama, meditation, restorative and yin
Reformer Pilates
Beautiful 20 x 10 m infinity swimming pool
Steam room
Far infrared sauna
Fitness studio
Mountain bike trekking
Sunrise walks
Facilities
The Love Kitchen, a spa-cuisine restaurant serving healthy, tasty cuisine
20 x 10m infinity pool and large sun terrace
Poolside juice bar
Yoga centre
Detox centre
Spa
Steam room
Fitness studio
Far infrared sauna
Free shuttle service to nearby beach
Mini Theatre / Conference Room
Free wireless internet access
Guest lounge area, and library, with internet terminals
Location
Set on a hillside overlooking the Gulf of Thailand, the resort has 38 rooms and a décor inspired by Morocco. Expect colourful walls, tiled floors and small outdoor terraces.
Bangkok Airways flies direct almost every hour from Bangkok to Koh Samui and other domestic destinations such as Phuket. Internationally there are direct flights with Bangkok Airways from Hong Kong and Singapore daily.
Flying time: 1 hour from Bangkok
Transfer time from Koh Samui Airport: 15 minutes
Videos
Reviews


Insider's Tips
If you have the time, extend your stay with a pre and post cleanse programme. This will help maximise the effects of your detox;
There are different yoga styles available from Hatha, Yin, hot to Vinyasa as well as you can practice on your own;
Whilst many of the treatments are only suitable for those over the age of 18, the Yoga retreats may be attended by those over the age of 13;
Be sure you check the full range of treatments available and pre-book so that you don't miss out!
Awards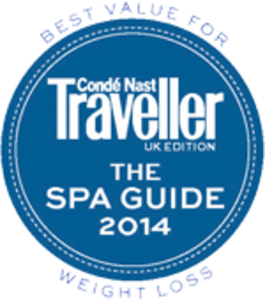 Healing Holidays Exclusive Offers
Early Booking Discount
Receive a 30% room & programme discount
Valid for stays between 21 Dec 2020 - 31 Mar 2021. T&C applies.
Free Night Offer
For every 7/8 night, wellness programme package booked receive TWOadditional nights with breakfast included. Also, receive:

Complimentary room upgrade to Deluxe Room (subject to availability)
Unlimited access to group yoga classes
1x Private stretching sessions (30 mins)
1x Jetlag massage
1x Private Pilates reformer session
T&C applies.
Loyalty Offer - Free Night
If you have booked Absolute Sanctuary through Healing Holidays previously then benefit from one of the following offers:
Stay 7 & Pay for 5 nights
Stay 10 & Pay for 7 nights
Offered on accommodation only. T&C applies.
---