One of Sri Lanka's warmest and most hospitable family-run properties, Barberyn Ayurveda Beach Resort, lies in Weligama. Here, the beach resort pairs pristine facilities with expert practitioners in a professional Ayurvedic health centre. The philosophy Barberyn Ayurveda is to promote authentic Ayurveda, yoga and spiritual enrichment. A blissful retreat here will serve to improve your health and wellbeing through Ayurvedic diagnosis, healing treatments, herbal medications, Ayurvedic diet, yoga and meditation. All treatments are specifically prescribed by doctors.
Nearest Airport: Colombo Airport
Transfer Time: Approx. 3 hours
Sharing from
£
1865.00
£
1865.00
pp
Singles from
£
2099.00
£
2099.00
pp
Sharing from
£
2429.00
£
2429.00
pp
Singles from
£
2899.00
£
2899.00
pp
Including transfers, accommodation, full board and a 14 night programme
---
Room Types
These spacious rooms are furnished with all natural materials. Rooms are bright and airy, with high ceilings and ceiling fans, mosquito nets and en suite bathrooms and toilets. Most rooms have four-poster beds and feature balconies.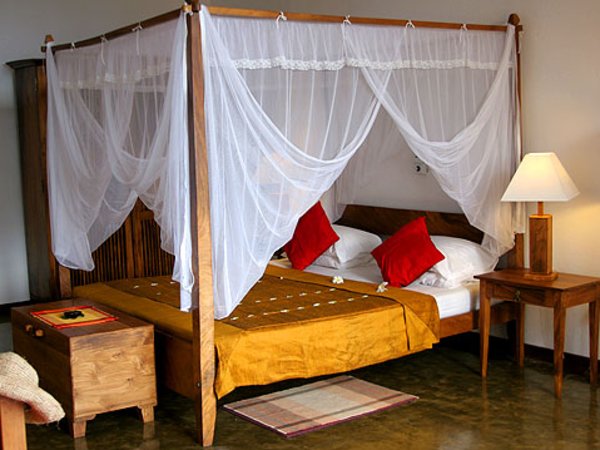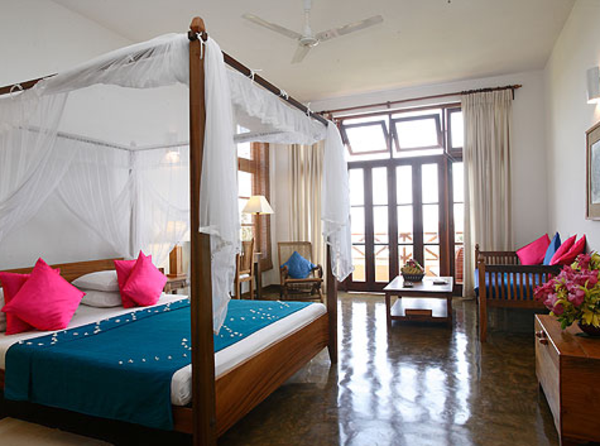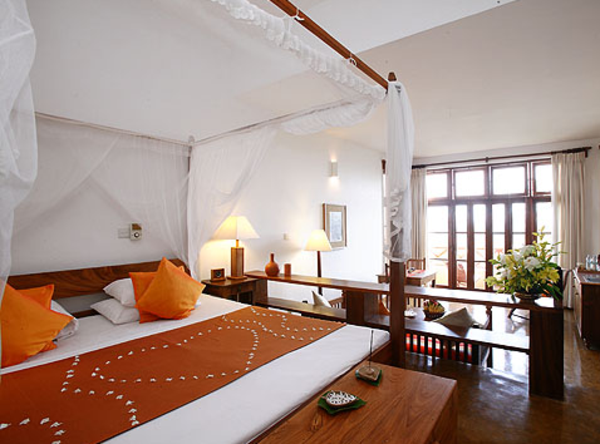 Spa
The Health Centre at Barberyn Beach Ayurveda Resort has earned a reputation of providing effective professional and caring Ayurveda therapies since it opened in 2003. AsiaSpa magazines notes that this is "a place to experience Ayurveda at its best." The Health Centre will help you to tune into your body and to eliminate stress. Ayurveda can relieve a number of medical problems and the Ayurveda physicians, medicine makers, therapists and acupuncture specialists well help you to sort out your issues.
Cuisine
Food is an integral part of Ayurveda therapy, which is why guests spend time at Barberyn learning about the links between food and health, and their own unique system of digestion. Here, you will be served fresh vegetables, fruit and fish. Meat and alcohol are not made available. While taking herbal medicine, it is important to abide by the Ayurveda doctors' advice, so doctors are always ready to explain what type of produce to eat - and which to avoid - during meal times. Your personal herbal elixir and the instructions from the doctors at the health centre will be on your individual table.-
The dining room enjoys a prime location on the fourth floor of the main building, with views of the verdant trees and ocean on one side and the distant hills on the other.
Activities
Gentle yoga practise can be a great complement to Ayurvedic therapy, and group classes are offered twice daily, suitable for all levels. Tai Chi is also offered free of charge. Guests are encouraged to practise meditation and have access to the owners' collection of books and audio/video materials. Visits to temples, churches and mosques can also supplement spiritual practise. Other tours include the lighthouse at Dondra, Old Dutch Fort, Koggala Museum and various bazaars around Weligama. On site, guests may enrol in an eco programme or take an Ayurveda cooking class.
Facilities
Following are some of the facilities and services at the resort
Ayurveda health centre
Yoga and meditation pavilion
Sea view dining room serving breakfast, lunch and dinner
Reception pavilion
Swimming pool overlooking the ocean
Conference facility
Asian silks and craft shop
Reading room
Shrine room
Food demonstrations
Ayurveda lectures
Cultural evenings
IDD
Laundry
Tailor
Foreign currency exchange
Location
Barberyn Beach Ayurveda Resort is located on the southern tip of Sri Lanka, near the village of Weligama, 140 km south of Colombo.

A drive from Colombo Airport, if traffic is favourable, takes approximately 3 hours.
Reviews
Insider's Tips
Enjoy a digital detox during your stay because therea are no TV's, radios or internet in the rooms. Wi-fi is available in 2 areas of the hotel only.
Food menus are individualised to suit your dosha (body type) with the doctor on duty to ensure you don't stray from your programme.
If you'd like to have some new clothes made, bring some material and the resident tailor can whip you up a new outfit.
Barberyn Ayurveda Programme
Barberyn Beach Ayurveda Resort | Sri Lanka
Newly arrived guests visit the health centre for a consultation and diagnosis with an Ayurvedic doctor, who creates an individual programme of treatments for each guest consisting of oil, herbal massages, herbal baths, herbal medicines and liqueurs, in addition to a tailormade diet for their stay a…
Sharing from
£
1865.00
£
1865.00
pp
Singles from
£
2099.00
£
2099.00
pp



---