If you are looking to explore your spiritual side and improve your Yogi poses, the Shreyas retreat might just be your haven. A spiritual ashram with a touch of luxury.
Situated an hour north-west of Bangalore in 25 acres of lush gardens lies this charming yoga retreat. This retreat was designed by owner Pawan Malik, an ex-banker who wanted to create an escape experience where you can practice yoga and meditation and have a purely vegetarian diet in comfortable, peaceful surroundings. And so Sheryas was born. The atmosphere is decidedly laid-back, it's your time to heal your body and mind and with a wide variety of classes and a full daily schedule, you can you do as much or as little as you want. The goal is rejuvenation and relaxation.
With 3 styles of cottages to choose from (Garden Tent Cottage, Poolside Cottage or 3 Bedroom Cottage) you will feel one with nature as you hear the sound of birds and the rustle of the coconut trees, or watch the stars as you shower. The cottages are suitable for 2 adults. 2 children under the age of 8 can be accommodated free of charge (a mattress is provided). For guests who are very sensitive to sound or very light sleepers, we recommend the Poolside cottages. At night the property takes on a magical feel from the hurricane lamps that light the surrounds.
Food is a big highlight for the guests, and their varied menu is a delight. You can choose from a light American breakfast of fresh juices, toast and oatmeal or a tastier Indian version with idis and parathas. Lunch and dinner are grand affairs, both have four courses, and can be either Indian or Mediterranean. The ingredients are mostly from the garden, and are low in salt and sugar and high on flavour and spices.
Nearest Airport: Bangalore International Airport
Transfer Time: Approx. 60 minutes
Sharing from
£
735.00
£
735.00
pp
Singles from
£
1099.00
£
1099.00
pp
Sharing from
£
815.00
£
815.00
pp
Singles from
£
1239.00
£
1239.00
pp
Including transfers, accommodation, full board and a 3 night programme
---
Room Types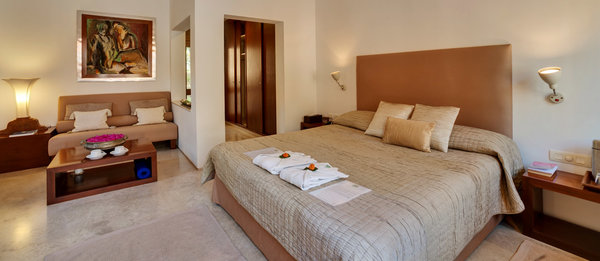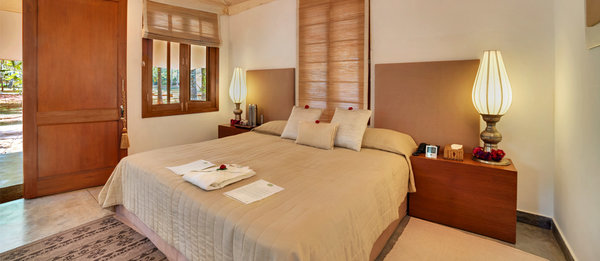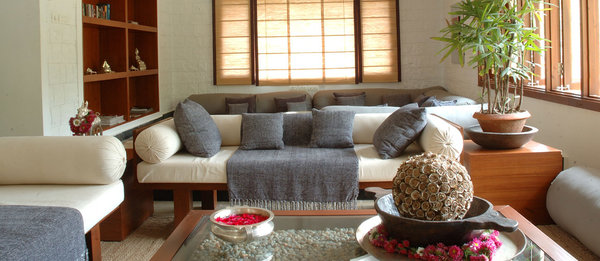 Spa
There are two massage rooms with therapists offering Thai, Indonesian, Swedish or aromatherapy massages, facials, scrubs, wraps and some ayurvedic treatments.
Massage Therapy at Shreyas Retreat
Balinese Massage
Thai Massage
Swedish Massage
Aromatherapy Massage
Fitness at Shreyas Retreat
Yoga Asanas
Hatha Yoga Classes
Ashtanga Yoga Classes
Holistic Health at Shreyas Retreat
Abhyanga
Synchronized Abhyanga
Shirodhara
Udwarthanam
Irechanam (Purgation Therapy)
Patra Pinda Swedam
Choorna Pinda Swedam
Sarvanga Dhara
Nasyam
Pranayama
Pratyahara (Internalising processes that will lead to meditation)
Yoga Nidra
Mind & Spirit at Shreyas Retreat
Sacred Chants (Science of Sound)
Mouna
Beauty Therapy at Shreyas Retreat
The Crystal Salt Scrub
Nourishing Honey And Coconut Scrub
Aromatic Natural Spice Scrub
The Chocolate Indulgence Exfoliating Scrub
The Chocolate Indulgence Body Mask
Invigorating Coffee Scrub
A Stimulating Coffee Mask
Cuisine
The menu is vegetarian and no alcohol is allowed. A 4-course set meal is served every evening with dishes inspired by Indian, Mediterranean or Oriental cuisine. Supremely healthy (low in sugar and fat), the food is delicious with chefs catering for all kind of dietary needs and quirks. While lunch is served at a communal table, dinner can be eaten on your own if desired.
Activities
The focus at Shreyas is on yoga with complimentary morning and evening classes offered. As well as yoga, guests can use the slick infinity pool, visit the gym, go jogging or have a go with the cricket net and bowling machine.
Cricket net with equipment
Bowling machine
Cooking classes
Walking track round the gardens
Nature farming
Facilities
All rooms and tents
Air conditioning
ISD/STD lines
Broadband Internet connections
Safes
Resort Facilities
Yoga pavilions
Yoga hall
Chanting/Sound meditation classes
Gym
Ozonated swimming pool
Indoor steam rooms
Library
Home theatre
Sitting room
Machans and meditation huts
Location
Shreyas lies on a 25-acre estate containing beautiful gardens dotted with trickling streams and winding paths. Sleekly designed with walkways over pools and open-plan living space, it is a supremely stylish yoga hideout. There are just 12 cottages, all with chic Balinese-inspired interiors, some located by the pool, others in the gardens.
Shreyas is one hours' drive from Bangalore International airport, and approximately one and a half hours drive from Bangalore city.
Videos
Insider's Tips
This is a perfect place to go for a retreat, a haven to unwind and totally de-stress. As it takes a maximum of 25 guests, and class sizes are small, you get great individual attention. There is no pressure to participate in any class, so if you are someone who needs to be kicked out of the bed to go to a class, then this is not for you.




---