Shillim is located in a UNESCO World Heritage Site, the Western Ghats three and a half-hour away from Mumbai. The forest is at the heart of all that they do - a story that began over twenty years ago when the de Souza family acquired an expanse of land across the Western Ghats to conserve and sustain - the two first elements in their triad philosophy. The third element of their triad philosophy is Heal, as the family saw that there had to be a more empathetic, nature-based healing way to approach healthcare and wellness. Years have been spent to conceptualise Dharana Wellness which combines the most advanced Western diagnostics (body scanning, blood testing) with traditional age-old Eastern Ayurvedic practice. These are then applied to each of the five pillars of Dharana:
Preventive Medicine - combining modern and traditional methods
Exercise Physiology - body scanning, connective tissues, recovery time
Nutrition & Dietetics - gut health, gene testing, Dharana food philosophy
Conflict Resolution - relationships, stress and emotional management
Spiritual Wellbeing - learning, connecting with nature, meditation, yoga
Shillim's guests go to resolve conflict, of which the primary sources are relationships, food, environment, sleep and grief. They are encouraged to stay for at least five nights, with the maximum benefits experienced when taking a 14 or 21 day Ayurveda Panchakarma, the most ancient healing Ayurvedic treatment for detoxification that dates back 5000 years.
Across the 3500 sqm expanse, there are many activities that you can undertake. Highlights include walking up a stream and exploring the forest, waking up to the most verdant greenness you have ever seen and waterfalls appearing every day on the mountain landscape due to the monsoon rain. Monsoon season is the best time to be there as the sensation of the rain is incredibly healing. In non-monsoon season, as well as exploring the forest, guests can hike up Shillim Peak to enjoy breathtaking views of the surroundings. The food is faultless - creatively inspired wellness cuisine that is beautifully presented that never compromises on taste or variety. Shillim executes food waste initiatives to minimise carbon footprint and non-biodegradable waste too.
Nearest Airport: Mumbai International Airport
Transfer Time: Approx. 3 hours
Sharing from
£
845.00
£
845.00
pp
Singles from
£
1299.00
£
1299.00
pp
Sharing from
£
1369.00
£
1369.00
pp
Singles from
£
1785.00
£
1785.00
pp
Including transfers, accommodation, full board and a 3 night programme
Recommended for
Headspace | Emotional Healing | Weight Management | Mindfulness | Detox | Ayurveda
---
Room Types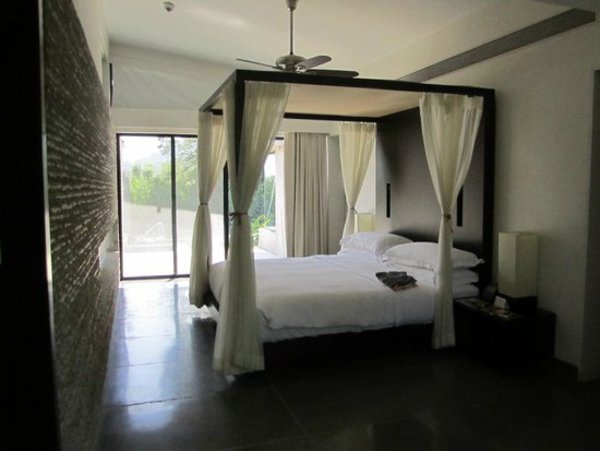 Spa
This eco wellness retreat offers one of the largest and most comprehensive spa facilities in Asia. Spread over 70 acres of the estate, and with over 90 treatments on offer, you'll be spoilt for choice. There are 17 treatment rooms, a meditation cave and a relaxation centre along with a salon and yoga pavilion. Each treatment at the spa integrates the principles to conserve, to sustain and to heal. Everything from Ozone Therapy to Chakra Cleansing can be done at Dharana Wellness at Shillim.
Cuisine
The Green Table
Located next to the meditation pond in the spa, this restaurant specialises in organic dishes (using ingredients from the resort's gardens) to complement your spa programme.
The Tea House
Sample a selection of refreshing local and international teas amidst scenic surroundings at The Tea Lounge, located next to The Green Table. Savour the evening Hi-Tea or marvel at the surroundings after a relaxing spa treatment.
The Chef's Table
Dine at this unique venue situated on the banks of a beautiful seasonal waterfall, overlooking the valley. Delight in a private dinner with our chef, while revelling in the magnificent natural atmosphere.
Library Lounge
Experience a picturesque view of the mighty Sahyadaris over a selection of tapas, innovative free radical mocktails and cocktails along with special beverages curated by our bartender. Unwind in this quaint lounge furnished with interesting books, the Library Lounge is the ideal location to enjoy moments of rejuvenating solitude.
Dining Prive
Create a memorable experience by dining within the privacy of your villa or a location of your choice on the extensive grounds of the retreat.
Mountain Bar & Bistro
Offering spectacular views of the Sahyadris, the Mountain Bar & Bistro offers a light menu, with delicious dishes ranging from pasta to fresh stone-baked pizzas.
Terrazzo
This elegant all-day dining restaurant showcases the finest international and Indian cuisine, Marvel at awe-inspiring views of the Western Ghats while dining alfresco on the patio or enjoy your meal inside.
The Reserve
The wine cellar, browse the collection and select a bottle of wine to go with your evening meal. Alternatively, sample your wine with a selection of fine cheeses and freshly baked bread.
Activities
Daily health talks with our experts at the Tea House
Horse riding
Paragliding (seasonal)
Pottery
Dance
Fishing
Organic cooking workshops
Sustainable farming workshops
Visit the Buddhist caves of Karla
Excursion to the Fortresses of Maratha Warrior Shivaji
Soak up the serene atmosphere at Lakes Pavna or Mulshi
Explore Tiger's Leap Viewpoint or the waterfalls
Daily health talks with our experts at the Tea House
Facilities
Spa
Bicycling
Hiking Trail
Jogging Track
Meditation Cave
Pottery & Dance Studio
Yoga Pavilion
Access to all healing spaces & outdoor wellness pool
Children's Activities, menu, cribs
Location
The feel of Dharana Wellness at Shillim is minimalist elegance, luxurious as opposed to opulent. Vast windows allow you to touch nature from the comfort of your room – the lush greenery will send you into a relaxed daze. It is a 2.5-hour journey by car and 30 mins by helicopter from Mumbai, or a 1.5-hour drive from Pune.
Fly into Mumbai International Airport, and then you have the option of a limousine transfer which will take just under 3 hours or a 30 minute helicopter transfer.
Videos
Healing Holidays Special Offer
Free Night Offer*
Stay for 7 nights and pay for only 6
Stay for 14 nights and pay for only 12
Stay for 21 nights and pay for only 18
Stay for 28 nights and pay for only 24
Valid for stays until 31 Mar 2020. T&C applies.
Early Booking Offer*
Receive a 15% discount when you book 45 days in advance.
Valid for stays until 31 Mar 2020. T&C applies.
*These offers are combinable.


---