Standing on a hilltop, Amanzoe offers incredible panoramic views across the deep blue Aegean Sea in addition to the surrounding Peloponnese countryside. The clean and classical lines of this luxurious resort will calm you and treatments in the light-filled spa will soothe your soul. Those who prefer to stay right next to the water will love the overnight beach cabanas at the Amanzoe exclusive beach club.

The resort offers yoga, personal training and Pilates, in addition to a variety of body treatments. A truly unique treatment is the Watsu water therapy. In line with a tradition of pure elegance and impeccable service, Amanzoe lives up to its namesake and wholely embraces a "peaceful life" philosophy.
Please note: This property will be closed from 01 Nov 2020 - 31 Mar 2021
Nearest Airport: Athens

Transfer Time: Approx. 150 minutes





Sharing from
£
3269.00
£
3269.00
pp
Singles from
£
5059.00
£
5059.00
pp
Including transfers, accommodation, full board and a 3 night programme
Recommended for
PAMPERING | WEIGHT LOSS | DETOX | STRESS MANGEMENT
---
Room Types
The accommodation at Amanzoe is created with the beautiful lines of classical Greek architecture and are all equipped with their own private swimming pool.
You may choose from a pavilion, beach cabana or villa.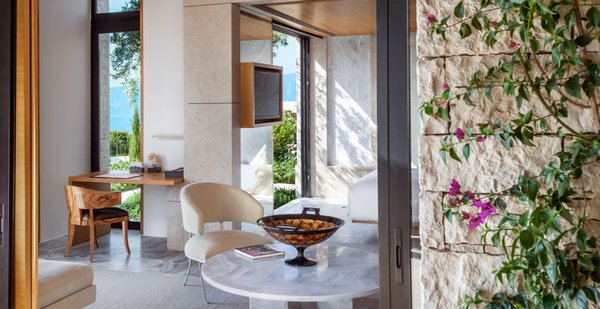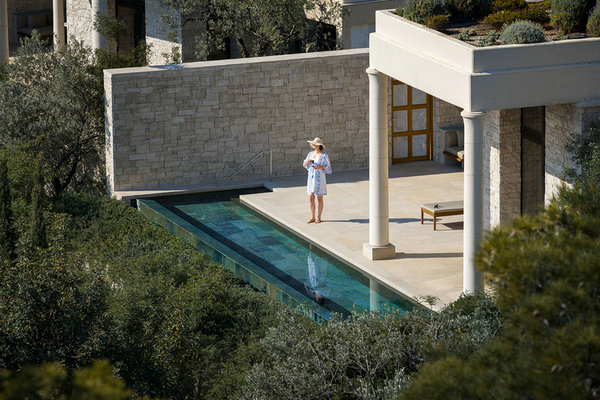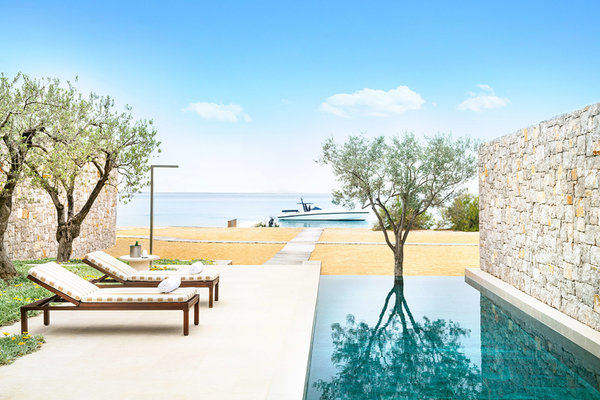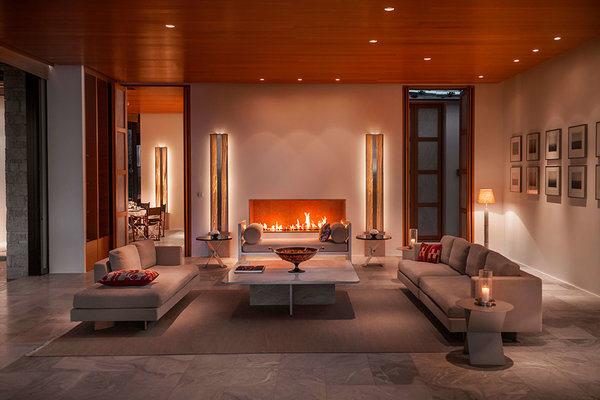 Spa
Light filters into the beautiful and extensive Aman Spa facilities, which combine diet, gymnastics, exercise, massage and sea bathing with natural products and modern treatments. The nine treatment suites provide an array of expansive views to induce a relaxing mood. You can choose from a massage, scrub or facial in an indoor or outdoor space - or you can try to completely relax during a hydrotherapy session in the Watsu pool. A visit to the steam room would also complement any therapy.
The gym, yoga pavilion and studios (perfect for yoga and Pilates sessions) are available for those who wish to keep up with their fitness. Yoga practices include Hatha, Vinyasa, Ashtanga and Full-Moon. Personal training sessions are also available.
Activities
While at Amanzoe, you can relax in the spa area or take a complimentary shuttle ride to lounge at the resort's private beach club. At the beach club, you may also participate in non-motorised watersports, swim in one of four swimming pools, or enjoy a treatment in the spa.
The on-site spa offers a variety of treatments and salon services, and fitness buffs can stay in shape with yoga classes, Pilates sessions and personal training.
If you are feeling adventurous and would like to explore the surrounding area, you may embark on an excursion with a tour guide to a variety of destinations. Check out ancient Greek archaeological sites, such as Epidaurus and Mycenae, or trek in Ermionida. You can tour the vineyards of Nemea and learn about beekeeping in Melisseus. Island excursions are also available and the area offers great sites for SCUBA diving.
Facilities
Swimming Pool
Spa

Gym
Yoga Pavilion
Pilates Studios
Steam Room

Beach Club (a short walk away)

Complimentary shuttle service
4 pools
Spa
Non-motorised watersports

Off-site excursions
2 boats available for charter
Location
In the south of Greece and influenced by traditional ancient architecture, Amanzoe still has a contemporary feel with marble alcoves, chic interiors and a natural feel. The views from the resort are unrivalled.
Amanzoe is a 2.5 hour drive from Athens, which will bring you through mountains and valleys. Alternatively you can charter a helicopter from Athens airport to Amanzoe, this will take 25 minutes.
Videos
Reviews
Insider's Tips
Try a Poetry in Water session.
Don't forget your PADI licence if you plan to scuba dive.
Hire a mountain bike to access the nearby beach club.
Stay at a beach cabana if you prefer to spend your time right on the water.


---