Song Saa Private Island is the ultimate uninterrupted paradise, built upon two pristine islands in the warm sapphire waters of the Gulf of Thailand. These islands are locally known as "The Sweethearts." Connected by a footbridge over a marine reserve, this intimate setting is harmonious with the incredible landscapes of the undeveloped islands, featuring deserted rainforest oases, colourful tropical reefs and shimmering white beaches. Song Saa has received coveted awards from organisations from around the world for their sustainable development and promotion of community wellbeing throughout the Koh Rong Archipelago.
The Buddhist-inspired resort philosophy blends the concepts of stillness, healing and blessings, culminating in a luxurious experience that treads lightly. Your heart will swell with loving-kindness as you practise yoga in the shoreline meditation centre and view spectacular sunsets from the world-class restaurant and lounge.
Nearest Airport:

Sihanouk Ville

Transfer Time: Approx. 35 minutes





Sharing from
£
2799.00
£
2799.00
pp
Singles from
£
4699.00
£
4699.00
pp
Recommended for
PAMPERING | DE-STRESS | HOLISTIC HEALING
---
Room Types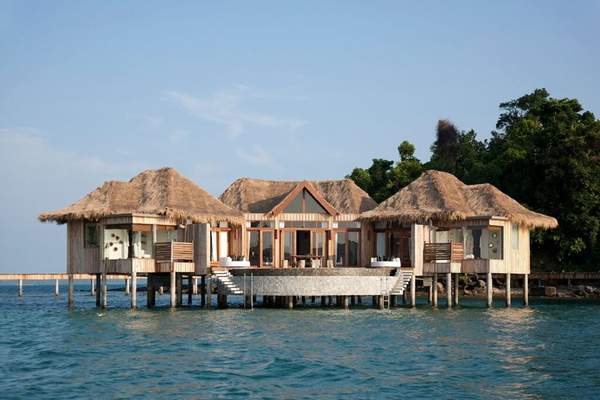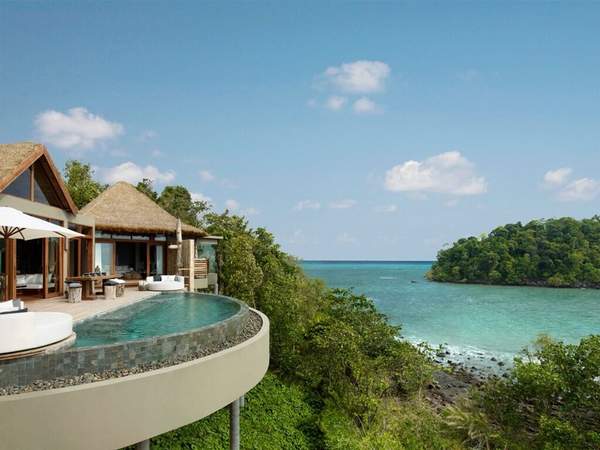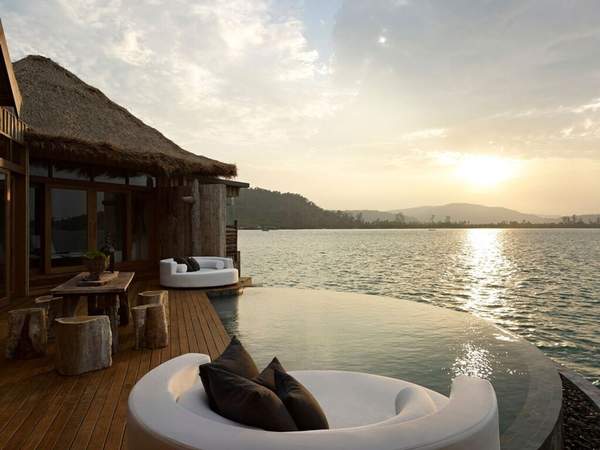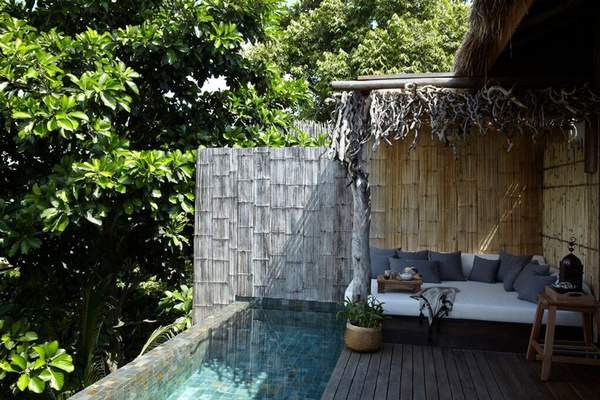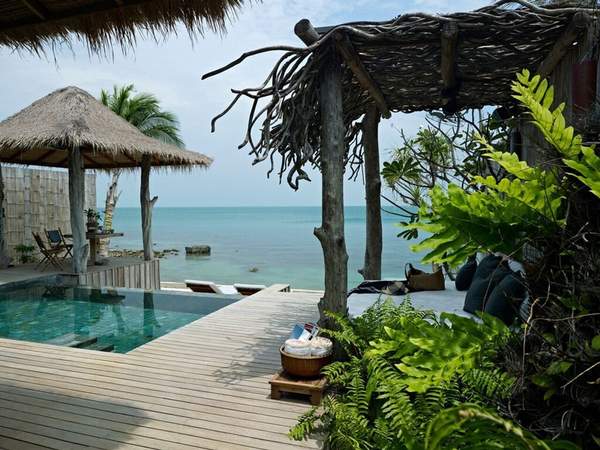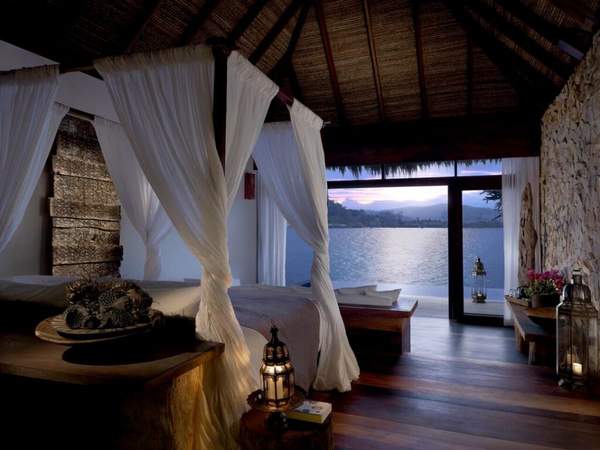 Spa
The Sanctuary spa at Song Saa is simply stunning. Indluge in numerous treatments or pick between two journeys - REJUVINATE or REVIVE. Take part in ealy morning yoga on the deck and relax into an endless state of bliss with their numerous Healing, Blessing, Sitllness treatments. Being a private island Song Saa allows you escape, and retreat to somewhere truly magical.
Cuisine
Vista Overwater restaurant and Cocktail Lounge
Our flagship dining area is spectacularly positioned just off the island's shoreline and surrounded by sea. A short stroll on the boardwalk will leave you perfectly positioned to take in dramatic sunsets, seascapes and starry nights.
Driftwood Bar
Welcome to our wonderful Driftwood Bar where you can stop by any time throughout the day for a beer or a light lunch from our Raw menu. Picture emerging from the water after a dive on our private reefs to find cold beers awaiting or the perfect glass of chilled wine. Cocktails will flow each evening between 5 and 7 to coincide with the spectacular sunset. Here you can sit and chat to our chefs as they prepare wonderful tapas and snacks created personally for you from our wood-fired oven and BBQ. Reserve your spot here for your own Private Beach Dinner later in the evening.
Champagne Bar
This bar sits in one of the most unique private spots on the beautiful Koh Ouen. From this charmed location you can select from the Champagne Bar menu or a chilled bottle of choice from either the Salt or Sweet menu. This is the perfect spot to watch the sun setting and the moon rising over the sea.
Poolside Dinner
Our stunning infinity edge pool is the site of another unique Song Saa dining experience. Here we have two antique hawker trolleys set up at the water's edge, where Cambodian style street food will be prepared over hot coals.
You have the opportunity to taste a traditional Khmer meal while dangling your feet in the water. Your table will be prepared beside the pool, facing out to sea with all the elements provided for a unique and romantic dinner for two.
Activities
Kayak mangrove tour
Sala Song Saa Cultural Experience
Koh Tang adventure
Five Mile Beach excursion
Water Sport Center: use of kayaks, sailing boats, snorkelling gear, kite board, wind surfer
Scuba Diving
Facilities
High Speed Internet available all over the island
Laundry
Villa Services
Gym room
Spa
Location
The resort is luxurious, as the name impies, but above all it is in harmony with its natural surroundings. The island ensures it maintains sustainability and introduces responsible tourism so the marine reserve, which extends 200 metres from the outer edge of the islands, remain protected.
Fly from Siem Reap to Sihanouk Ville 1hr 10 mins.
Drive from Phnom Penh city to Sihanouk Ville - 190km approximately 3hours.
Speedboat transfer from Sihanouk Ville to Song Saa Island 30-40mins.
Reviews
Insider's Tips
There's something quite romantic and magical about spending a night on a private island, which is why we are such a fan of Song Saa's night spa. Taking advantage of Cambodia's gorgeous night skies and gentle tropical night breezes, they've developed a series of Night Spa services that align the body to nature's purest cycles.
Stillness Night Spa Ritual - Couples Connect
Healing Night Spa Ritual - Chakra Wellbeing
Blessing Night Spa Ritual - Dreamtime Journey
Healing Holidays Special Offer
Free Night Offer
Book 4 nights and only pay for 3*
Book 8 nights and only pay for 6*
Valid for stays between 01 Nov 2020 - 31 Oct 2021. T&C applies.
Early Booking Discount
Receive a 20% discount when you book 30 days in advance
Receive a 10% discount when you book 21 days in advance*
Valid for stays between 01 Nov 2020 - 31 Oct 2021. T&C applies.
Room Discount
Receive a 30% discount when you stay 7 nights or longer.
Valid for stays between 01 Nov 2020 - 31 Oct 2021. T&C applies.
*These offers are combinable.
7 Nights At Song Saa Private Island
Song Saa Private Island | Cambodia
Song Saa Private Island is the ultimate uninterrupted paradise, built upon two pristine islands in the warm sapphire waters of the Gulf of Thailand. These islands are locally known as "The Sweethearts." Connected by a footbridge over a marine reserve, this intimate setting is harmonious…
Sharing from
£
2799.00
£
2799.00
pp
Singles from
£
4699.00
£
4699.00
pp
---