Karina Stewart - Kamalaya
Wellness Expert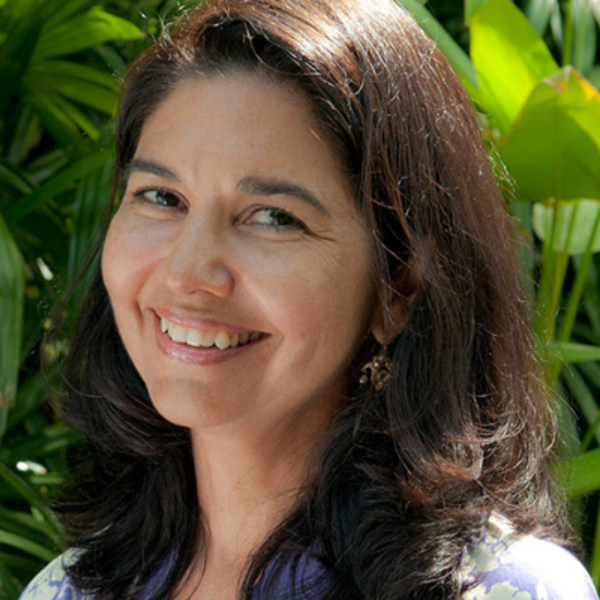 Karina Stewart is a master of Chinese medicine and co-founder of Kamalaya Koh Samui, Thailand.
Kamalaya is a multi-award winning Wellness Sanctuary and Holistic Spa, located on the beachfront tropical southern coastline of Koh Samui, Thailand. Founded by John and Karina Stewart in 2005, this oasis of calm offers a holistic wellness experience that integrates healing therapies from East and West, a breathtakingly beautiful natural environment, tantalising cuisine, holistic fitness practices and customised wellness programmes and retreats ranging from Detoxification to Stress & Burnout, Ideal Weight, Optimal Fitness, Personal Yoga Synergy, Sleep Enhancement and the new Embracing Change Programme.
Forbes Interview | Karina Stewart on Women's Health | Asquith Interview
1. What led you to become one of the founders of Kamalaya Wellness Sanctuary?
The vision of Kamalaya began together with my husband John Stewart and has been from the beginning a joint vision of what we could create together drawing from our life paths and backgrounds as individuals. Core to this vision was not only to share what had so enriched our lives but also to create something that would have a positive impact in people's lives, not only guests but also the team that are an essential part of Kamalaya. The concept was greatly influenced by our backgrounds, John spent 16 years living in an ashram in India, while I spent 15 years studying and practising the healing and philosophical traditions of China and India.


2. What do you constitute as 'real wellness'?
As I have a Master's degree in Traditional Chinese medicine, 'wellness' has a perhaps more defined meaning for me: a philosophy and lifestyle that supports and promotes optimal health and vitality in our body, heart and mind, and spirit, and in our relationship to ourselves, our environment and our community. It is a life-enriching philosophy and lifestyle in harmony with nature.
Karina specialised in Traditional Chinese Medicine, Functional Nutrition (foods and supplements as medicine) and functional detoxification so it is no surprise that Kamalaya has adopted the Food as Medicine Approach in their extensive cuisine. The Kamalaya menu relies on fresh, organic produce and their menus include a selection of nutritious raw food dishes incorporating simple interpretations such as salads as well as appropriately cooked foods that have a highly digestible nutritional value.
3. What is the basic philosophy of Kamalaya?
Kamalaya Koh Samui is all about reconnecting. During your stay with us, you will live gently and become more aware of yourself and your surroundings. You will be free to explore different ideas as you learn about yourself in a safe, supportive and nurturing environment. We seek to help guests undergo a truly transformative experience.
4. What makes Kamalaya different from other wellness / fitness resorts?
At Kamalaya, we recognise that the physical, emotional, psychological and spiritual aspects of ourselves are all integrated. So, our holistic approach addresses these aspects simultaneously to allow for healing. We also encourage guest not only to reconnect with themselves, but to find connections with nature and the community, as well. In our quest to promote wellness, we leave no leaf unturned.
5. What are Kamalaya's most popular programmes?
Currently, the Personal Yoga Synergy Programme is particularly popular. Our guests report that they feel especially calm and peaceful in the beautiful environment, and thus find yoga and meditation with us rather accessible. The relaxing atmosphere also draws many people to enrol in the Comprehensive Detox and Rejuvenation Programme. We also believe that our new Group Life Enhancement Retreats will attract many guests because they allow for a unique experience to connect with others as they embark on the journey to self-actualisation.
6. Are there specific places to reflect and spaces to socialise in Kamalaya?
There are many places to quietly reflect at Kamalaya. You can stroll along our private stretch of beach and tap into the power of the bountiful sea. You will find strength and peace here, and you can feel your mind reset as you gaze at the infinitely changing seascape. Another special place to reflect at Kamalaya is the ancient cave of worship, historically used by Buddhist monks.
Guests are encouraged to socialise at the communal dining table, sharing their experiences and discoveries. This is especially valuable and comforting for single travellers.
7. Who will most benefit from a stay at Kamalaya?
While we support anyone who comes to Kamalaya, those who would benefit most from a stay are people who are looking to learn and enrich their lives. Kamalaya is a special place for individuals who are undergoing a stressful period of their lives because they can take a step back from their problems and gain new perspectives. Open-minded individuals that are genuinely seeking to learn a new approach to health, shift habits and embrace positivity will have the most transformative retreat.
8. What are the benefits, short-term and long-term, of a stay?
The short-term benefits of a visit to Kamalaya are feelings of relief and clarity. The stress will melt away from your body during your treatments, and you will begin to feel more in control of your life. The long-term benefits of a stay include a willingness to prioritise your health and live a lifestyle that aligns with your values. If you continue to practise gratitude and gratefulness when you return home, your everyday life will be more manageable and enjoyable.
9. What is the best time to go to Kamalaya?
Most guests prefer to visit during the dry season, from January to August, but the monsoon season from September to December offers unique energy. Some individuals also like to plan their visits around when our visiting practitioners offer treatments and workshops.
10. Is there a minimum stay at Kamalaya?
Most of the programmes require a 7 nights' duration because it is ideal to stay for so long in order to help cement new ideas and habits into your lifestyle. However, it is possible to book a 5-day yoga retreat if you are short on time.
11. What is the most important advice you would give to someone who wants to do a wellness retreat at Kamalaya?
While you may go into the retreat with a certain goal or idea, be flexible. You may pick useful information that you didn't even know you were looking for. If you approach every moment with an open mind and an open heart, your potential to grow will be boundless.
If this interview has got you interested in starting your wellness journey
at Kamalaya
call our wellness advisors at 020 7843 3597 or
enquire here
.
Latest by Karina Stewart - Kamalaya