SHA Wellness Clinic Review by Klaudia
13/07/2016, Klaudia
---
SHA Wellness Clinic is one of our favourite Medical Spas and wellness travel adviser Klaudia experienced all it had to offer.
Set with a backdrop of the Sierra Helada Natural Park, the award-winning SHA wellness clinic takes a fresh approach to the philosophy of detox for a serious mind and body cleanse. This clinic bases its treatments on a fusion of natural therapies, combining Eastern philosophies and Western technology. It has also been the destination for famous guests including Naomi Campbell and Kylie Minogue. I was looking forward to spending 4 days experiencing all this award-winning wellness clinic has to offer. The wind-down began with a 2-hour flight from Gatwick airport to Alicante, the chauffeured transfer picked me up in a Mercedes A class and 40 minutes later I arrived at the clinic, set in a picturesque and peaceful environment with great views over the Mediterranean Sea.
This was my first medical spa experience so I was unsure as to what to expect, but I certainly felt that I needed to cleanse my body and mind to break away from my stressful routine.
The Clinic and Spa
The spa here at SHA wellness is instantly impressive, split over four floors offering a large range of medical services, therapy rooms, a fitness area and not to mention all its high-end equipment. There was also a complete hydrotherapy circuit available with two stunning indoor swimming pools, I made sure I was there every day at 6:30 for my morning swim.
My instant impression was one of calmness, and I couldn't help but be taken in by the use of smells, sounds and colours that worked beautifully in conjunction with each other to relax the senses. The welcoming environment was combined with the availability of wide range of treatment techniques, the latest technology and a range of European doctors that are renowned in their field, which didn't fail to impress and reassure me about my stay.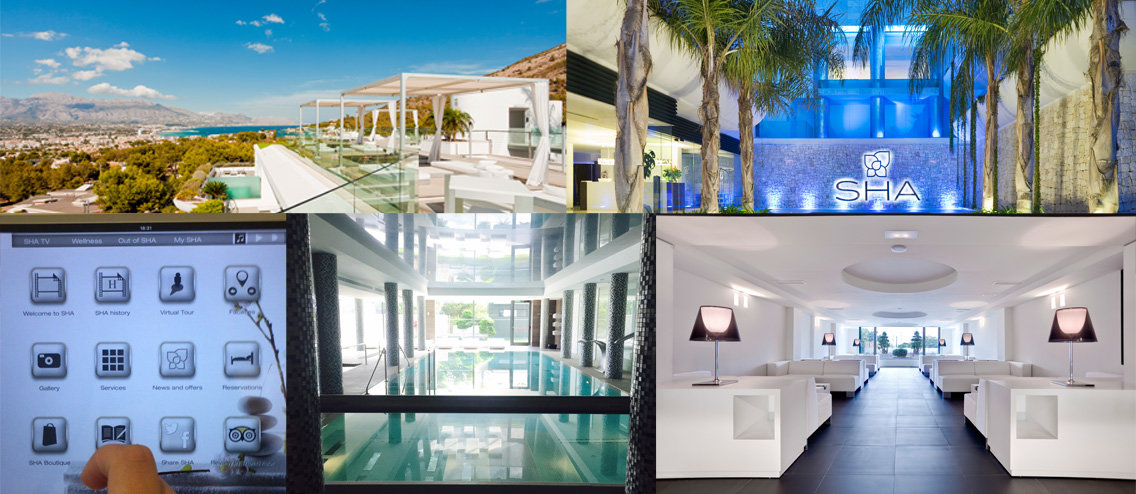 The Room
I stayed in a spacious suite with white minimalist décor, inspired by the Feng Shui philosophy, which provided a serene and calm space. I loved the large glass windows, which make your early morning rises a feast for the eyes, as you are immediately confronted every morning by a picture perfect view of Altea and its coastline. The Jacuzzi on the terrace was a lovely surprise and was extremely inviting in the evening, especially as the coast was still in sight.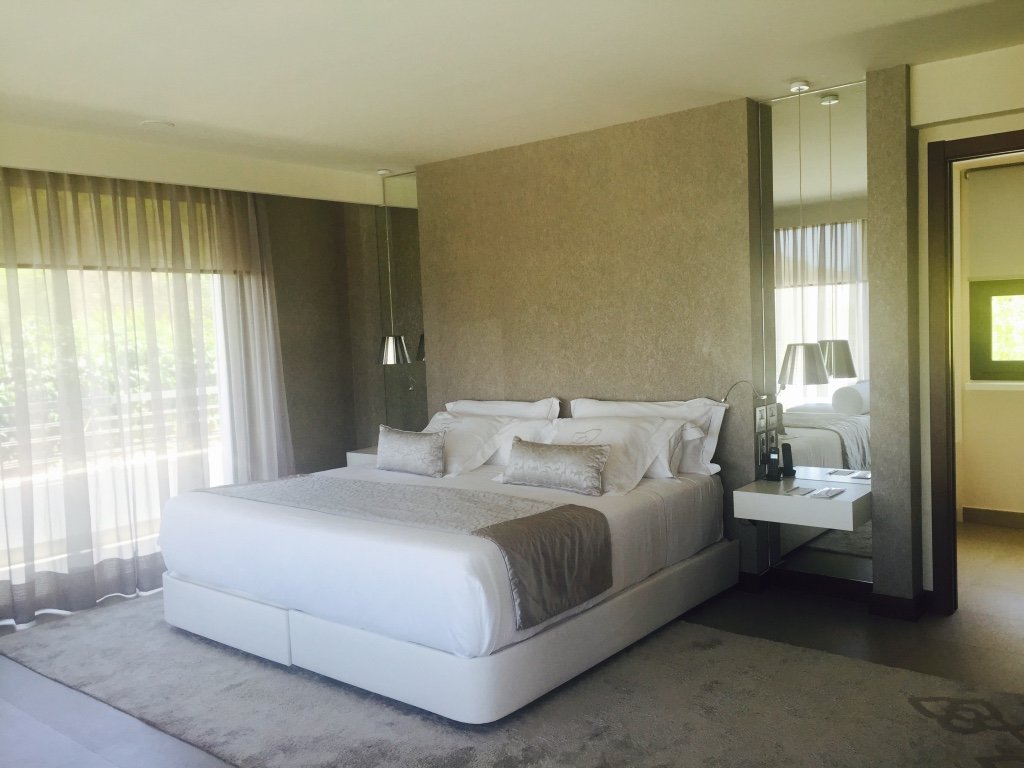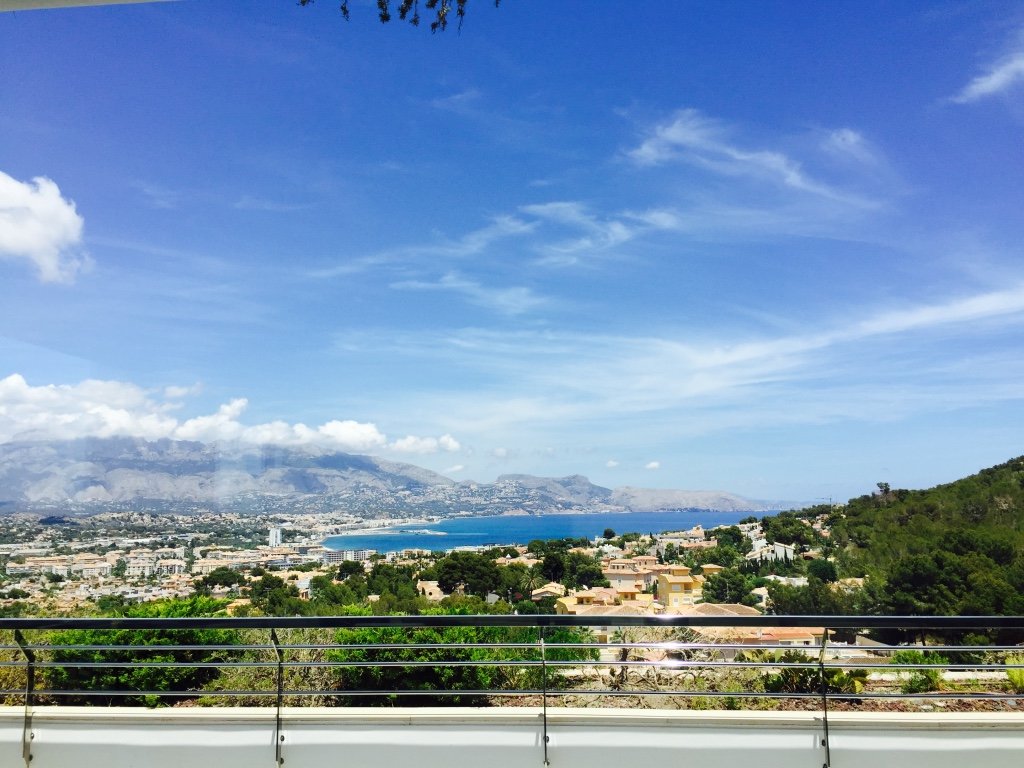 The Treatments
Before getting into the treatments I undertook a series of consultations, starting with nurse Veronica who analysed my current lifestyle and the state of my physical health. I was quickly reassured that as with the majority of women my age (30 – 40) the diagnosis made it clear that I struggle to burn the fat in the lower area of my body, and if any proof were needed, this incredibly detailed exam gave me an explanation of my body composition, including basal metabolism as well as the percentage of fat and muscle in my body. Discovering that the condition of my body was normal and relatively healthy made me instantly feel better.
My next consultation was with the general practitioner Dr Sanders, who questioned me further about my general well-being and was then able to prescribe the treatments I needed.
Each subsequent day was filled with several medical consultations and featured fascinating treatments such as the hydroenergetic detox cure, BDR facial, deep tissue massage, Inbida massage, which is great for cellulite reduction, stretch marks and sagging.
I have a history of Alzimer's in my family so I was really keen to meet Dr Bruno Ribeiro in his cognitive rehabilitation session. Dr Ribeiro used the latest technology and software to analyse my brain in key states, such as: relaxation, concentration and overcoming phobias. These sessions are real bootcamps for the brain and can prevent problems from developing in the future. I went through a series of on-screen tests with electrodes analysing the signals produced by my brain. Dr Ribeiro used these results to recommend a series of further consultations that I could have undergone had my stay been longer, as well as suggesting brain exercises I could try at home to increase my cognitive capacity.
The experts
Throughout my stay I met great doctors who were informative and friendly, giving me practical advice on how to improve my lifestyle in realistic and practical ways.
Dr Vicente Mera, who is the head of Internal Medicine and Anti-ageing at the SHA was extremely helpful. During the healthy ageing consultation we discussed the key ways to improve my current lifestyle and ultimately helpincrease life expectancy. Dr Mera explained and clarified the impact of a range of factors such as hormones, stress, food, smoking and the type and frequency of exercise.
The therapists perform miracles with their hands, they were all extremely professional and more than ready to impart their knowledge and answer my questions.
All of my consultations were met with my usual response 'So how do I transport these lifestyle lessons to my everyday life?' the answer was always the same 'prioritise your time, remember that you need to take care of your body and mind and that good habits will start to form naturally with routine'. In essence, developing good habits after breaking bad ones.
Food and drinks
Before my stay I had researched a little about Macrobiotic food and I couldn't wait to try it. Dr Melanie Waxman, who is well recognised for her practice of macrobiotics and is also author of six books on the subject, is the nutritionist that guided me initially in a consultation that covered a set of questions based around my dietary habits. It came as no surprise that I was not eating healthily enough and my caffeine dependency was a damaging part of my daily routine. The SHA approach to diet is focused on three different menus with one being recommended according to your programme and goals, these are: 'Intensive and serious weight loss and detox', 'Biolight - weight loss' and the normal SHA menu. I was prescribed the Biolight diet based on the results of my initial medical test and my own personal goals. For this I was only allowed to have three meals a day at specific times: breakfast at 8am, lunch at 1pm and dinner at 7pm. During the first two days I did feel quite hungry and struggled to concentrate all the way until dinner time at 7pm. However, once I had adjusted I began to feel contentedly full and satisfied after every meal
All the Macrobiotic food is made without artificial preservatives and contains no gluten, dairy, sugar and meat. Instead these vices were replaced with whole grains, vegetables and beans, fresh fish and seafood, seeds, fruit and nuts. The food seemed delicious on all menus and I looked around the restaurant in envy, surrounded with well-presented and vibrant looking food. The restaurant had efficient service and was made all the more peaceful with a live pianist helping to create the perfect ambiance overlooking the wonderful vista. Each meal consisted of three reasonably proportioned courses, each presented like miniature plates of modern art. A typical breakfast included a bowl of miso soup, tea, a green vegetable detox juice, fruit and porridge. Lunch was always a three course meal using a variety of ingredients based around salads, beans, tofu and range of vegetables.
Perhaps surprisingly for a place with no sugar, the desserts were absolutely divine! Especially the coconut tapioca and passion fruit sorbet. I was amazed at how tasty the macrobiotic food was and needless to say it was also beautifully presented.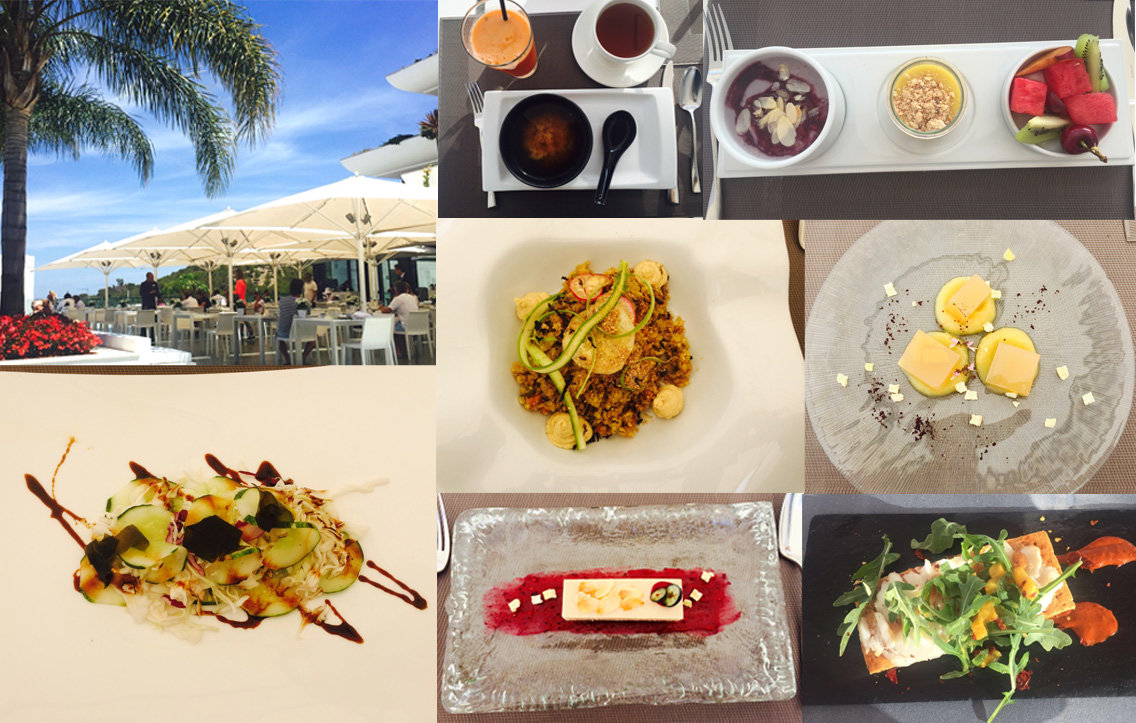 I did feel that my time at SHA was only the beginning of what should be a long and continuing journey, the staff did try very hard to make sure I was given the right tools to continue once out of their supervision. To enable me to replicate some of the lovely dishes at home a Macrobiotic cookery class was on hand with chef Iraide. These classes gave me a good mix of dishes based on the Macrobiotic diet, informed us all of the best places to buy the right ingredients and we were actually able to get experience cooking three different meals with all the fresh ingredients provided.
The gym
The Fitness team at SHA are amongst the most enthusiastic and experienced personal trainers I have ever come across, and I know quite a few! The gym is state of the art as you would expect, featuring well-equipped, spacious and high-end equipment.
I had an initial consultation, followed by three personal sessions with Fabiana. A common problem for 30+ is lower back pain, something I can attest to, and have been suffering from since last year. I have tried regular exercises at home and even a little physiotherapy. Honestly, nothing worked. Fabiana took me through a sequence of regular exercises that would help not just to correct my posture but also to improve my lower back pain in the process. Unfortunately, 4 days was not enough to try all of the group classes on offer, I had the chance to do yoga, pilates and meditation but unfortunately didn't get round to tai chi and aqua aerobics.
The bottom line
After four days my digestive system felt much better and I left SHA feeling re-energised. I can still feel the positive effects of this detox retreat on my body, and even on my skin. This genuinely helped me to take stock and find some tangible sense of how to live in a better way - I now drink Miso soup and Bancha tea on a regular basis! I am also trying to integrate the macrobiotic philosophy gradually into my lifestyle, I have to admit it has not been easy but Dr Melanie is always on hand to provide further advice tailored to my dietary requirements. Now that I'm back home, I'm still emailing Dr Melanie regularly to ask for advice.
SHA Wellness Clinic is definitely the right place for you if you are looking for the ultimate health MOT and want to invest in yourself and improve your health for the long term.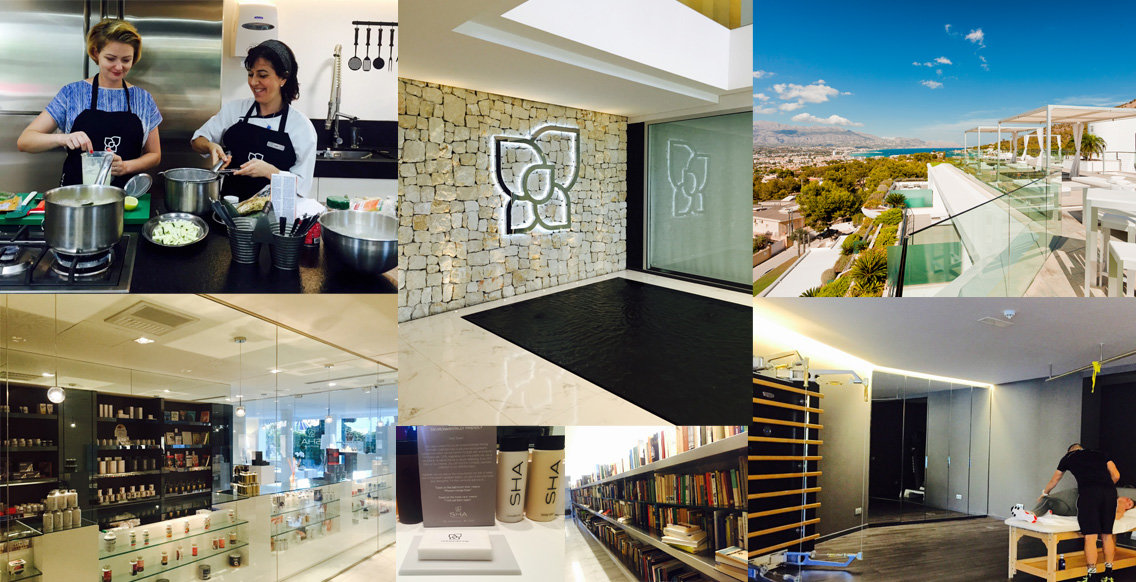 Insider Tips:
Book a Reflexology massage with Denisse, she can perform miracles by touching the right points in your feet that seem to connect with points all over the body,
If you suffer from migraines try a Craniocervical Massage, this is absolutely amazing to release the tension accumulated through the head, neck and upper part of the back,
Possibly the most memorable experience was the morning walks to the lighthouse along the beach front. The scenery was spectacular and it was a great opportunity to socialise and meet other guests, especially if you are a solo traveller,
The infinity pool and the stunning views are undoubtedly the SHA's biggest draw.
Talk to one of our Wellness Specialists on 020 7843 3597 or contact us here to discuss tailor-making your perfect healthy holiday at SHA Wellness Clinic.
---