5 Reasons Why You Must Experience Vana in India
---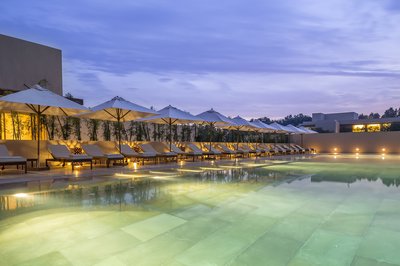 This exquisite retreat is a Healing Holidays favourite. Tucked away in a lush Sal forest near Dehradun, Vana stands proud as India's most comprehensive retreat. Your programme will only be set once you arrive, calibrated to restore balance to your physical, emotional and spiritual being. Enjoy a deep, and layered approach to care that is deep and immersive, kind and gentle. The touchstones at Vana are simple, but they can provoke a real shift.

1 - Personalised Programme
Vana genuinely offers a personalised programme, perfectly curated to address your needs. It could feature one or all of the three practices, so exquisitely delivered at Vana –Ayurveda, Tibetan Healing or Chinese medicine. With such a focused approach, you have the very best chance of fixing your issues.
2 - Varied Programme Activities
Outside of blissful treatments, guests are encouraged to participate in daily activities, to interact and form connections with other guests. You can enjoy performances of classical music and enhance your knowledge of various health topics during a wellness workshop. There are cooking classes using produce from the organic garden, where you can learn how to prepare the delectable Vana recipes. There is also a communal table if you are feeling like some company in the evening. There are also excursions to local sights, and hikes in the beautiful surrounding countryside.
3 - Delectable Cuisine
Although not strictly vegetarian, you can easily follow a vegetarian or vegan diet with multiple options from Vana's creative menus. Plates are made from local, seasonal and organic produce. You can rest assured that none of your food has been air-freighted. During your stay, you may select from two stellar restaurants: Salana taking inspiration from a variety of cuisines –European/Asian, with recipes adjusted to adhere to strong wellness principals, and Anayu which merges traditional Indian recipes with Ayurvedic principles. If you would like, you can consult with a specialist to craft a personalised diet programme if you feel that self-regulation would be too great of a challenge.
4 - Digital Detox
While at Vana, electronic devices (such as mobile phones, tablets and personal computers) may only be used within guest rooms, so it's the perfect time to have a digital detox.. Take it to the next step by going on a complete digital detox to fully experience the warm and welcoming Vana atmosphere. Instead of trawling through your friends' posts on social media, you can take that time to reflect by quietly meditating or journaling, chronicling your thoughts and feelings.
5 - Life-Changing Retreat
A retreat at Vana is an experience like no other. A special aspect of Vana is that all guests are valued equally and the retreat attempts to help all guests shirk their pre-existing labels to live freely in a nurturing environment. Material differences are left at the door, which will enable you to form deeper connections with other retreat-goers and to find harmony during your stay. With such a nurturing environment, this is a place to learn more about yourself and to re-evaluate your life, and what is truly important.
To book a blissful well-being holiday at Vana, please contact our Wellness Experts or call on 020 7843 3597.
Read more: Vana Reviews, Escape to Vana for a Digital Detox Retreat, Spirited Away at Vana
---