Tri, meticulously constructed with a contemporary and sustainable luxury design, sits along the shores of Sri Lanka's largest natural lake near the island's south coast. The suites, crafted and furnished with the country's finest natural materials, are scattered throughout the natural surroundings. All of the structures seamlessly melt into the landscape with features such as living walls, green roofs and edible gardens. The treetop open-air yogashala is particularly beautiful, elevated over the bamboo grove with stunning views.

At Tri, yoga is complemented with other key aspects of wellness: nourishing food, a nurturing and spiritual approach, and a sustainable process. Ayurveda also contributes to wellness with "science of life" consultations that can determine each individual's optimal yoga practice. The rejuvenating treatments and exciting off-site excursions will combine into an unforgettable stay. You will be reticent to leave your newly-found paradise, but you will leave re-energised and refreshed.
Nearest Airport: Bandaranaike International Airport
Transfer Time: Approx. 2.5 hours
Sharing from
£
979.00
£
979.00
pp
Singles from
£
1949.00
£
1949.00
pp
Sharing from
£
1069.00
£
1069.00
pp
Singles from
£
2119.00
£
2119.00
pp
Including transfers, accommodation, half board and a 7 night stay
Recommended for
AYURVEDA | YOGA
---
Room Types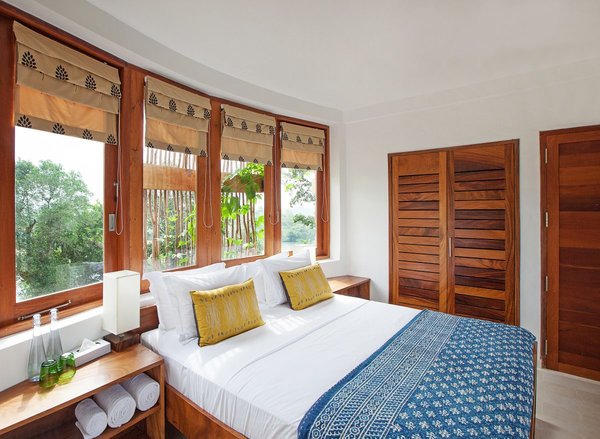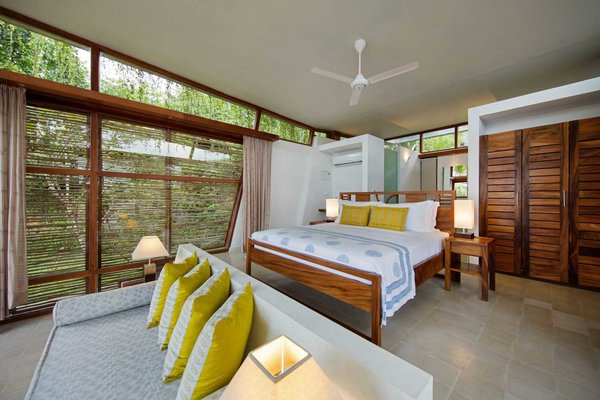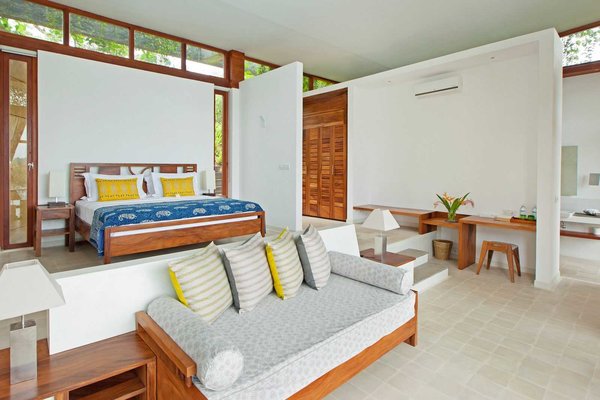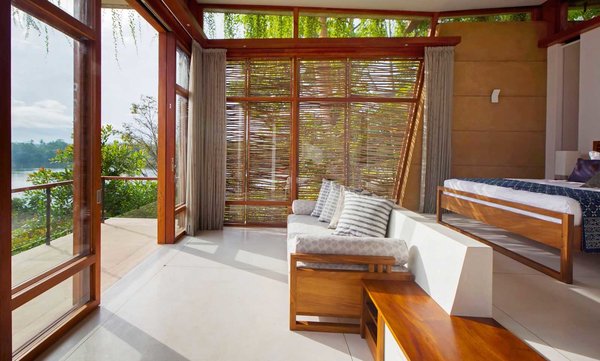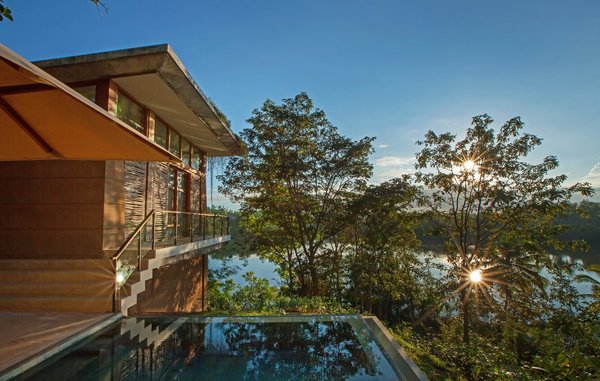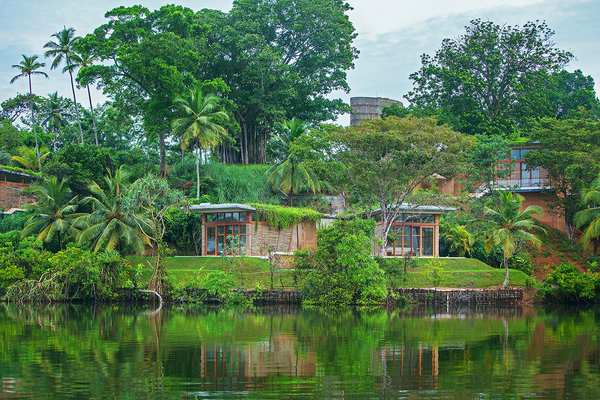 Spa
You will find respite within the light and airy Tri spa. White terrazzo walls meet natural slate floors and large windows offer views above the treetops. A soothing water feature creates a relaxing ambiance in the sheltered relaxation area, secluded by stone walls and tall bamboo stalks. You can relax in the steam cavern and enjoy the beautiful surroundings in the outdoor shower.

Guests are invited to undergo an individual Ayurvedic 'science of life' consultation, which will assess each individual's optimal yoga practice using the Quantum Yoga method. Treatments on offer include Ayurvedic cleanses, Shirodhara and purifications that are performed both by Tri staff and visiting practitioners.
Activities
While at Tri, you can take a quick dip or relax alongside the infinity pool. To spend a day on the beach, take a quick drive or sail to Tri's private Beach Club on Kabalana Beach. Here you can play watersports, surf, swim or go whale watching. If you prefer to kayak, canoe and fish, take some time on Koggala Lake.

To explore Sri Lanka's culture and heritage, request a tailor-made trip to temples and stupas. You can visit museums to learn about art, or venture to tea plantations and cinnamon producers to learn about the area's agriculture. The UNESCO World Heritage Site, Galle Forte, is also accessible with a 25 minute drive.
Tri hosts a programme of expert-led lectures and specialist workshops - in addition to film screenings and readings on a wide variety of subjects, so you can keep your mind active without having to leave the property.
Facilities
Pool with multiple decks and terraces
Tree-top yoga shala
Steam cavern
Glass-walled library, study and entertainment room
Dining room and art gallery with private and communal seating
360 degree viewing deck for sundowners and private dining
Exclusive access to Tri's Beach Club & Restaurant on Kabalana Beach
On-site bicycles
Parkour circuit around the nearby lake
Location
Tri's suites surround a 6-acre hill on the shores of the scenic Koggala Lake near the island's southern coast.

A 2.5 hour drive near the coast from Bandaranaike International Airport will bring you to Tri.
Insider's Tips
For a unique, private dining experience, request to dine under the shade of the property's ancient Banyan tree, at the top of the water tower or alongside the lake's edge.
Although great for families, Tri recommends that visiting guests are at least 12 years old.
To keep the mind active, join a lecture, film screening or reading held within the glass library.
Healing Holidays Exclusive Offers
Room Discount
Enjoy a 20% room discount when you book a stay between 01 Jan - 30 Apr 2021
Book by 30 Apr 2021. T&C applies.
Enjoy a 30% room discount when you book a stay between 01 Jun - 31 Oct 2021
Book by 30 Apr 2021. T&C applies.
Added Value Offer
Complimentary room upgrade on arrival.
Subject to availability. T&C applies.
7 Night Wellness Retreat at Tri
Tri | Sri Lanka
Tri, an inspiring sustainable hotel in Sri Lanka, spans an area around an island hill on the shore of Koggala Lake. Influenced by nature, you will find green roofs, living walls and edible gardens on the expansive grounds. The aesthetic has been informed by the Golden Ratio, which determined the pl…
Sharing from
£
979.00
£
979.00
pp
Singles from
£
1949.00
£
1949.00
pp


---