Experience The Ranch Malibu's legendary transformational weekly wellness programme at Palazzo Fiuggi, a historic property, nestled within a private 8.5 hectare park overlooking the medieval spa town of Fiuggi.

Available all year round, The Ranch Italy combines The Ranch's award-winning, results-oriented fitness programme with the services and expertise of the esteemed medical team at Palazzo Fiuggi. The result, is an immersive and transformative programme that gives guests a more complete picture of their overall health and longevity. You'll leave with a greater sense of self, feeling rested and rejuvenated while having lost weight and gained muscle.

Limited to 25 guests each week, this 7-night experience features a daily schedule that mirrors The Ranch Malibu's signature no-options programme. Each day includes a four-hour morning mountain hike, nap time, afternoon strength and core training classes, yoga and a daily massage.

As in Malibu, hikes are meant to be done for time rather than distance, with a varied trail each day. Guests scale elevations over 2,000 meters as they trek the Apennine Mountains that surround the Lazio region in which Fiuggi is located. The scenery varies from forested canopies, open meadows, valleys and streams to hilltop hamlets, medieval villages and ancient monasteries. Afternoon classes are held in a private section of the Palazzo for Ranch guests, who also have access to the Palazzo's state-of-the-art 4,300 square-foot fitness centre, complete with Technogym, Pilates, Yoga and Reaxing Training equipment.

The rigorous routine is complemented by a nutritionally dense, plant-based menu with an Italian flair, created by 3-star Michelin Chef Heinz Beck and prepared by his Palazzo Fiuggi culinary team in accordance with The Ranch's Executive Chef. Meals are enjoyed as a group, in a private dining room overlooking the mountains and ancient hilltop town.

Upon completion of the programme, guests leave transformed and informed, experiencing physical and mental changes, logging over 60 miles of hiking, losing weight and inches, emanating a vibrant, healthy glow and regaining clarity and peace of mind. Lasting nutritional and fitness guidance from The Ranch's experts also continues after guests leave to help support them in sustaining the benefits of the retreat long after their stay.

Please note: This retreat runs from Thursday to Thursday only
Nearest Airport: Rome
Transfer Time: Approx. 55 minutes
---
Sharing from
£
4629.00
£
4629.00
pp
Singles from
£
5429.00
£
5429.00
pp
Including transfers, accommodation, full board and a 4 night programme
Recommended for
Fitness I Weight Loss
---
Room Types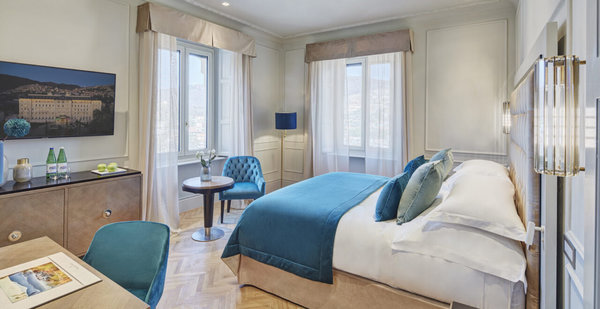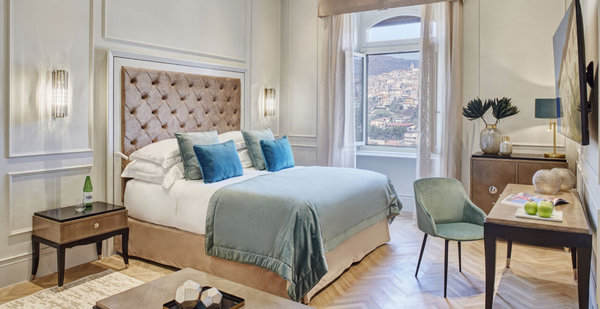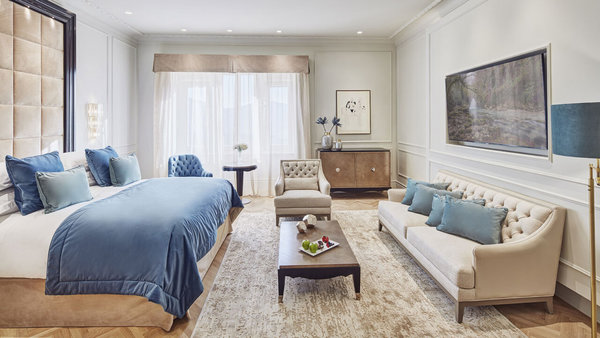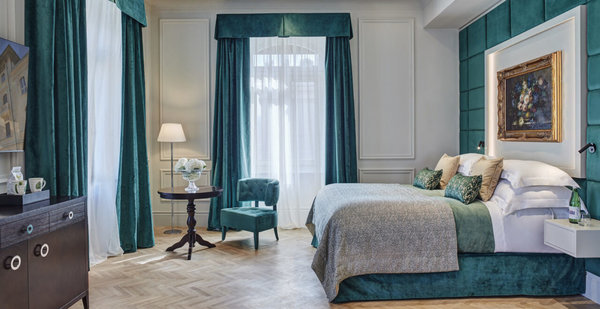 Cuisine
Inspired by nature, The Ranch Italy's artfully prepared, organic plant-based cuisine is a highlight for their guests and a key component of their results-driven approach to health and fitness.

Their daily diet features the finest fruits, vegetables, grains, pulses, legumes and seeds, while excluding alcohol, caffeine, dairy, soy, processed sugars, diet sweeteners and gluten to aid in the cleansing and revitalisation process.

Balancing protein, complex carbohydrates, healthy fat and taste, their delicious plant-based cuisine is designed to sustain you through their active programme, providing your body with the full spectrum of nutrients and enhancing detoxification. At around 1400 calories each day, their chefs focus on the quality of the calories used rather than the quantity, with ingredients selected for their nutrient density rather than for the sake of counting calories.
Facilities
Ultra-modern gym with technology from Icaros, the virtual reality fitness company
Beauty clinic
Yoga and Pilates studios with private classes for all abilities
Heinz Beck Cookery School
Cinema
Park featuring four pools, a lake, gardens and woodland
One Paddle and one tennis court
Bike riding
Hydro therapies within the Thalasso pool, Hydro Circuit and Hammam
Three swimming pools that use the natural Fiuggi water
Location
The Ranch Italy is located on an ancient hilltop in a private 8.5 hectare park overlooking the medieval spa town of Fiuggi.
Directions to The Ranch Italy
Travelling by plane
Rome-Fiumicino International Airport - approx. 55 mins
Please note: Programme prices listed are inclusive of any applicable special offers
The Ranch Italy Taster Retreat
The Ranch Italy | Italy
The Ranch Italy combines The Ranch Malibu's award-winning, results-oriented fitness programme with the services and expertise of Palazzo Fiuggi's medical team.Their Ranch Italy Taster Retreat is perfect for those who are not familiar with The Ranch's unique wellness philosophy or for th…
Sharing from
£
4629.00
£
4629.00
pp
Singles from
£
5429.00
£
5429.00
pp
The Ranch Italy
The Ranch Italy | Italy
The Ranch Italy retreat combines The Ranch Malibu's award-winning, results-oriented fitness programme with the services and expertise of Palazzo Fiuggi's medical team.Limited to 25 guests each week, this retreat features a daily schedule that mirrors The Ranch Malibu's signature no-op…
Sharing from
£
8509.00
£
8509.00
pp
Singles from
£
9959.00
£
9959.00
pp




---