Looking for a retreat that will take you off the grid and deliver a wellbeing-break that you greatly deserve? Well we have the answer and it's called Fivelements Retreat Bali. Situated in the heart of the secluded Balinese forest, with stunning views of the sacred Ayung River, you'll feel as though you've stumbled upon a slice of heaven.

The aim at Fivelements Retreat Bali is to promote your wellness through the nurturing of your mind, body, and spirit, as well as ensuring there is harmony between all these things and the world around you. Whether you are looking to detox, de-stress, beautify or just generally recharge your batteries, Fivelements Retreat Bali is the place to come. Healing here is organic and holistic, using Balinese traditions and rituals that will help you to feel revitalised and refreshed in a completely natural way. Expect your stay to be comprised of yoga, meditation, water therapies, deep massage therapies and prana therapy to leave you feeling completely revived and revitalised.

However, It is not just the spa treatments here that will improve your sense of wellbeing, with everything about this resort aiming to encourage your inner peace and tranquillity. From the natural décor of the rooms, the delicious vegan cuisine on the menu at the Sakti Dining room, to the serene spaces and pavilions allocated for meditation and sacred arts, everything at Fivelements Retreat Bali cumulates to ensure you leave feeling more rested and peaceful than you ever have before.
Nearest Airport: Ngurah Rai International Airport
Transfer Time: Approx. 90 minutes
---
Sharing from
£
2999.00
£
2999.00
pp
Singles from
£
3929.00
£
3929.00
pp
Including transfers, accommodation, full board and a 7 night programme
Recommended for
Holistic Healing | Yoga | Anti-Ageing | Detox
---
Room Types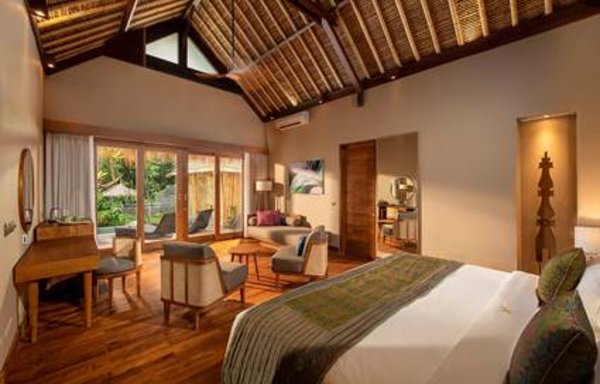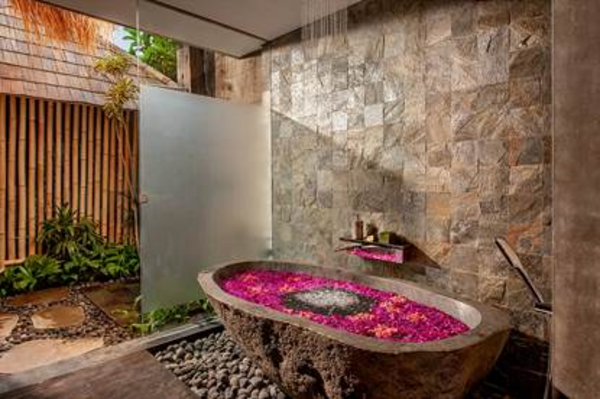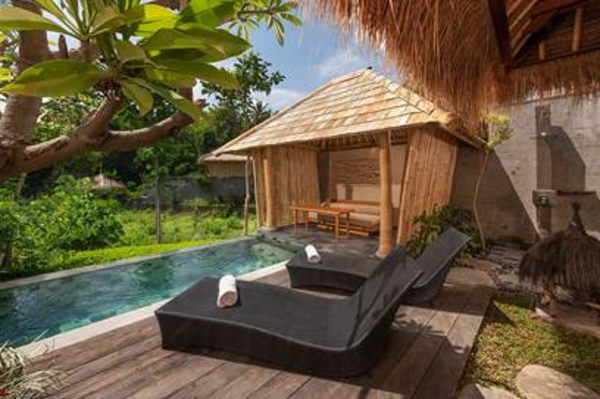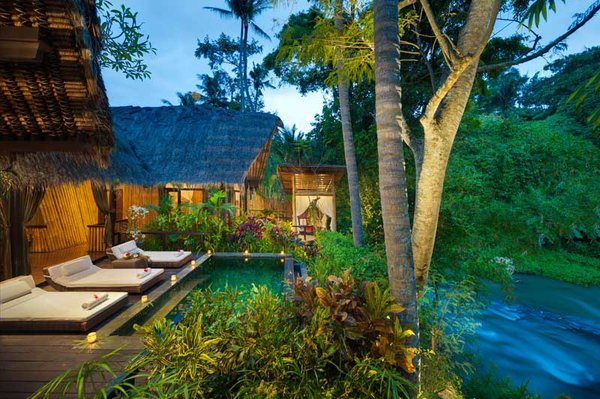 Spa
At Fivelements Retreat Bali, healing is inspired by the Balinese way of life, which encourages you to nurture harmony with spirit as well as elements of the environment. Similarly, their holistic approach is designed to tune-in on the physical, emotional and spiritual levels, allowing an organic healing process to naturally unfold. They collaborate with their guests to activate, facilitate and nurture a new healing path, and this begins by honouring our highest potential.
| | | | |
| --- | --- | --- | --- |
| Chakra balancing | Shiatsu | Reflexology | Foot massage |
| Holistic massage | Back, neck and head massage | Heaven scent aroma massage | Water healing session |
| Colon hydrotherapy | Body wraps | Facials | Manicures & pedicures |
Cuisine
SAKTI DINING ROOM
A bamboo architectural masterpiece with a sweeping thatched roof fashioned in the shape of a banana leaf, which is a symbol of food for the Balinese. It overlooks a lotus pond on one side and the Ayung River on the other. The menu presents a fine-dining healing cuisine of 'Living Foods' comprising raw vegan fare, and other lightly-prepared plant-based dishes. The Sakti Dining Room also houses a modern state-of-the-art professionally-equipped kitchen, an upstairs resource centre, lounge and workplace for personal health coaching and healing food training.
Activities
Yoga
Meditation
Martial arts
Cycling
Hiking
Rafting
Local excursions
Facilities
Ionized swimming pool
The Beauty Sanctuary for natural Balinese beauty treatments
A cleansing and detox treatment area for colonic cleansing, reflexology and abdominal massage therapies
The water healing area featuring a watsu therapy pool and a large lap pool for relaxation and meditation, each featuring massage jets, underwater music and chromotherapy lighting, providing male and female locker rooms and shower facilities.
Restaurant
Sacred spaces for meditation, peace dialogue, blessing ceremonies and celebrations.
Medicinal gardens
Location
Situated in the heart of the secluded Balinese forest, with stunning views of the sacred Ayung River, you'll feel as though you've stumbled upon a slice of heaven.
Directions to Fivelements Retreat Bali
Travelling by plane
Ngurah Rai International Airport - approx. 90 mins

Videos
Reviews
Signature Rejuvenation Retreat, Panca Maha
Fivelements Retreat Bali | Indonesia
A programme designed to encourage the regeneration, replenishment, and alignment of your mind, body and spirit, Fivelements Signature Rejuvenation retreat uses Balinese holistic healing methods to promote your health and inner harmony in a completely natural way. Ideal for those who are feeling a l…
Sharing from
£
2999.00
£
2999.00
pp
Singles from
£
3929.00
£
3929.00
pp
Signature Detox Retreat, Tri Kaya Parisudha
Fivelements Retreat Bali | Indonesia
This programme is inspired by ancient Balinese philosophy and aims to cleanse mind, body, and soul. It encourages a simple, pure and healthy lifestyle, based upon a healing journey of detoxification and transformation. For those looking to cleanse and rejuvenate in a natural way, this programme is …
Sharing from
£
3389.00
£
3389.00
pp
Singles from
£
4279.00
£
4279.00
pp
---