Overlooking the stunning coastline of Brittany with its sparkling wild sea, sits the sleek and contemporary Sofitel Quiberon Thalassa. Enter the hotel and be met by clean lines, crisp colours, and an effortlessly chic style that signals you are most definitely in France. Yet there is so much more to this resort than its enticing design, for this is a place where your wellness is a top priority. It will soon become apparent that the sea does more than just enhance the scenery here, when you stumble across the amazing thalassotherapy offering, not only this but there are programmes and treatments to deal with just about any problem or goal you have, whether it be weight-loss, fitness, detox, or smoking addiction. Your health isn't just cared for in the spa, and cuisine at Sofitel Quiberon Thalassa is considered to be of the upmost importance – every effort is taken to ensure it is healthy and nutritional while never sacrificing on flavour. When not being looked after at the spa, there is plenty else to keep you entertained and occupied at the resort, whether you opt to take advantage of the hotel's facilities which include swimming pools, a golf course, beauty salon and more, or leave the resort and go for a bike ride through the stunning scenery or take a trip to the beach. Sofitel Quiberon Thalassa is a resort where you can reap all the benefits of a serious wellness break while still enjoying the relaxation of a holiday.
Nearest Airport: Nantes
Transfer Time: Approx. 120 minutes
---
Sharing from
£
1339.00
£
1339.00
pp
Singles from
£
2499.00
£
2499.00
pp
Including transfers, accommodation, breakfast and 7 night stay
Recommended for
Weight-Loss | Fitness | Detox | Fixing Your Issues I Thalassotherapy
---
Room Types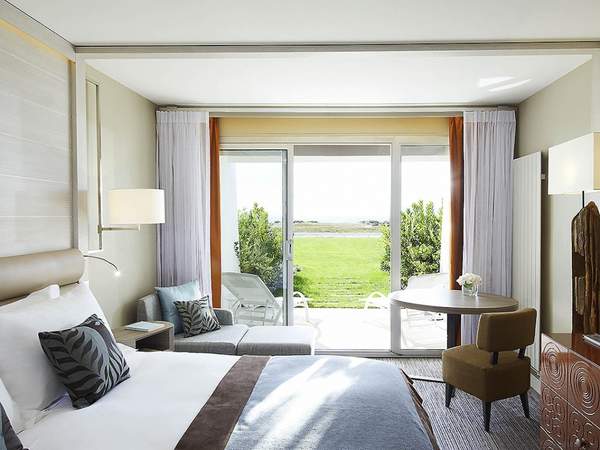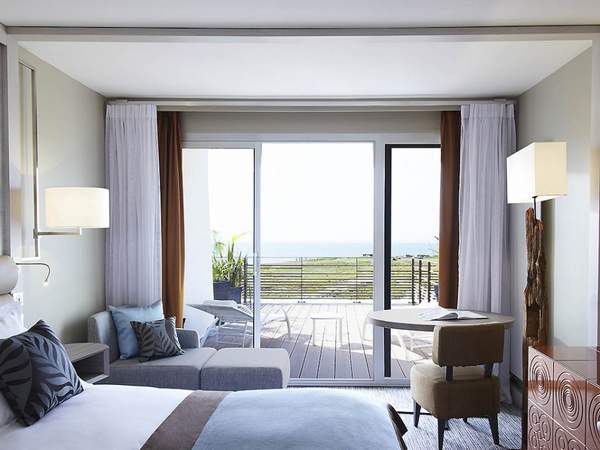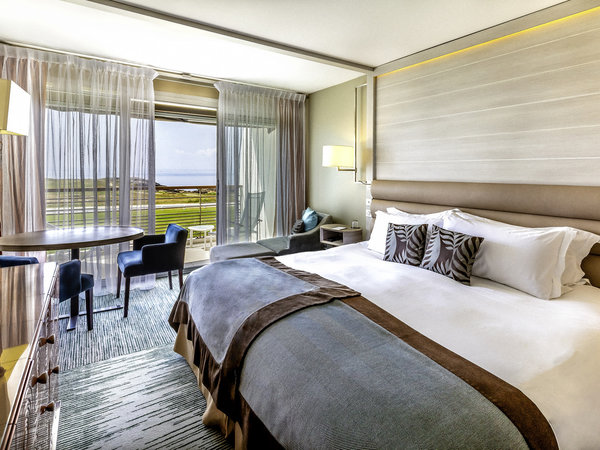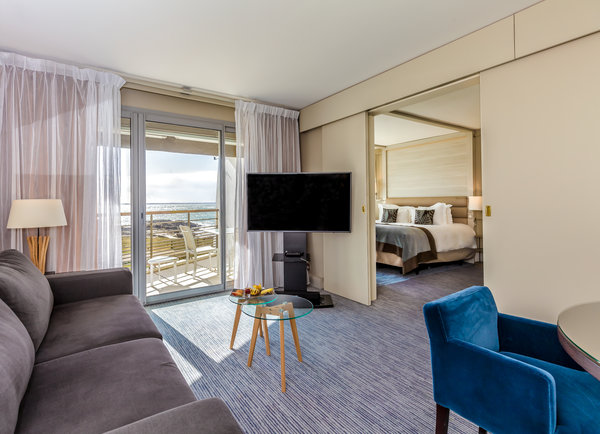 Spa
Facing the ocean, this light-filled setting is dedicated to thalassotherapy treatments, spa, beauty, physical activities and relaxation.
| | | | |
| --- | --- | --- | --- |
| Soothing back treatment | Sea salt scrubs | Slimming purifying seaweed bath | Bust and arms toning treatment |
| Vitality massage | Energising Chinese massage | Zen massage | Osteopathy |
| Physical therapy in the pool | Lymphatic drainage massage | Fasciatherapy | Reflexology foot massage |
Cuisine
Cuisine is a huge part of the treatment plan at Sofitel Quiberon Thalassa, and the hotel restaurant Le Delight is the self-proclaimed temple of health-food gastronomy. Every dish is cross-checked and calorie-counted to ensure you are given the correct ratio of nutrients during your stay – without sacrificing on taste.
Activities
Tennis
Golf
Water sports
Cycling
Fitness classes
Nordic walking
Cultural excursions
Facilities
Spa
Gym
Indoor swimming pool
Indoor tennis court
Golf course
Herbal tea bar
Beauty centre
Location
Sofitel Quiberon Thalassa is located on the Wild Coast, or Côté Sauvage, of Brittany's Quiberon peninsula.
Directions to Sofitel Quiberon Thalassa:
Travelling by plane
Nantes Airport - approx. 2 hours
Reviews
Wellness Break At Sofitel Quiberon Thalassa
Sofitel Quiberon Thalassa | France
This seven night package is ideal for those who are not looking to commit themselves to a particular wellness programme.You'll leave feeling relaxed and rested and ready to face the pressures of everyday life.BENEFITS OF THE PACKAGE:You'll feel relaxed and restedYour stress levels will be…
Sharing from
£
1339.00
£
1339.00
pp
Singles from
£
2499.00
£
2499.00
pp


---