Overlooking the stunning coastline of Brittany with its sparkling wild sea, sits the sleek and contemporary Sofitel Quiberon Diététique. Enter the hotel and be met by clean lines, crisp colours, and an effortlessly chic style that signals you are most definitely in France. Yet there is so much more to this resort than its enticing design, for this is a place where your wellness is a top priority. It will soon become apparent that the sea does more than just enhance the scenery here, when you stumble across the amazing thalassotherapy offering, not only this but there are programmes and treatments to deal with just about any problem or goal you have, whether it be weight-loss, fitness, detox, or smoking addiction. Your health isn't just cared for in the spa, and cuisine at Sofitel Quiberon Diététique is considered to be of the upmost importance – every effort is taken to ensure it is healthy and nutritional while never sacrificing on flavour. When not being looked after at the spa, there is plenty else to keep you entertained and occupied at the resort, whether you opt to take advantage of the hotel's facilities which include swimming pools, a golf course, beauty salon and more, or leave the resort and go for a bike ride through the stunning scenery or take a trip to the beach. Sofitel Quiberon Diététique is a resort where you can reap all the benefits of a serious wellness break while still enjoying the relaxation of a holiday.
Please note: This property will reopen on 01 Mar 2021
Nearest Airport: Lorient
Transfer Time: Approx. 60 minutes
Sharing from
£
1339.00
£
1339.00
pp
Singles from
£
2499.00
£
2499.00
pp
Including transfers, accommodation, breakfast and 7 night stay
Recommended for
Weight-Loss | Fitness | Detox | Fixing Your Issues
---
Room Types
There are 74 stylish rooms at Sofitel Quiberon Diététique, and they have been furnished at the most luxurious standard after the recent refurbishment. There are also two large prestige suites with two king-size beds in them.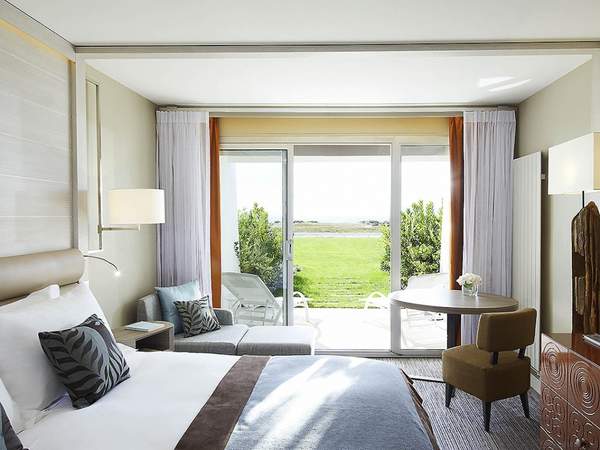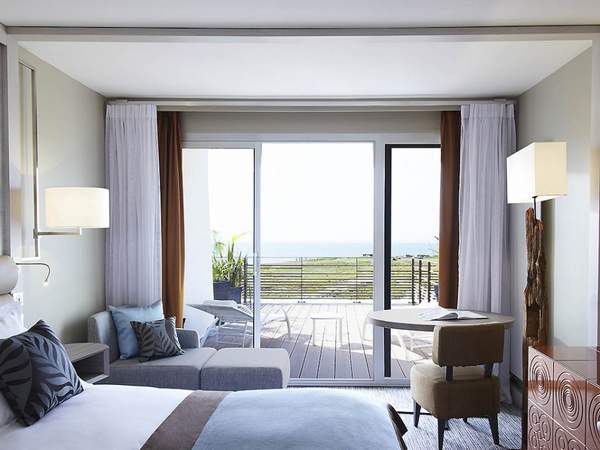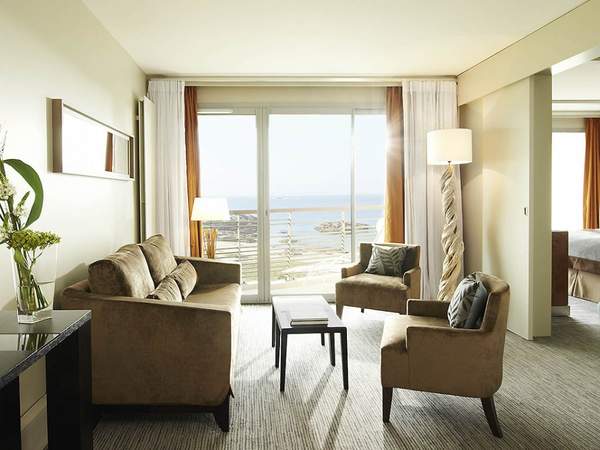 Spa
A blend of Spa pleasures and the expertise of seawater treatments, discover Thalassa sea & spa. Because each person has their own morphology, history and particular aims, the Sofitel Diététique and Thalassotherapy Institute, adjacent to the hotel, proposes several treatment programs: slimming, fitness and short stays. The results of these programs can be enhanced by body and facial treatments.
Making up the Thalassa Sea & Spa are:
The Thalassotherapy Institue which uses the healing powers of heated sea water.
An Athletic Rehabilitation Centre available to help those more focused on their weight-loss and fitness, with excellent facilities and a team of experts on hance to optimise your performance.
The Biologique Rechergie Methodology which adopts a medical approach to your wellness.
The Fitness and Relaxation Area with a 25 meter indoor heated seawater swimming pool, sauna, hammam, cardio-training room and solariums.
Cuisine
Cuisine is a huge part of the treatment at Sofitel Quiberon Diététique, and the hotel restaurant Le Delight is the self-proclaimed temple of health-food gastronomy. Every dish is cross-checked and calorie-counted to ensure they give you the correct ratio of nutrients during your stay – without sacrificing on taste. Sneak a scoop of ice cream onto your dessert if you're feeling naughty.
Activities
A resort known for its excellent fitness and weight-loss offering, it should be no surprise that the activities offered by the resort revolve around getting active. Within the hotel's grounds guests can enjoy a game of tennis or round of golf, with the resort possessing its own courts and course. There's also a gym for those who prefer a more independent workout.
Sofitel Quiberon Diététique also ensures that it is easy for guests to get out and enjoy the resort's stunning surroundings, offering bike hire facilities so guests can enjoy bike rides, as well as water sports facilities so guests can make the most of the coastal location. It's even possible to go horse riding here.
After all that energetic activity, with the beach within easy reach guests can choose to rest on the sandy shores, or arrange an excursion to any of the cultural and historical sites within the region.
Facilities
Spa featuring:

Thalassotherapy Institute
Athletic Rehabilitation Centre
Fitness & Relaxation Area
Biologique Rechergie Methodology

Indoor Swimming Pool
Indoor Tennis Court
Golf Course
Herbal tea bar
Beauty centre
Location
Recently refurbished by famed French architects Marc Hertrich and Nicolas Adnet the focus is on minimalist, light lines which immediately gives guests a sense of calm and tranquillity. The hotel is just 3km from the boutiques and shops in the town centre, stroll along the sea front and discover the historical villas of the Belle Époque era and the first sardine port in France.
Fly into Lorient, then an hour long transfer to Quiberon.
Reviews
Insider's Tips
The Anti-gravity treadmill and Aquadrive are unique, don't forget to try them
Wellness Break At Sofitel Quiberon Diététique
Sofitel Quiberon Dietetique | France
Overlooking the stunning coastline of Brittany with its sparkling wild sea, sits the sleek and contemporary Sofitel Quiberon Diététique. Enter the hotel and be met by clean lines, crisp colours, and an effortlessly chic style that signals you are most definitely in France. Yet there i…
Sharing from
£
1339.00
£
1339.00
pp
Singles from
£
2499.00
£
2499.00
pp


---