Perfection by design, La Réserve Ramatuelle is gently perched on the hillside overlooking the Mediterranean and providing an intimate experience with the surrounding nature. The buildings are designed to give the best views of the surrounding beauty, whilst the interior is equally as stunning following a recent redecoration by Jean-Michel Wilmotte.
Located just out St. Tropez, La Réserve Ramatuelle features just 8 rooms, 19 suites, and 14 villas, giving the resort an intimate feel. Programmes range from Healthy Ageing to Fitness Bootcamp, with full gym and spa facilities available for workouts and pampering following treatment sessions.
A variety of healthy and clean food is available to help with detoxes and to keep energy high during high-intensity fitness programmes.
Nearest Airport: Nice
Transfer Time: Approx. 90 minutes
Sharing from
£
3419.00
£
3419.00
pp
Singles from
£
4965.00
£
4965.00
pp
Including transfers, accommodation, full board and a 4 night programme
Recommended for
Anti-Ageing | Weight Management | Pampering
---
Room Types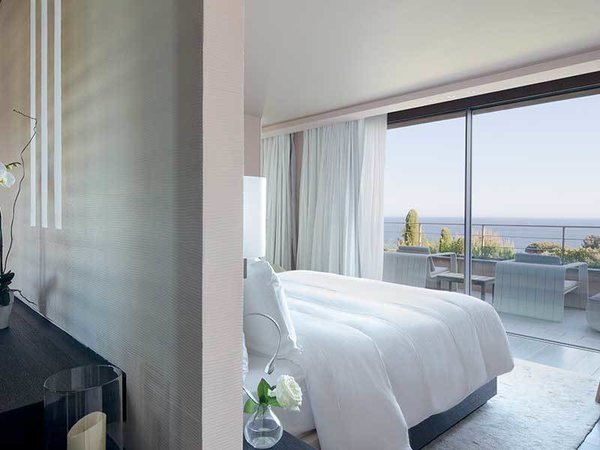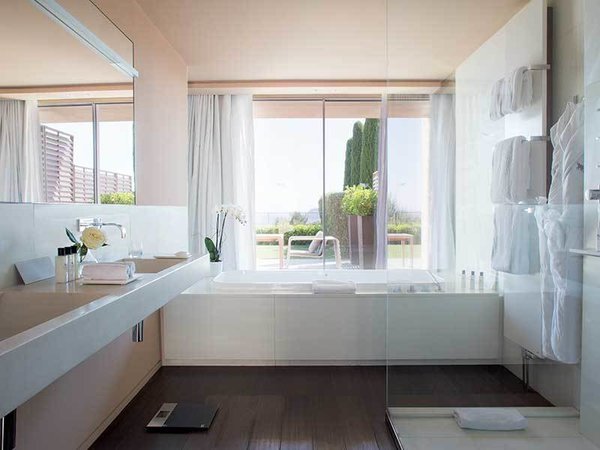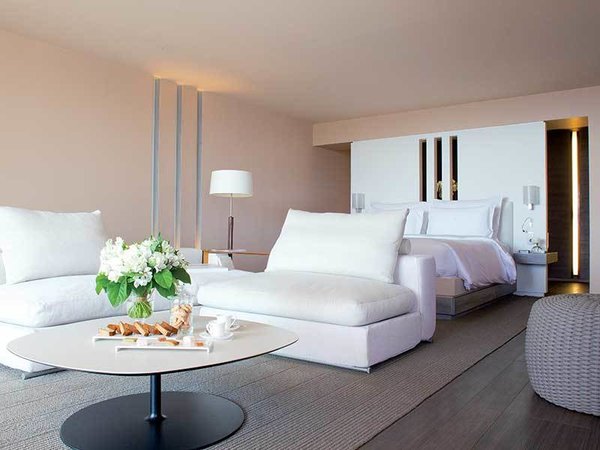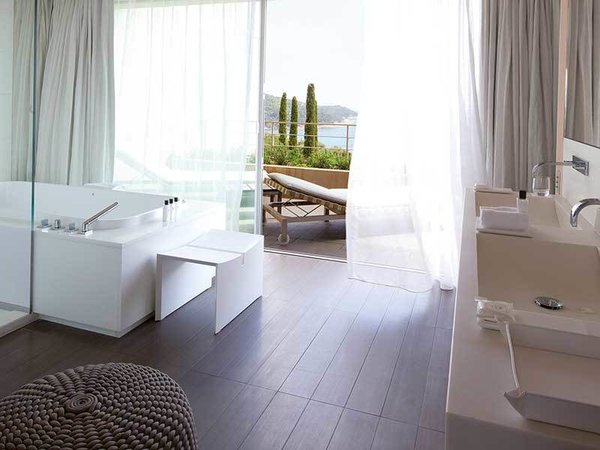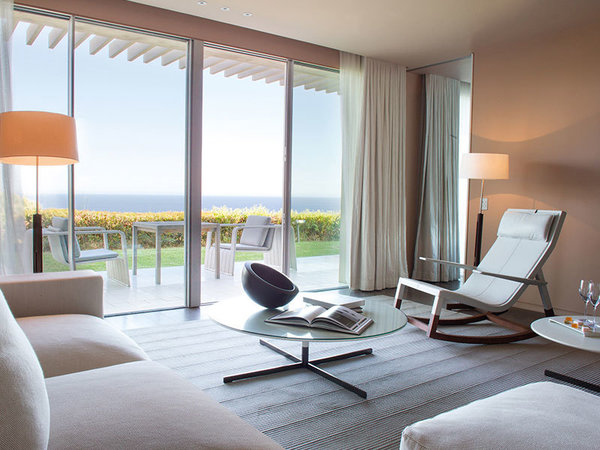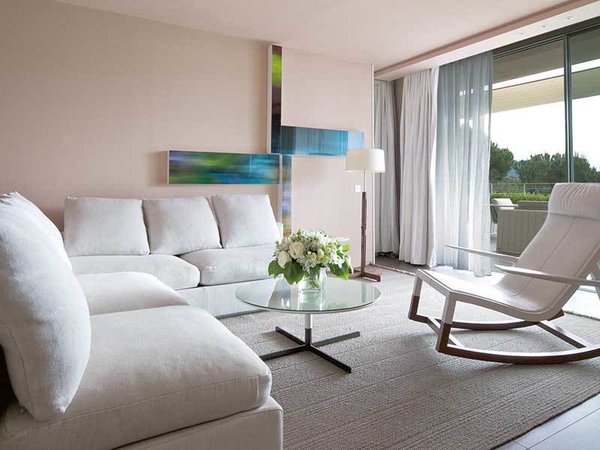 Spa
Home to France's first Crème de la Mer spa, skincare treatments have a serious anti-ageing angle. In addition you can sign up for bootcamps, regenerative programmes (focusing on goals such as weight loss or relaxation) or one-day access to all the facilities.
Spa Treatments at La Réserve Ramatuelle
Cellu M6
Excellence Body Treatment
Excellence "New Skin" Body Treatment
Excellence Radiance Treatment
Excellence Regeneration Treatment
Detoxitying Refining Treatment
Freshness scrub with jojoba and mentol microspheres
Soothing and revitalizing scrub with jojoba microspheres and essential oils
Seaweed wrap
Crème de la Mer
Slimming, draining or relaxing balneotherapy
Jet shower
Cuisine
Fat-free and sugar-free dishes take pride of place on the super-healthy and delicious menu. Expect freshly grilled fish and plenty of vegetables – all of it sophisticated and stylish. There's also the option of following a diet attuned to your body's individual biorhythms.
The Mediterranean-inspired cooking exalts the flavors of the South through high quality ingredients, chosen with the greatest need.
Chef Eric Canino, former Chef with Michel Guérard in Gréoux-les-Bains, and now at La Réserve Ramatuelle, shares his delicious concept of healthy cooking. It reflects his love for light, intensely flavored dishes. Here, fats are banned – only delicate, delicious olive oil is used. For desserts, refined sugar is replaced by raw sugar and each dish is meticulously prepared to achieve the perfect balance between greater pleasure and fewer calories.
Activities
As well as the opportunity to use the indoor and outdoor pools, the resort has a fully equipped fitness centre and offers individual or group classes in Pilates, Body Sculpt, Stretching, Yoga Balance and Aquagym.
Facilities
Spa
Restaurant
Bar
Swimming Pool
Beach and Ocean views
Location
Slightly space age and completely glamorous, La Réserve Ramatuelle exudes contemporary cool with dark wood floors and white furnishings in the rooms, floor-to-ceiling windows and a gorgeous glass-walled spa with 11 treatment rooms. A touch of the Riviera is provided by the views of the Mediterranean, plentiful lavender bushes and towering cypress trees.
The hotel, Spa and the Villas are ideally located, near the magnificent village of Ramatuelle, just 10 km from Saint-Tropez and 2 km from the beaches.
Insider's Tips
The 6-day Ultimate Regenerating Experience incorporates fitness, nutrition, treatments and relaxation. Choose your goal – most people want to reduce stress or lose weight – and the experienced team of spa specialists will devise a personalised programme to meet your needs. Includes 3 consultations (medical, osteopathic and morphological), 24 treatments and a customised fitness and diet plan.
Mind and Body Nescens Retreat
La Reserve Ramatuelle | France
A global approach harnessing synergies involving every dimension of personal well-being, the Mind and Body Nescens Retreat offers you a complete reconnection with self and with the natural elements. On the first day, an individual evaluation with the Spa osteopath and the yoga instructor enables yo…
Sharing from
£
3419.00
£
3419.00
pp
Singles from
£
4965.00
£
4965.00
pp
Nescens Boot Camp Programme
La Reserve Ramatuelle | France
Want to boost your fitness? During this Nescens Boot Camp your programme includes combining Nordic Walking, spa treatments and the benefits of a light Mediterranean cuisine, sure to increase your fitness levels and slim you down. With an array of personal training sessions, therapeutic treatments a…
Sharing from
£
3419.00
£
3419.00
pp
Singles from
£
4965.00
£
4965.00
pp

---