Veer Singh - Vana Malsi Estate
Wellness Expert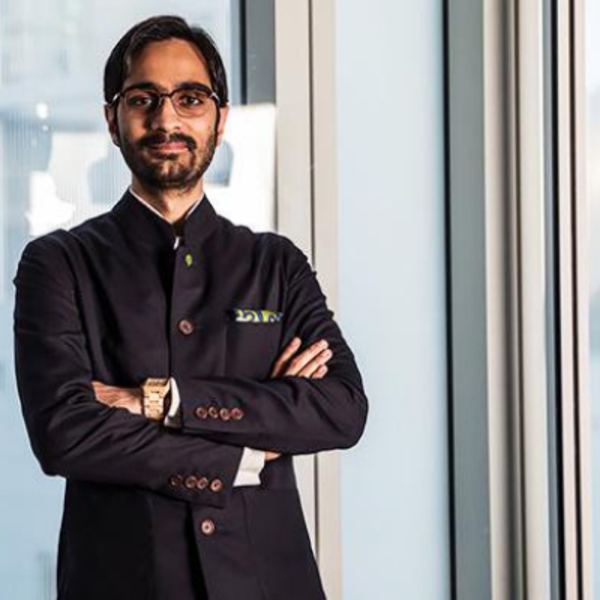 After years of perambulating England, Spain and India, Veer Singh dreamed to create the most iconic wellness retreat in the world; hence, Vana Malsi Estate was born. In England, Veer learned about organic agriculture and ecology (in addition to physics), which he applied as a farmer in both Spain and India. Upon returning to India and shedding a career in large corporate business, Veer sought to create a haven of wellness by connecting the estate and surrounding forest to the retreat. Veer and his family are sincere in their desire to provide pure and holistic wellness to guests and welcome all over the age of 16 with a keen interest in wellbeing.
Vana Malsi Estate is surrounded by 21 acres of orchards and Sal forest, graced by views of the lower Himalayan foothills. Vana offers a multitude of treatments including Ayurveda, Chinese and Tibetan traditional medicine. Four yoga pavilions, pools and a gymnasium also provide for guests' personalised wellness needs. The juice bar and library lounge allow guests to comfortably socialise, while vegetable gardens and orchards provide places of solitude. With meals made from local and organic produce, world-class specialists and warm hospitality, Vana is the perfect place to embark upon a wellness journey.
Veer Sing in GQ | @vanajourney | Vana in Forbes
1. What prompted you to set up Vana, who or what was your inspiration?
The answer to this question continues to evolve and reveal itself from within, as I myself discover and learn more. In essence, I think the motivation to create Vana stemmed from an aspiration to transform and to bring about equilibrium, between people, society and our environment. There was also a wish to set an example for India and the world, and this intent led to Vana becoming a place of "high standard and quality". Otherwise, it might have just been a few simple huts amidst a farm!
2. What is the basic philosophy of Vana?
To be of service and enhance wellbeing. But not at any cost. As this philosophy applies equally to all; our Vanavasis, our team, ecology, our culture and the community. One cannot benefit at the cost of the other.
3. What aspects of the western lifestyle could benefit best from a stay at Vana - Depression/Addiction/Bereavement/Excesses - can they be addressed at Vana?
We have never restricted our thinking and focus to suit a particular type, nationality, age or gender of a person. All we ask from someone coming to Vana is for them to have a motivation to work on their wellbeing, to respect the few guidelines we have and to aspire to benefit other people. A willingness to surrender also really benefits the process. Wanting to control everything doesn't!
All of these symptoms of physical, mental and emotional disequilibrium have become common-place everywhere in this modern age, it isn't just restricted to the west. All of these can be mindfully and honestly worked upon at Vana. Above all, our sincerity, care and also expertise across various genres of traditional medicine and knowledge facilitate healing very well. However, we do not believe in trying to talk a person out of these obstacles! Our approach is different. Eventually, only an inner journey that seeks from deep and timeless wisdom can really make deep imprints or undo them.
4. We consider you a retreat, does that best summarise what Vana is?
Yes, for the moment, yes! Though I think we will slowly work our way towards becoming an institution. But we are currently very much a retreat. While Vana is beautiful, inspiring, meticulous and aspirational, it is for people that come with specific intent, an open mind and a good degree of humility as well. We do not make compromises for anyone, regardless of who they are. And our minimum retreat duration, our sense of equanimity to everyone, the seriousness with which we approach traditional systems of medicine, all parts of our wellness offering and even our cuisine, reflect that we are very clear about what we want to be.
5. You have a minimum stay of 7 nights at Vana, why?
This is the very least amount of time a person needs to settle into Vana and understand it. And also for us to understand you! For those that are returning to Vana, they need at least 7-10 days to get into the rhythm and extract some benefit. This is not driven from any other motivation, in fact, it makes us less likeable to some people, we could have Vana bursting at the seams if we allowed shorter stays. From January of next year, we are intending to move to a minimum 2 week retreat period, for anyone coming to Vana for the first time. This will further reinforce to people that we are a retreat.
6. What is the most important advice you would give to someone who wants to do a retreat at Vana?
Have a motivation and an objective of coming here. Share as much as you can. And then have faith and surrender.
7. Do you have any plans that will evolve your vision further at Vana? What are the next steps?
Yes most certainly. In the coming 2-3 years, our ambitions to do a lot more with learning and teaching will come to the fore. Both for Vanavasis and our Team, maybe even for those from the community. Children will in some way become part of our lives, we want to share what we do with younger people, in an innovative and mindful way. We are beginning a new phase with our Food Network Project. And things are off to a flying start with Vana Foundations new activities, having successfully launched both the Siddhartha Festival and Vidyaloke, initiatives from which Vanavasis are also benefiting. We will also go deeper into art, music and meditation in various ways. Everything at Vana is still evolving, very much so.
8. If you have no religious beliefs, would you still benefit from the spiritual elements of Vana?
Yes absolutely. The west often confuses religion, god, spirituality and personal practice. We see them as very different things. Yes, the greatest wisdom from our culture, later took the form of traditions and religions. Even today, one might have to approach some of the wisdom through the outer layers of tradition and religious practice. However, that is neither the goal nor the motivation. One has to have an open mind to see that. The west tends to throw the baby out with the bathwater due to its scepticism and cynicism about religion and God, a lot of which has a valid reason. However, they miss out on the most amazing knowledge, philosophy and wisdom. And instead look for it in modern-day philosophy, psychoanalysis and light-spirituality. I can say with complete conviction, that the wisdom that arose in India in the last 3000 years, most of it centuries ago, remains unrivalled by any modern school of thought or understanding of the mind.
And yes, you would absolutely benefit from a retreat at Vana, whether you consider yourself spiritual or not.
9. Do you have any plans for Silent Retreats?
Yes, some have already done them while at Vana. As with everything, we wish to do them in their complete authenticity. Silent retreats have become a bit of a trend, and are often done incorrectly and for misguided motivations. We wish to do them properly, and this will still take us some time.
If this interview has got you interested in starting your wellness journey
at Vana
call our wellness advisors at 020 7843 3597 or
enquire here
.