Gaurav Sharma - Ayurveda Resort Sonnhof
Wellness Expert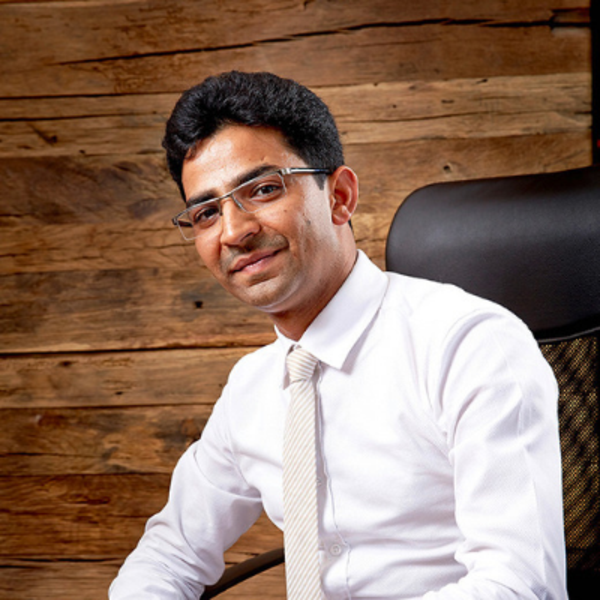 Dr Gaurav Sharma is a state certified Ayurvedic practitioner at Ayurveda Resort Sonnhof, who specialises in pulse diagnosis with a Bachelor of Ayurveda, Medicine and Surgery from India. His pulse diagnosis acts as the foundation for many of the treatments at Ayurveda Resort Sonnhof, and is used to gain information about the entire energetic condition of the body. By applying different pressure to the inside of an individual's wrist, he ascertains how the heart responds.

Dr Sharma also uses questions about digestion and nutrition along with the pulse diagnosis to determine a person's Ayurvedic constitution: Vata, Pitta or Kapha. His analysis is also used to create individual treatment and nutrition programmes.


Tips on good health | Ayurveda in Europe | Conde Nast Traveller





1. What is the basic philosophy of Ayurveda Resort Sonnhof?
Ayurveda Resort Sonnhof adheres to European Ayurveda® - a unique blend of authentic Ayurveda that is gently integrated with a European sensibility. The three pillars of European Ayurveda® are Diagnosis & Treatment, Ayurvedic Nutrition and Yoga & Spirituality.
2. What makes Ayurveda Resort Sonnhof different from other wellness/fitness resorts?
As a pioneer of European Ayurveda®, the Ayurveda Resort Sonnhof is a place of unique harmony and wellbeing. Here, the imbalances of body, mind and spirit are counteracted by taking a holistic approach to health. With 'European Ayurvedic cuisine', we have taken the principles of Indian healing and adapted them to suit western taste buds, and have thus created our very own culinary brand.
3. What are Ayurveda Resort Sonnhof's most popular programmes?
Panchakarma, the 'five therapeutic measures', is the queen of Ayurvedic treatments. The therapy encompasses all five pillars of Ayurvedic purification and is the most effective and profound detoxification method on both a physical and spiritual level, releasing not only with water-soluble waste, but more significantly fat-soluble toxins. The Panchakarma retreat enhances physical and spiritual wellbeing, promotes mental clarity, increases vitality, strengthens the immune system and helps prevent disease. The vital energies are balanced. The programme brings about inner purification and cleansing, which makes space for subsequent renewal.
The two-part therapy programme includes preparation as well as the central treatment and available as a 7, 10, 14 or 21-day package.
4. How does Ayurveda Resort Sonnhof support guests to find the right treatments?
Ayurvedic specialist Gaurav Sharma, physician Dr Sinop and Christina Mauracher assist with advice and guidance throughout each guest's stay. Specifically during yoga sessions, instructor Lisa Mauracher uses her unique Spirit Yoga© style, during which guests are skilfully and expertly guided into a healing and meditative journey towards clarity.
5. Are there specific places to reflect and spaces to socialise in Ayurveda Resort Sonnhof?
For rest and reflection, the Garden of Five Elements offers several places where the spiritual energy flow is particularly effective. In the garden, you can also find plenty of quiet places to retreat for quiet meditation and generous areas for rest or yoga practice. Nature enthusiasts are sure to enjoy the natural pond, bird table and herb garden.
Restaurants and public areas include the Spirit lounge, Anapurna buffet and Buddha's Place restaurants.

6. Who will most benefit from a stay at Ayurveda Resort Sonnhof?
Guests looking for a detoxification programme for weight reduction, to remedy metabolic disorders and boost the immune system following illness will benefit most from a stay at Ayurveda Resort Sonnhof.
We also hope to cure many with our Panchakarma retreat, which is particularly recommended for those who suffer from chronic disorders such as rheumatism, gastrointestinal disorders, metabolic disorders, insomnia, headaches, migraines, vegetative or psychosomatic disorders, unspecific pain and allergies.
7. What are the benefits, short-term and long-term, of a stay?
A visit to Ayurveda Resort Sonnhof provides a serene environment that promotes inner peace upon arrival. However, the programmes really help guests to make positive lifestyle changes. Staff are very helpful and look to educate their guests in many different aspects of health. However, it is dependent on the individual how far reaching their lifestyle changes may be.
8. What is the best time to go to Ayurveda Resort Sonnhof?
Anytime. The Garden of Five Elements at Ayurveda Resort Sonnhof offers a wonderful respite during summer, but guests also like to spend time outside in the spring and autumn, as well. However, ski enthusiasts will want to visit during our winter months.
9. Is there a minimum stay at Ayurveda Resort Sonnhof?
Our shortest programme is the 3 night Ayurveda Taster programme, which is a great introduction to the Ayurvedic methodology. This retreat can also easily fit into busy schedules. However, more intensive programmes have a longer duration with the extensive Panchakarma programme lasting three weeks.
10. What is the most important advice you would give to someone who wants to do a wellness or fitness spa vacation?
European Ayurveda® will be a new concept to all who have not before stayed at Ayurveda Resort Sonnhof. This means that even those who have experienced other wellness retreats and Ayurvedic programmes should keep an open mind during their treatment programme.
If this interview has got you interested in starting your wellness journey
at Ayurveda Resort Sonnhof
call our wellness advisors
at 020 7843 3597 or
enquire here
.